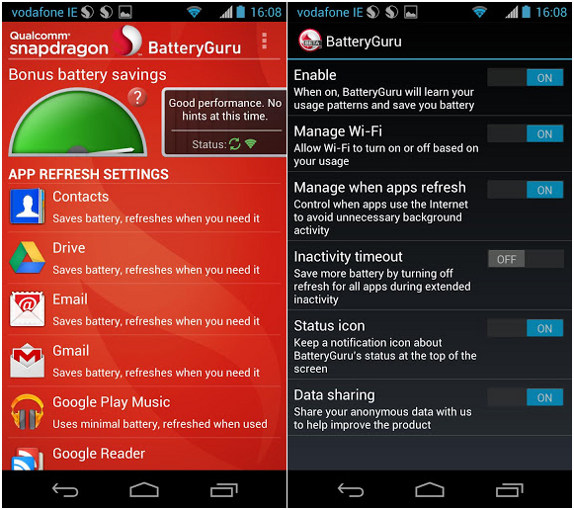 Xiam Technologies Limited, a division of Qualcomm has released Battery Guru (Beta) application for Android that promises to extend the battery life on the Snapdragon-powered Android devices by optimizing the device functionality. It doesn't require manual configuration and runs in the background. After the 2 to 4 day introduction period, it learns the user's behaviors and then notifies that it is ready to extend the battery life.
Features of Snapdragon BatteryGuru (Beta) for Android
Delivers longer battery life by reducing unncessary background activity
Intelligently learns the Snapdragon smartphone usage and optimizes the device without disabling smartphone functionality
Automatically learns and adjusts the smartphone settings without any configuration
Learns where your Wi-Fi hotspots are, and turns on Wi-Fi only when needed
Automatically refreshes an app to connect to the internet, based on unique pattern of use
Operates in the background, deepening its understanding of the user and further optimizing the experience over time
The Snapdragon Battery Guru is still in Beta and supports a majority of Snapdragon powered devices. It is available North America and European Union at present, but support for additional Snapdragon-powered devices and regions would be added in the coming months.
Download Snapdragon BatteryGuru for Android from the Google Play Store (select countries only) for free. Folks at XDA forums have uploaded the APK for the app so that you can side-load it on your Snapdragon device manually.
Via: Android Police