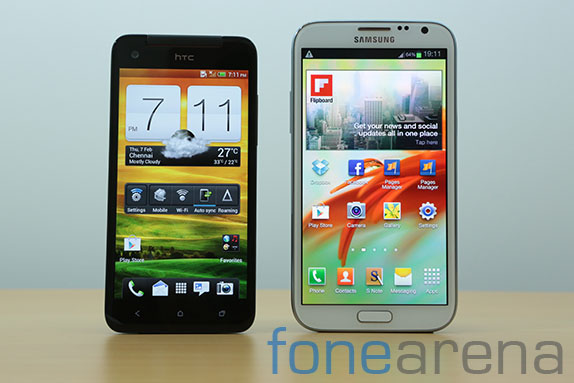 The HTC Butterfly is one of the recent 1080p devices that have gone and touched the 5 inch form factor in size, and hence it raises a new question. Is it too big for a smartphone? or is it too small for a tablet? I can already sense a lot of gasps after that question, but truth be told, that category has been invented by none other than Samsung, with its original Galaxy Note, with a 5.3 inch screen. Samsung upped its "phablet" game with the Galaxy Note 2, with the 5.5 inch screen, making it the only device that kinda bridges the gap between a phone and a tablet. Some manufacturers have followed suit, like Huawei, with its Ascend Mate, but with HTC releasing the Butterfly with a 5 inch screen, does it enter the phablet game? And what other differences arise between the Galaxy Note 2 and the Butterfly considering that they are the two of the three costliest devices in the market? Watch our in-depth video comparison to find out –
httpv://www.youtube.com/watch?v=K79nxTuiZvo
So, lets compare the two devices in detail then? The design aspect of both these phones in comparison are pretty interesting. The Butterfly is long, with a 16:9 form factor thanks to the 5 inch screen at 1080p resolution. The Galaxy Note 2 on the other hand has a even bigger screen and a body, but actually this is a taller screen too, coming in at 5.5 inches at 720p resolution. It is much bigger than the HTC butterfly in comparison. It has the pebble design philosophy like the S3, with worse plastics used while the HTC continues with its One series of design, with a nice sturdy build with a soft touch back.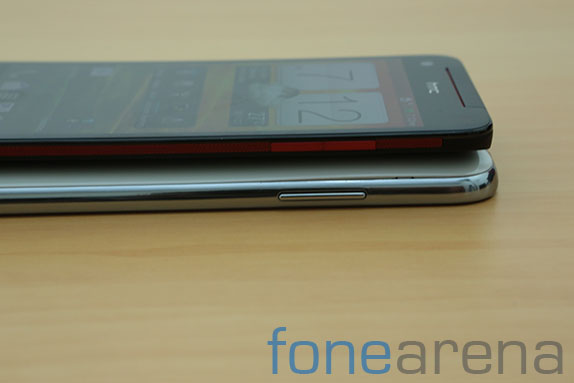 When it comes to dimensions, the Butterfly comes in at a thickness of 9.08mm and weighs 140g while the Galaxy Note 2 is 9.4mm thick and weighs a whopping 182g, 3g shy of the Lumia 920. But both these devices neither feel bulky or heavy thanks to the weight distribution over a large surface area.  The Butterfly has a slightly curved screen, and is surprisingly waterproof. Oh, and a good design change is that the power button now in the center, good to know that HTC have listened to complaints.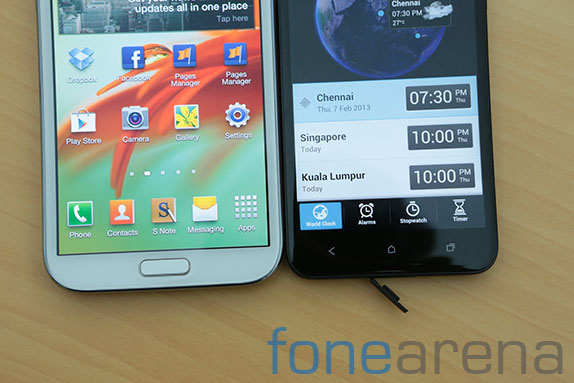 Lets get to the display then. The HTC Butterfly has a 1920x1080p 5 inch SLCD3 screen, with a 16:9 aspect ratio and a whopping 440 ppi pixel density. It has excellent viewing angles and colour accuracy with deep blacks. Thanks to lamination, it seems like the UI floats on the screen. The Galaxy Note 2 has a 5.5 inch 267 PPI 1280x720p Super AMOLED HD display with a non pentile RGB sub pixel format. It has great saturation and infinite contrast, and due to that blacks are completely black. It is a pleasure to watch movies on and added advantage is the S Pen digitiser support. In comparison, the Butterfly easily has the better display in all fronts, it's more pixel dense, has better colour accuracy and is overall amazing. The Note 2 has a great display too, but the Butterfly just surpasses it easily. 
The hardware internals are a bit different too, considering that Samsung always go with their own solutions. The Butterfly runs on the Qualcomm Snapdragon S4 pro 1.5 GHz Quad core APQ8064 SoC, with Adreno 320 graphics, 2GB RAM, 16 GB internal storage and after a long time, a micro SD card slot.  The Galaxy Note 2 on the other hand has a homegrown Samsung Exynos 4412 chip with a quad core 1.6 GHz processor, 2 GB RAM, 16/32/64 GB internal storage and of course, a micro SD card slot.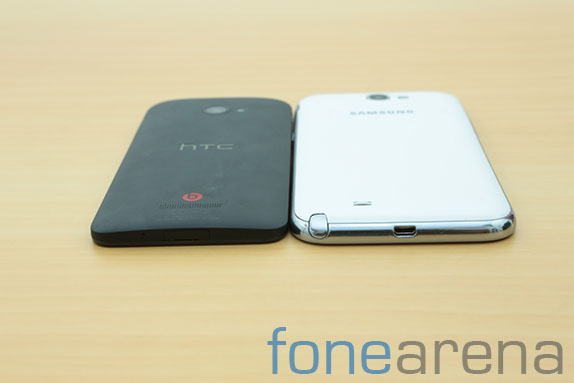 Regarding the camera, the Butterfly has a similar unit as the One X with a 8 MP BSI sensor and a f2.0 lens. It can also do Full HD 1080p video playback. Image processing is handled by the dedicated imaging chip called ImageChip, and one of its advantages being capture 6 MP photos while recording video. There are additional enhancements like software stabilisation, and there is a 2.1 MP front facing camera capable of recording full HD 1080p video. The Galaxy Note 2 has a 8 MP BSI sensor, almost same as S3 with a f2.6 lens. It too can record 1080p and has many software based advantages like image stabilisation, taking pictures while recording video. However the FFC is 1.9 MP BSI and can record 720p. In terms of quality and overall performance, the Note 2 seems to be better. The Butterfly performs like the One X in most scenarios.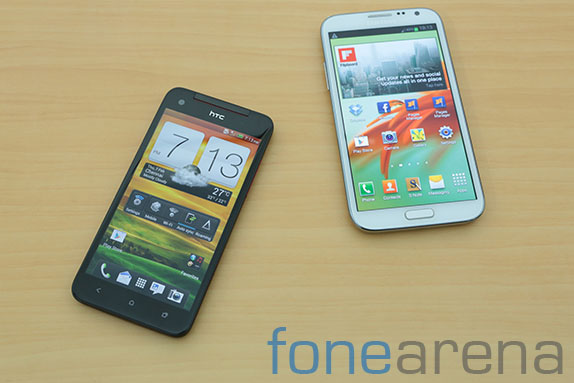 The 2020 mAH battery on the Butterfly is no competition to the  3100 mAH, because in every sense, the Galaxy Note 2 performs better in terms of standby as well as any kind of strenuous usage. And finally we come to the differences in software. Both the phones run on Android 4.1.1 JellyBean, which brought the amazing virtual personal assistant Google Now, and project butter which fixed the most annoying feature of Android since its beginning – the lag. The Butterfly though runs a custom HTC modified skin on top, Sense 4+ and the Note 2 runs the Touchwiz Nature UX on top of Android. Both these interfaces are very different in terms of UI as well as experience. The touchwiz is more flexible with a lot of utilities, widgets and shortcuts in the notification panel making it most useful but ugly, whereas the Sense is beautiful and aesthetic with lots of beautifully animated widgets and a nice lockscreen but lacks the customisability and the utility of the Touchwiz UI. Both are equally good in their own respect and in the end it is just upto user preference. Bonus on the Note 2 is the premium suite range of software suck as Multiscreen, for dual screen multitasking of select apps and a lot more features like Pop up apps and what not. Not to mention the various features that the S-pen adds to the software, like various gestures to do stuff, for example, touch and hold the S-pen with the button on to take a screenshot, draw gestures, immediately cut images and copy them to clipboard, the S-note, and all the memo apps that come with S-Pen are a huge advantage if you are into such a thing. 
So, if you are looking at normal smartphone usage, with some limited customisability compared to the Note 2, you got Sense and if you are looking at lot of productive shortcuts, utilities and creative tools, you got Touchwiz with added S-pen capabilities, it's up to you to choose. With the next generation Galaxy S and the Note slated to be coming soon in a few months, the competition is all set to heat up. You can watch the video above, to get more in-depth information about these two devices in comparison.
Our earlier comparisons – HTC Butterfly vs Nokia Lumia 920, HTC Butterfly vs Samsung Galaxy S3. More pics below.