Google Now is one of the main features which debuted with Android 4.1, and is a direct competitor to iOS's Siri. Google has been concentrating on this piece of software from a long time and has been updating it with more cards and features and just recently Google updated their support page which showed glimpses of Google Now widgets.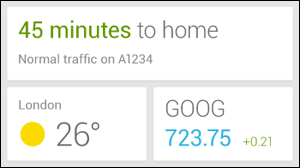 From the image we think that you will be able to view info about the multiple cards which you are using on Google Now, and also maybe interact with the cards without going into the application. Best thing about Google Now is that it looks really brilliant and shows necessary information at the right time, so I guess the display on the widget should automatically change as soon as you reach the station to the train timings, etc. But it is still skeptical how the battery will affected as continuous contact with the server and graphical change and animation is bound to affect the battery of a device.
About the update, we have no clue whether it will come as an update to Android O.S or it will be an update on the Play store, we also have no clue about when it is going to be launched but as it was showed off at their support page, I think it is not very far from showing its face to the public. Also Google have taken down the image of the widget for Google Now from their support page as of now.
Source: Google