We have seen multiple patents filed by Apple in the past few months which relates to unlocking the device like the finger print scanner, the face recognition and now Apple has filed a patent which  unlocks the device only if you  can identify your contacts.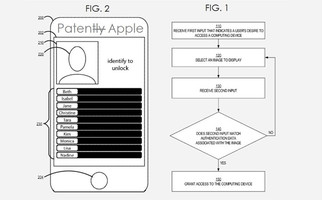 This new method sounds like the feature which Facebook has right now, when Facebook locks down your account when you have sent too many similar messages or for some other suspicious reasons, then it shows you multiple pictures with your friends tagged and you have to identify whose pictures they are. This patent is also something like that where you have to either say the name of your contact whose picture is shown or there will be multiple options to choose from below the picture.
Obviously this kind of unlock will take lot of time to access the phone, it can be added as an additional security, where this method of unlocking comes when you have put in a wrong pin several times or that your finger didn't scan properly. Another  problem with this method is that if your friends have multiple common friends and have the same contacts shown during the unlocking procedure, then they would be able to easily access the device. Right now, we are hoping to see more information about this method which might reduce the no. of negative points against this approach.
Source: PatentlyApple