HTC is planning to launch their new HTC One ahead of MWC this month but looks like the picture of this device has already been leaked. This device was earlier code named M7 and is now rumored to be known just as the HTC One.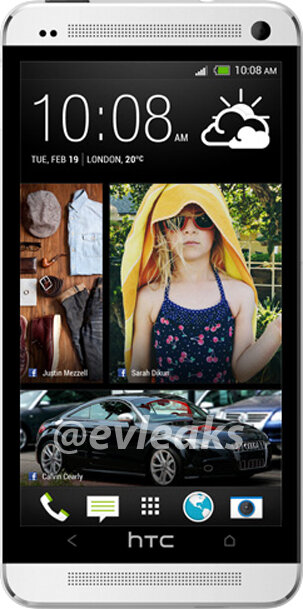 The HTC M7, which was the codename of this device earlier, was already leaked several times, with its first images showing up just like the one above, yet without the screen image. The HTC Sense 5.0 UI too, had been shown off earlier, with flat icons, like the ones on the image above.
Well, from the image above we can see that even though Android has shifted to on screen navigation keys, HTC is still using capacitive buttons, adding to the curiousness, the button which open the multi-tasking pane is absent from the bezel, there is only back and home button present. Now we have no clue whether there is  a new multi tasking fashion on Sense 5, we will have to wait for the official announcement to checkout the functions of this device.
Other than the picture of the device, an image taken from the HTC One also seems to have popped up on Flickr. The image shown here has a 2.0 aperture with 4.1 MP resolution. This goes perfectly well with the rumors we have been hearing that HTC is going with 3 stacks of 4 MP sensors. Anyways HTC is having its press conference on February 19 in NYC, so we will be hearing more about in just a few days, so stay tuned. 
Source: EvLeaks