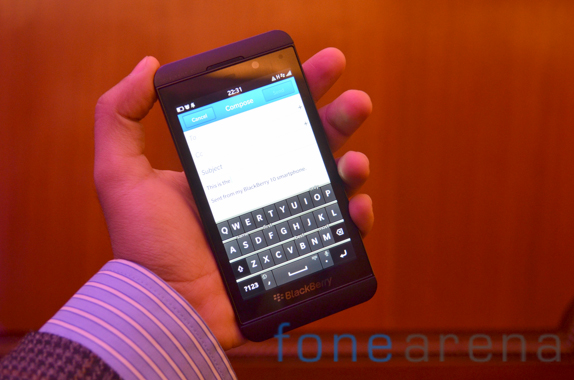 Here is some exclusive news regarding the launch of the upcoming BlackBerry Z10 handset from RIM BlackBerry. FoneArena has learnt from reliable sources that the first BlackBerry 10 handset is going to launched here in India as soon as February 24th. And the price will be similar to the Z10's no-contract price in UK and other markets at around Rs.39000. India is a huge market for BlackBerry especially amongst youth and business users. The z10 is surely bound to attract business users with the all new BlackBerry 10 operating system.The Z10 is surely a huge step forward for the company in the touchscreen device segment after the Storm and the Torch.
I'm sure die-hard BlackBerry users will immediately take the plunge and get the Z10 as it has been quite some time since a shiny new BlackBerry device has been launched in India.The 40,000 mark which was once seen as a super expensive smartphone category is now the new high end smartphone category with HTC , Samsung and even Nokia launching products in this price band.
Check out our BlackBerry Z10 hands on and the Q10 hands on. While the Z10 is expected to be launched first , the Q10 which is the QWERTY sibling to the Z10 is expected to launch this summer. While I would eventually get the Q10 , I would not mind waiting for it with a white Z10 !
Thanks to some of you folks for pointing out that February 24th is actually a Sunday,  so the actual launch might happen on the 25th. But it is not delayed like in the US where carriers are expected to start selling it only in March.