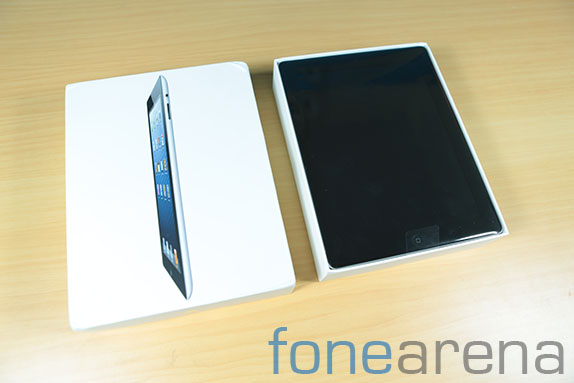 Apple and Samsung are the leading Tablet vendors by shipments in Q4 2012, according to a report by Research Firm IDC (International Data Corporation). The worldwide tablet market grew 75.3% year-over-year in the Q4 2012, with shipments of 52.5 million, compared to 29.9 million units in the Q4 2011.
Apple shipped 22.9 million units of iPad in Q4 2012, a 48.1 percent increase in shipments compared to Q4 2011, but the market share is down with just 43.6 percent in the last quarter. Apple reported record quarterly revenue of $54.5 billion and record quarterly net profit of $13.1 billion in their last quarter.
Samsung experienced a tremendous growth with a 263 percent increase year-over-year with 15.1 million Android and Windows 8 tablet shipments, compared to 2.2 million in Q4 2011.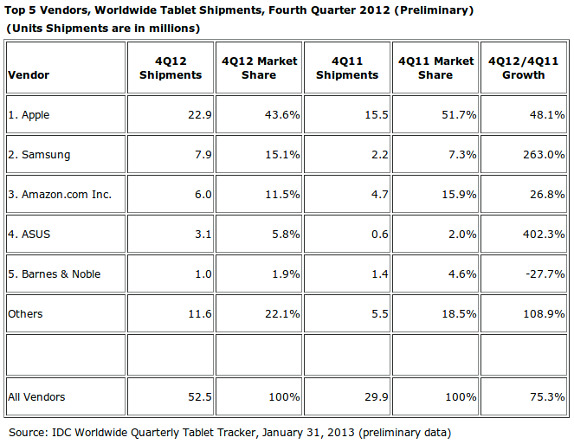 Amazon and Barnes & Noble saw their increase in market share with their new products. Lenovo lost its 5th spot from the previous quarter to Barnes & Noble. ASUS saw increase in shipments with strong shipments from their Google-branded Nexus 7 tablets. It holds the 4th spot with 3.1 million shipments and 5.8% market share. Microsoft failed to ship even 1 million Surface RT Tablets in the last quarter to grab a position in the top 5.