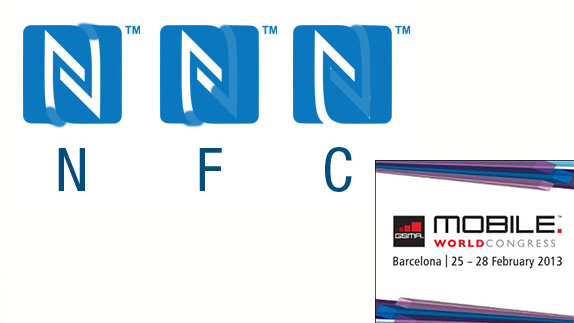 Get ready Android and Windows Phone 8 users/attendees, the GSM association has sought to bring NFC into the mainstream at the Mobile World Congress 2013, Barcelona. And yes, Apple iPhone users will be left out of this huge initiative. There will be NFC posters, booths, experience centers and even NFC based registration at the Mobile World Congress, the world's largest mobile convention that is slated to happen between February 25 – 28 2013 this year.
Quoting the press release, Chief Marketing Officer of GSMA, Michael O'Hara said  –
"We're excited to launch the NFC Experience for Mobile World Congress, as it provides attendees to the event the opportunity to experience first-hand the power of NFC technology both throughout the Mobile World Congress venue, as well as in the city of Barcelona," said Michael O'Hara, Chief Marketing Officer, GSMA. "We hope that all attendees will take advantage of the many benefits of NFC, from venue access to retail transactions to transport, among others."
The event venue has changed to Fira Gran Via, which is a bigger venue and hence accommodates more people, and GSMA has made sure that NFC experiences are installed throughout the convention centre. There are four main experiences to be considered when at Mobile World Congress 2013 –
NFC Centre – A dedicated NFC centre in the middle of the congress square that will have all the information, handsets and accessories like posters, NFC pods etc
Interactive zones – Smart linked NFC posters along the walkways and halls of Fira Gran Via
NFC locations in Barcelona – NFC will be deployed outside of the venue too, comprising of restaurants and tourist locations that provide NFC enabled interaction and information
Virtual NFC badge – Pretty self explanatory, Android(4.0 and above) and Windows Phone 8s need only apply, iPhones not welcome.
The above listed experiences are what the GSMA have planned for the MWC to make it as NFC friendly as possible. We think it's about time someone took it in their hands and where better than the MWC 2013 can NFC be taken into the mainstream. Our team will be there at MWC this year, and we will definitely report back on our NFC experience. We hope it's a game changer, at least for MWC.