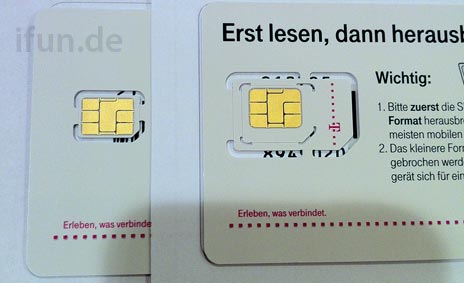 We told you last year that a nano SIM card which is smaller than the already tiny microSIM card is in the works. Then there were rumours floating around that the next iPhone or the iPhone 5 would be using the nano SIM card slot.What followed was Apple, Nokia , RIM and Motorola defending for their own proposals at the industry standards body known as European Telecommunication Standards Institute ETSI . Interestingly , Apple's proposal won and rest of the companies were disappointed about the outcome.
Now there are fresh pictures of a nanoSIM card from a European carrier (Telekom ) which point towards prepreparations for the upcoming iPhone. These SIM cards are being distributed to certain partners in that country.
Here is a rough translation of the text from the german source.
you will receive today a new generation of SIM cards for the latest generation of smartphones that come in the near future on the market. Sort your SIM card please first not in their cards in hand and give it not out to customers.We will inform you shortly about how to proceed.
Interestingly iPhone is not mentioned any where but it is meant for smartphones arriving the market in the near future. Looks like the operator has also started offering an LTE plan recently. May be to offer LTE service for the upcoming iPhone ?
Damn ! I don't know how many microSIM cards I have lost/misplaced in the last 1 year. Things are going to get even worse with the arrival of  nanoSIM cards.