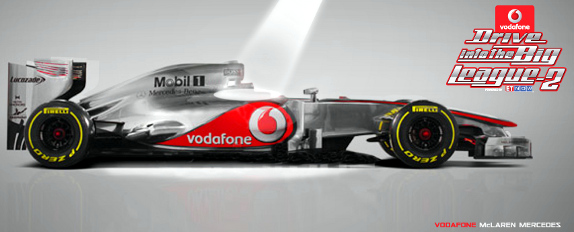 Vodafone has announced Vodafone Drive into the Big League contest for Small and Medium Enterprises (SMEs). This is the second season of the contest for the second Indian Grand Prix that would be held in Delhi from October 26 to 28, 2012. This would offer an opportunity for small and medium enterprises to take center stage with their logo on Vodafone McLaren Mercedes racing cars. Vodafone received close to 80,000 entries for the first season.
Small and Medium Enterprises (SMEs) with a turnover between INR 10 crores and INR 250 crores and an employee base of less than 1000 are eligible to participate in the contest. It will be held for 45 days in a larger scale and the qualifiers would be conducted at 10 prominent SME industry hubs across India.There is also a wild card entry this year for a contest run on a social networking platform between August 1, 2012 and September 15, 2012.
20 winners from the qualifying rounds and the wild card winner from the online contest would battle it out for the finals which would be selected by an expert jury.
The registration has already started on July 11, 2012 on vodafone.in/bigleague that will be open till August 20, 2012.