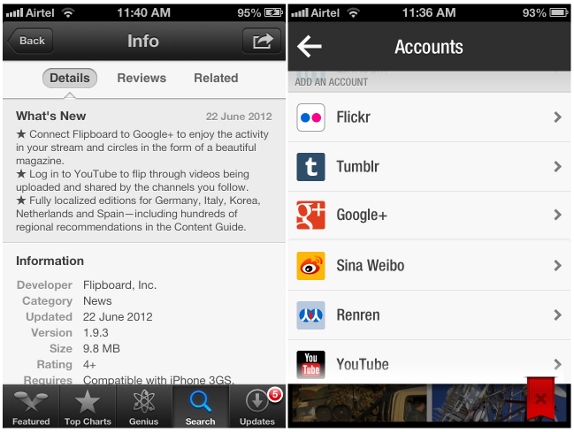 Fipboard launched their Android app for phones, Kindle fire and Nook tablet just now. They have also updated their iPhone and iPad app to version 1.9.3 that brings Google+ and YouTube support. It also brings localized editions for more countries with regional recommendations. The previous version, 1.9.0 brought audio support.
New features in Flipboard for iPhone and iPad v1.9.3
Connect Flipboard to Google+ to enjoy the activity in your stream and circles in the form of a beautiful magazine.
Log in to YouTube to flip through videos being uploaded and shared by the channels you follow.
Fully localized editions for Germany, Italy, Korea, Netherlands and Spain—including hundreds of regional recommendations in the Content Guide.
Download Flipboard for iPhone and iPad from the Apple iTunes Store for free.