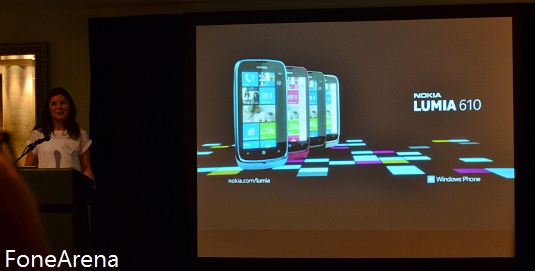 Nokia has confirmed the release date and network pricing of their new budget Lumia 610 in the UK. At a press event in London Trafalgar Hotel yesterday, the beleaguered Finnish mobile company annonced that the Windows Phone-powered phone will go on sale in the first week of June. It will be available on contracts from £15 a month. No sim-free pricing has been announced yet.
Emma Gilmartin, head of smart devices at Nokia, introduced the Lumia 610 as the most affordable device on the Lumia range, and is aimed at younger audiences and first time smartphone users upgrading from feature phones. As a Windows Phone Tango device the Lumia 610's spec doesn't quite match the Lumia 710 and Lumia 800, but despite the 256MB RAM limit, the device will still come preloaded with key Nokia apps such as Nokia Maps, Drive, Music and Public Transport.
New features introduced with the Lumia 610 includes the much needed WiFi tethering and flip to silence. Expect these features to be made available on the Lumia 710 and 800 in future firmware updates.