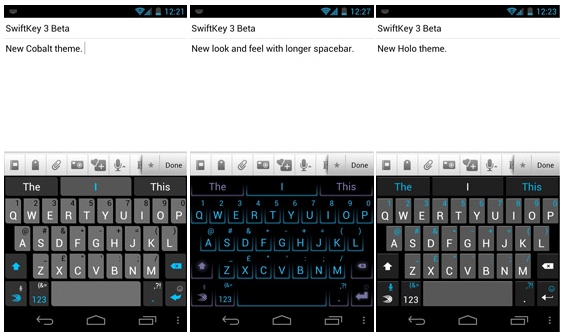 SwiftKey 3 Beta has been updated to 3.0.0.190, that brings some UI improvements, Improved Smart Space, Refined Smart Punctuation pop-up, bug fixes. The first version of the SwiftKey 3 Beta was launched last month.
New features in SwiftKey 3 Beta v3.0.0.190
Improved UI: Dedicated comma key, and the <123> key is now in the bottom-left corner. And of course you still have the larger spacebar.
Refined Smart Punctuation pop-up
Long-press duration setting
Improved Smart Space functionality
Further reduced lag on some devices
Number of bug fixes, including the missing decimal point in the numpad and the "What's New" dialog popping up all the time.
Download SwiftKey 3 Beta apk for Android Phones from the SwiftKey Phone forum and for the tablets from the SwiftKey Tablet forum after registration.