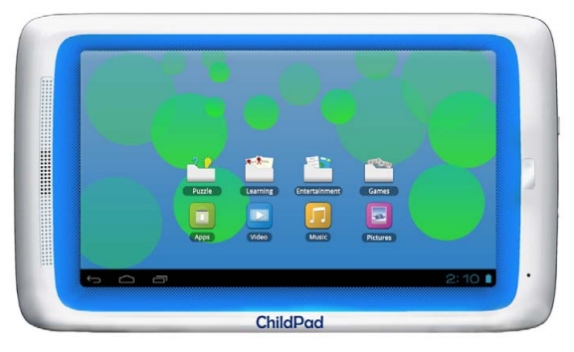 ARCHOS7 has announced a new Android tablet for children, called the Child Pad. It has 7-inch display, powered by 1GHz processor and runs on 4.0 (Ice Cream Sandwich). It comes with 1GB RAM and has Kid friendly features such as Kids App Store powered by AppsLib which has 10,000 apps in 14-friendly categories including games, entertainment, communication, multimedia, books, comics, sports and more.
It has Kid-friendly user interface with colored icons, home screen folders with direct access to games, entertainment, learning and puzzles and the top 28 kids' apps pre-loaded including Angry Birds, Pig Rush and Flight Frenzy.
It is also designed to comply with both CIPA and COPPA regulations, ensuring a safe tablet environment for kids and peace of mind for parents. The parental controls and safe web browsing is powered by Editions Profil, whose Mobile Parental Filter is ranked as the most efficient parental control software in worldwide benchmarks.
The ARCHOS Child Pad would be available in the US stores starting the end of March at a recommended retail price of $129.