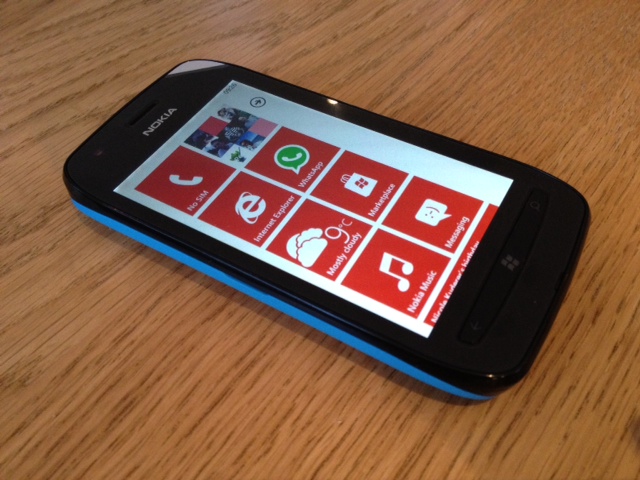 The Nokia Lumia 710, announced at last year's Nokia World, is Nokia's second Windows Phone device. The Mango-powered smartphone will be making its way across stores worldwide.
The Lumia 710 is Nokia's attempt at making Windows Phone cheaper and accessible to the market. While the Lumia 710 can be considered an 'entry level' Windows Phone, the specs says otherwise. Unlike entry level Android phones for example, the Lumia 710 features the same speedy 1.4GHz Snapdragon SoC that powers the Lumia 800.
Apart from the same processor and graphic accelerator, the Lumia 710 differs from using a different screen technology (Clear Black LCD vs Clear Black AMOLED), running on the same 480×800 resolution. Unlike the screen on the Lumia 800, the display here uses traditional RGB matrix rather than much maligned PenTile.
httpv://www.youtube.com/watch?v=NI4kcQ0dT-0
The camera is a 5MP variety with a LED flash. While it ins't a Carl Zeiss branded, the camera is capable of taking 720p videos. While the Lumia 800 shares the same body as the Meego-powered Nokia N9, the Lumia 710 is a Nokia 603 after undergoing a Windows Phone transplant. The 1300mAh battery is disappointing, but at least it is replaceable.
Despite the use of plastic, the 710 feels solid and comfortable to hold. While it doesn't exactly look pretty, it doesn't look cheap either. However I found that the physical hardware front buttons do look and feel cheap.
As far as Windows Phone 7 goes, the Lumia 710 works just as well as every Windows Phone 7 devices out there thanks to Microsoft strict chassis requirement. As this is a Nokia device, the 710 is preloaded with Nokia-exclusive applications like Nokia Music and Drive.
We will be putting the Lumia 710 through its paces to see if it is a compelling budget alternative to not only to the Lumia 800, but also other Windows Phone by HTC and Samsung.