It was this time of the year again, where the heart of every Nokia Fan beats a little bit faster. Nokia Enthusiasts, bloggers, journalists and many more took the trip to London, to join Nokia and see what they have been up to. Same as last year, Nokia World has again been held at the Excel Center in London. I was lucky enough to get an invitation from the awesome people at Nokia Connects and Stephanie from Nokia Austria, and that itself made sure for a fun ride! This years showcase of everything Nokia promised to be a big one, with Windows Phone finally arriving in the form of something we can get our hands on, and since I'm a firm believer in the partnership between Microsoft and Nokia, I can't say I wasn't excited to finally get over there and see what the Finns are up to. Keep in mind, this will not be an in-depth analysis of what happened at the keynote, nor will i deep dive into the handsets (that will come later on), what you're about to read were my personal experiences, and how it felt to be part of the event. Ready? Read on..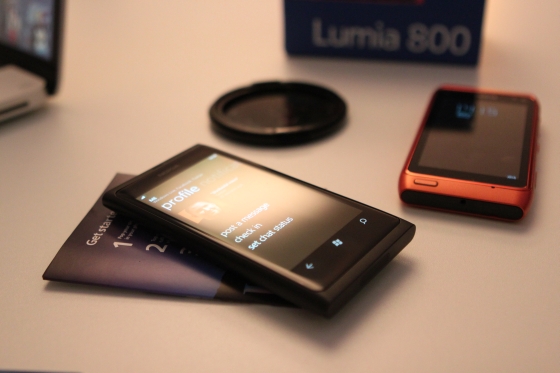 When I first got invited to Nokia World, I thought I couldn't make it all, due to work commitments. Luckily, Wednesday, the first day of NW, was a bank holiday in Austria, and with some late traveling, I was indeed able to accept the offer. My journey started on Tuesday, Oct. 25th, where I left work early to make it to the latest possible flight to Heathrow. Luckily no traffic jams into Vienna this time, so the drive to the airport was okay. Checked in, bags dropped off – ready. I arrived at the London Heathrow airport at around 9.30pm, already feeling the effects of a long day at work. Nokia Connects has organized a cab for me, which drove me all the way through London to my Hotel, the Premier Inn at the Docklands. Took me about 10 minutes until I bumped into the first blog celebrities, including my good friend Stefanos from pestaola.gr, MyNokiaBlog's Jay Montano, Vaibhav from the TheHandheldBlog, Varun Krish, who you might know from this site ;-), the CJ himself, Clinton Jeff, my very good friends Iain Wallace and Dani Adassa (suspects in crime from the Nürburgring trip), and many more. From there I already knew, it'll be a good one. 🙂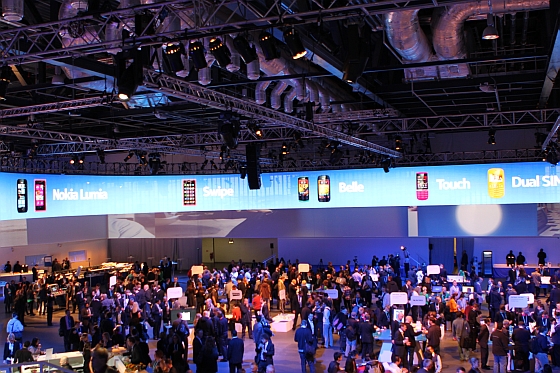 Nokia World Day 1
After a short, but good sleep, our crew met down at the breakfast tables, and after having a short briefing, we were ready to head out to the Excel Center. Well, in fact everyone had left already after I quickly ran up to my room to get my camera gear. Imagine the look on my face when I realized I was the only one left at the Hotel. I got on my way as well, knowing my way around from last year. The first guy I bumped into at the Excel Center, was my friend Martin Giesswein, from Nokia Austria. Always nice to see familar faces, as I met my buddy Bosko Andjelic on that same day too. Not much time left until the first, big opening keynote, so after a quick chat with Ben Lampe from Nokia Germany, I took my seat next to Varun and started contributing pictures through our awesome setup for the Fone Arena Live Blog!
The Keynote itself made one thing very clear: Nokia is changing. Everything is. After the rather dull keynote from last year, there was a certain feel of excitement in the air. It was a completely different energy from what I experienced last year, and I felt this has connected to the crowd. Stephen Elop was up first, informing us about several happenings around Symbian, the strong demands for the N9, NFC and the next billion. To strengthen their plans, 4 new mobile phones were announced, the "Asha" line-up. Blanca Juti then took over the stage in a beautiful indian dress, explaining the purpose of the four new ones, with some practical sample cases. Blanca got all excited, even dancing to Shakira, I didn't expect to see this! All the Asha devices are set to bring modern features to emerging markets, bluring the lines between the classic mobile phones and smartphones, but yet keeping the price down and staying affordable. Dual-SIM, Nokia Maps and newly announced: WhatsApp and Angry Birds on Series 40! Nice work there.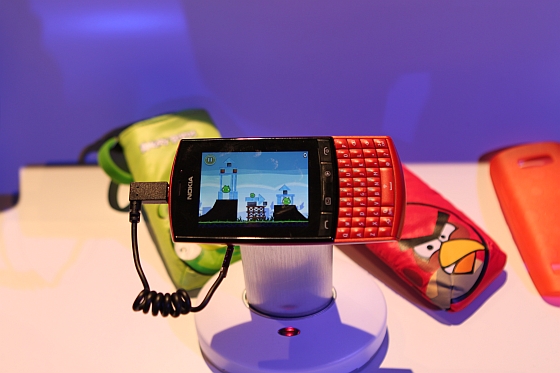 Business was about to pick up when Stephen Elop then came back on stage again, and introducing the smartphones I was most excited to see about: The Nokia Lumia 800. I'm glad Nokia decided to at least put a name in front of the odd numbers naming scheme. Kevin Shields then entered the stage, talking us through not only the Lumia 800 hardware, but also some of the features in Windows Phone 7.5 aka Mango. Some of the Features introduced were contacts and group management, office, xbox live integration, media sharing and the unique Nokia WP apps Nokia Drive, Music and the ESPN sports app. I felt the introduction of those Windows Phone features were very important, even for the people in the room, just to remind them about what WP is capable to do. Although not perfect, Windows Phone has great potential, and those features can not be demo'ed often enough. And after all, according to Kevin Shields it's AWESOME!!!! How awesome? Well we've been able to try that ourselves, as everyone from our crew got a Lumia 800 for the time at Nokia World to test out.
Mr. Elop then joined the stage again, for a bit of a chat between the guys, including the dressing of a "few rumors and leaks of the 800". Very cool they've acknowledged them, and not just closed their eyes. We then experienced the introduction of the second Windows Phone device, the Lumia 710. The 710, as the numbers suggest, is a more affordable handset. However, that does not mean it's a low end device. I was impressed that Nokia decided to crap in the same specs of the 800, into the 710 and sell it for a price of just 270 €. Where's the difference? The Lumia 710 features a LCD display, instead of the uber gorgeous CBD AMOLED display on the 800, and comes with a plastic body, instead of the unibody-polycarbonate version. However, the 710 will feature a removable battery again, and exchangeable back covers, in a lots of funky colors. The device itself will come in either black or white. I can see this sell like hot cakes if advertised properly, which brought us to the next speaker: Steven Overman. And he was talking about the most important thing, and exactly what I was hoping for!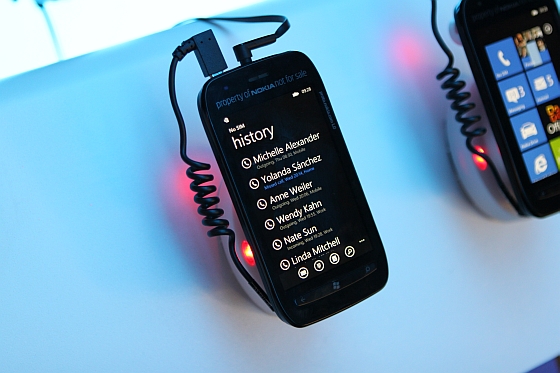 Fact is, and I have experienced this a lot lately: Windows Phone has a ton of potential, but hardly anyone knows about it. Whenever I show my Windows Phone to anyone, they're surprised I'm not going with Android or iOS, but a quick demo usually raises their eyebrows. Steven Overman explained to the crowd in attendance, that Nokia has invested into a multi million dollar marketing operation, making people on streets aware of Windows Phone. Not only that, Nokia also promised to send out more phones than ever to sales people and make sure to train them. I felt it is very important for sales people, to not only show off Android devices or the iPhone, but also grab a Lumia 800 and put it next to them. "The Amazing Everyday" campaign was launched at Nokia World, with new TV commercials and some very cool sales stands, all of which were shown off in the Experience Lounge.  Stephen Elop came up to the stage for the last time and then announced prices and availability of the new devices. In a very cool move, he then sent us to a factory in Finland, where it was announced that the Lumia 800 is shipping to stores and retailers in that very minute, which got a nice round of applause. Shipping a handset to store in Nokia language usually means about 2-3 weeks until it's available for the customers, which, quite frankly, is amazing. Not every country will get the Lumia immediately though, the launch will be done gradually until early 2012. For Nokia standards however, that is a huge accomplishment!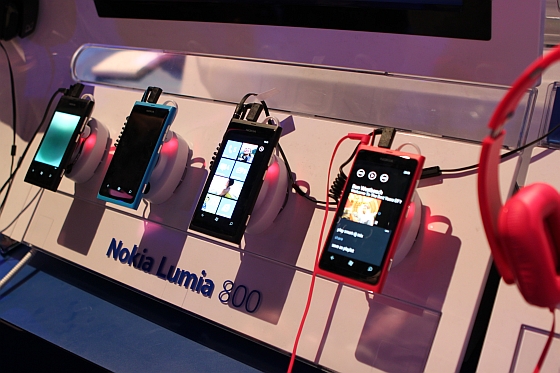 Did I like everything about the Keynote though? Uhm.. No. First, why no Specifications? Would it hurt them to spend a minute and tell us about it? Cause after all, the specs in the Lumia's are not bad? Brag about it! Second, I felt the Windows Phone introduction was good, but not enough for my taste. The features introduced were alright, but I think Nokia should at least taken 5-10 more minutes, and introduce everything that makes WP different from anything else. Nonetheless, the keynote was a good way to start into Nokia's future.
After a short stop at the very cool Foursquare gift machine and my friend Riccardo Webb from 1000heads, we finally entered the huge experience lounge. Same like last year, everyone was buzzing around to get their blog footage and reports done, and Nokia gave their best to show off what's happening not only, but also in the future. I decided to just walk around the experience lounge fow now, as it was just way too crowded at the stands. This turned out to be a good decision, as it gave me the opportunity to meet some good friends again from last year, as well as some new contacts I have made online before. Everyone was genuinely in a good mood and impressed by what Nokia has delivered, a complete 180 from last year. I was especially happy to meet my very good friend Richard Dorman again, who most of you might know as @Sheridan01 and his Only Fools and Mobiles blog. Richard has become a very good friend over the years, sharing the same passion than I do, and it's just always nice to see him, and his wife who I also met for the first time! If you don't follow him already, make sure to say hello, and be impressed by his gigantic collection of Nokia phones. You won't regret it. I have also had the opportunity to disturb the All About Symbian Crew while working, and finally shake hands with Steve Litchfield, and Rafe Blandford again, not to forget David Gilson and Ben Smith of course, who made Rafe look good in front of the camera during those days 🙂 Steve then introduced me to Engadget's Myriam aka tnkgrl, who turned out to be supercool, even if we didn't have much time to talk!
Time flew by quickly at the experience lounge, and in between meeting and greeting people, we also had some nice Q+A sessions organized by the Nokia Connects guys, bringing us together with the product managers, who were introducing the new goodies for us again and kindly answering our questions. I always enjoy those, as the guys have worked on the handsets/accessories and know literally about anything. One especially unreal moment occurred, when the door opened while having one of those sessions, and in came Stephen Elop, the boss himself. After I've collected my jaw from the floor, Mr. Elop took a moment and thanked us for our hard work and assured us, that it didn't go unnoticed. Some standard words for us, but still a very cool moment.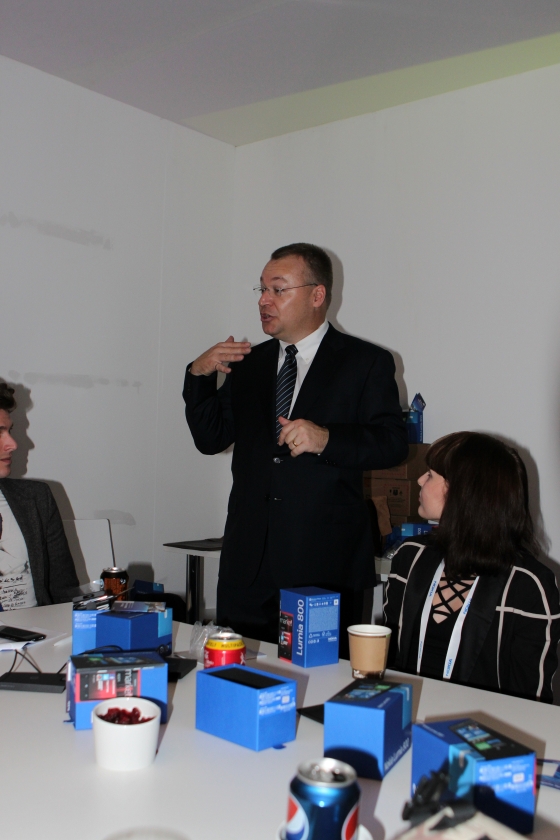 Time sure flew by at the first day and there was a TON of cool stuff to see. As the day came to an end, we were all getting ready for the Nokia Party. Set at the Excel Center instead of inside the city this year, this party was one of my highlights this year. Lots of nice drinks and food, some really cool acrobatic shows and music for all of us! Nokia is all about connecting people and they made that clear once again at the party. Literally everyone and everyone's friend was there, and it was just a brilliant time. The Party was all about meeting people and I have met a ton of them! Some guys from inside Nokia were there, especially happy to meet my friends Jan Bonnevier and Kee Cheng again, who took care of us at the Nürburgring earlier this year!  I had the honor and privilege to hang out with guys like Phil Schwarzmann, my friends from Nokia Connects, incl. Frank Grindrod, Donna Suffling, Mike Davison, Katie Bunting, Simon Adamson, Meg Grogan and many many more! Furthermore, I bumped into Thomas Perl, student from austria and developer of the popular podcasting client gPodder (which we will review here soon!), who turned out to be a very cool guy. I could ramble on and on about who i met and talked to, but I want to mention one more long time friend who I finally met: David Middleton! I was really looking forward to meet David after all those years, and what can I say, he turned out to be just as nice as on the interwebs! All good things had to come to an end though, and with my departure on the next day in mind, I've decided to go back to the hotel early, while everyone else was off to party in town 🙂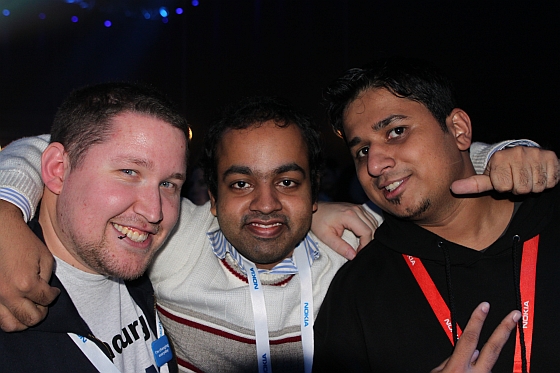 Nokia World Day 2
One thing was clear: Since I've kept Day 1 as a day to just hang out and meet friends, Day 2 would be busy. Device shots, video shooting, more Q+A sessions – and after another good breakfast with the gang, I was ready to tackle my tasks! I've been running around with my Canon EOS 500D and a 24-70mm f/2.8 L lens I've rented, for some nice pictures of the event, and it didn't disappoint. Day 2 at the event kicked off with another short keynote, basically recapping Day 1 and a cool dance show by a group of people who won Britain's got talent (forgot the name). After having a look at all the different stands at Nokia World, including a NFC-related one, that especially kept my interest and the awesome Future Lounge, I got my call for the video shoot. That wasn't before I tried the very cool Nokia Kinetic concept, a device that was completely operated via bending the whole phone. Nokia Connects got all of us in front of a camera, and had us talk about the Lumia 800. My topic was "groups and sharing", a feature i use a lot on my Windows Phone, so it was an easy one for me. The video turned out extremely cool after editing.. oh, you wanna see it?
That was a fun experience, believe me that! Lurking in the shadows, hidden away from everything Nokia did, was one of my personal favourites: The Nokia N9 in white! Never ever have I seen a device hotter than that. The glossy white finish, the ultra black display, it must be straight from heaven!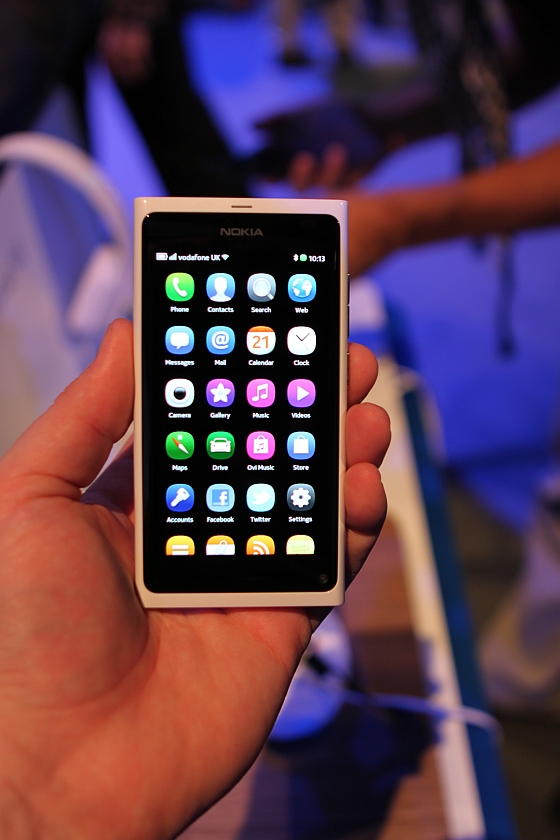 Time flew by unfortunately, and after a quick lunch with Edward from the Nokia Mobile Blog and Lester Chan I decided to attend the last Q+A for today. The clock said 3pm already, which meant it was time for me to head back already. Saying Goodbye is never easy, and this time was no exception. After saying bye to as many people as possible, I got back to the Hotel, where Nokia Connects has organized a cab for me. It was a journey until deep in the night, in fact it was 1.30am when I finally arrived at home. And after a 4,5hr sleep, I found myself in my office chair, with Nokia World already being history. A lot has been going down, and the energy was very high the whole event. Nokia is changing for the better, a message that couldn't have been any clearer!
Last but not least, I want to thank the whole Nokia Connects team for making those two days as awesome as possible! And of course, our crew, a selection of great bloggers and enthusiasts from all over the World, including Clinton Jeff, Vaibhav Sharma, Aditya Singhvi, Lester Chan, Edward, Jimmy Lee, Stephen Quin, Jay Montano, Arun (a long time friend from back in the Symbian Freak days), Vinu Thomas, Iain Wallace, Dani Adassa, Mark Guim, Stefanos Kofopoulos, Sara Näse, Fone Arena's Varun Krishnan and Jon Choo, and probably a hundred people I have forgotten, if that is the case: sorry!