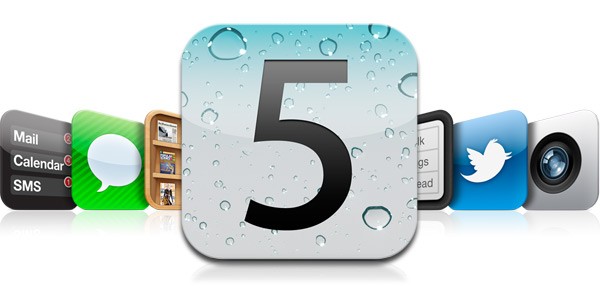 Apple's iOS 5 mobile operating system will be released in the next few hours. This latest update is compatible with most recent iterations of the Apple mobile line, including iPhones after the 3GS, iPads and the iPod Touch.
The update includes a new notification system reminiscent of Android, location-based reminders, BBM-alike iMessage and Twitter integration. There are over 200 other tweaks and updates to the OS as well, including upgrades to core apps such as Safari and Mail. Let's have a look at the bigger changes in more detail.
Notification Center
The new Notification Center is definitely the most obvious change in iOS 5. The Apple OS now uses an Android-style notification system, where new notifications appear near the top of the display, instead of on a mid-screen box that must be closed. If you'd like to immediately open a notification, then you can do so by swiping over it, or if you don't just wait a few seconds for it to be stored away.
You can access the notification center itself by swiping downwards from the status bar, just like on Android. New notifications are listed from the window that appears and grouped by app. You can then clear or open each notification individually, or clear all at once. There's also room for an optional weather or stock display here, too.
The lock screen's notifications have also been revised; now when you unlock your phone you'll see all notifications that you've received since you last unlocked. You can swipe on any one of them in order to view that notification, directly from the lock screen.
iMessage
The other big feature in iOS 5 is the "BBM-killer", iMessage. The encrypted instant messaging program gets many from its hints from BlackBerry Messenger, but provides a much more streamlined experience, thanks to the familiar SMS interface. As well as text, you're also free to send videos, photos, contacts and locations. All in all, it's a great free alternative to SMS, and should prove incredibly popular, particularly if as expected Apple releases a Mac or PC client in the future.
Location-Based Reminders
Now you can ask your iPhone to remind you of certain tasks when you arrive  at or leave a certain location. It's a perfect system for reminding yourself to pick up the kids on your way home, and comes crafted in that enviable Apple style to differentiate itself from similar reminder apps on the marketplace.
Twitter
Of course, it's 2011 so we're getting Twitter on our iPhones. The functionality is embedded into the operating system, allowing you to send relevant things to Twitter via a number of the built in applications, including URLs from Safari, photos from the Photos app, links from YouTube and locations from the Maps app. It's not quite as good as the true system-wide availability found in Android, but does go a long way towards streamlining the Twitter experience on the iPhone.
Conclusion
All things considered, with these upgrades alone iOS 5 would be a no-brainer. Of course, there are far far more than just the four I've elucidated on here, so check iTunes later today, download iOS 5 and check them out for yourself!