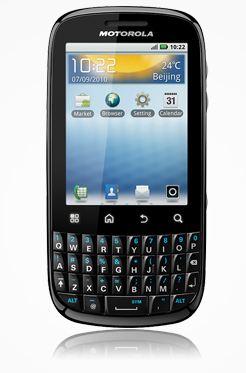 Motorola Android phones are very well known around the world and they recently launched a new Android phone with portrait QWERTY keyboard, which is known as Motorola XT316. Phones with portrait keyboard and touchscreen are becoming famous now a days, like recently we saw the LG Optimus Pro and Samsung Galaxy Pro, and now the Motorola XT316 which is hitting UK where it will be launched by Clove UK and they changed the name to Motorola FIRE. The device is due later this September and it will go for £180 + VAT (£216 after adding VAT). Clove UK will offer the SIM-free version but if you interested in the XT531 which is actually a touchscreen-only variant of FIRE, then unfortunately Clove isn't getting it but probably users will be able to get it from UK mobile networks.
FIRE seems to be a very good entry level device and it's up for pre-order on Clove store. Anyway, have a look on the specs:
Front Facing QWERTY keyboard
Android 2.3 (Gingerbread)
2.8" Touch screen
3MP Camera
Wi-Fi
Bluetooth
3G
1420mAh Battery
So who's planning to get one from Clove UK?
Source: Clove Blog