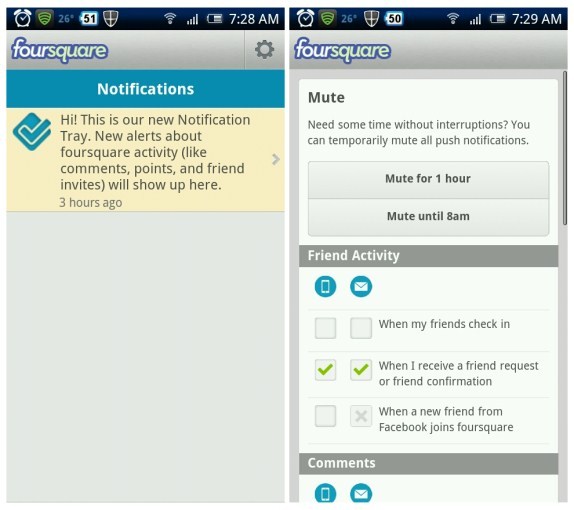 The latest update (2011.07.05) for Foursquare for Android brings new notification tray that lets the users keep track of friend's check-in, comments, tips, badges etc. This update also brings new settings that is redesigned to enable or disable the notifications similar to the Foursquare web application.
New features in the latest version of Foursquare for Android
Access the new notification tray from the top header bar to view comments on your check-ins and photos, Facebook friends joins foursquare, when you earn extra points etc.
Change the notification settings from the notification tray header.
Mute the notifications for an hour or until the next day morning.
Enable or disable the app or e-mail notifications from the settings.
Some of these notifications are only available on the app and not sent as e-mail. The notifications are also available on the Foursquare website and coming to iPhone and BlackBerry phones soon.
Download the Foursquare for Android from the Android market for the Android phones that run on Android 1.6 and above.