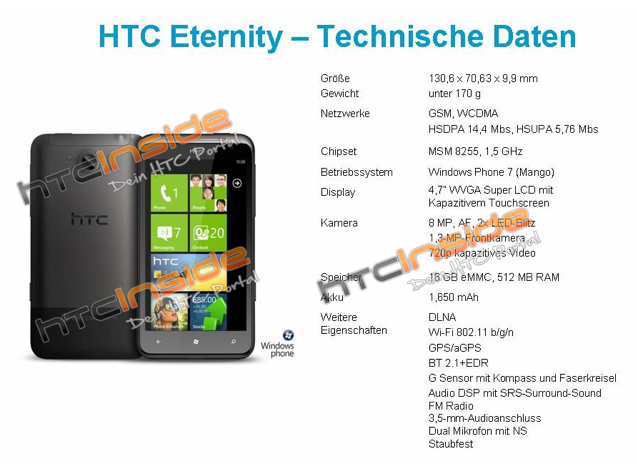 In last few months, HTC launched several Android devices like the HTC Flyer, EVO 3D and HTC Sensation. All of them are amazing devices and now HTC is looking forward to introduce some new devices, but this time they might be launching WP7 devices. We recently saw the unannounced HTC Mazaa and it seems it's not the only device HTC is working on. HTC-Inside got their hands on first leaked images of HTC Eternity which is said to be one of the first WP7 devices running on Mango. HTC Eternity looks like a promising device and it will be running on a 1.5 GHz single-core processor, 4.7 Inch AMOLED display, 8 MP camera with LED flash and 1.3 MP front-facing camera, 16 GB of internal storage, 512 MB of ram and 1,650 mAh battery.
Specs are nice but as dual-core is becoming a trend, maybe people who are looking forward to dual-core WP7 devices might be disappointed but let's wait for some official words from HTC. Hopefully, HTC will be launching this device later this fall as other WP7 Mango devices are also coming in this period.
So anyone looking forward to this huge-WP7 device?