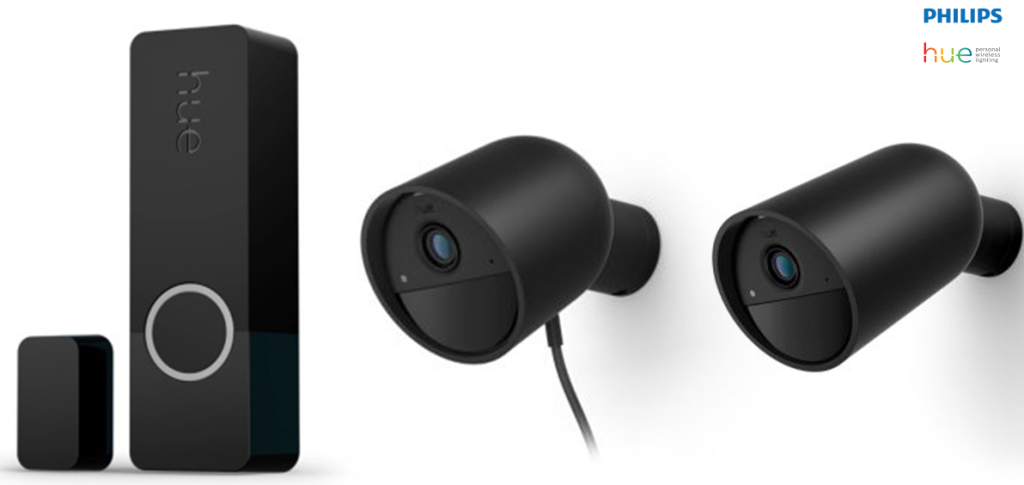 Signify has introduced a new product line called Philips Hue Secure, designed to enhance your home security. This includes smart cameras, sensors, smart bulbs and app features.
Philips Hue Secure Cameras: These cameras offer clear 1080p HD video and night vision for real-time home monitoring. They send motion notifications and can activate Philips Hue lights and alarms. You can also use two-way talk.
Philips Hue cameras come with end-to-end encryption by default, keeping your video and data private. They can recognize different triggers without relying on the cloud, ensuring continuous encryption.
You can choose between battery and wired cameras in black or white. The wired version comes with a desktop stand. You can also use a Secure camera mount for outdoor placement.
Floodlight Camera: The outdoor floodlight camera combines security and lighting. It illuminates a large area when an alarm is triggered through the Philips Hue app.
Contact Sensor: The contact sensor, available in black or white, alerts you when doors or windows are opened. You can automate lights based on sensor activity.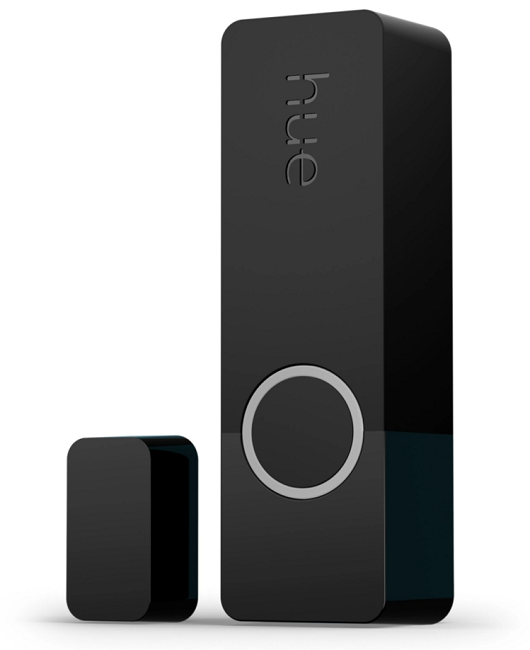 Philips Hue Secure starter kits
Philips Hue Secure starter kits include various products to start using the system. A Philips Hue Bridge is required for advanced features. To ensure security and privacy, users need a Philips Hue account. Admins can control member permissions. Some advanced features require a paid plan, offering 30 or 60 days of video history.
Other New Products: Philips Hue introduces Festavia string lights in different lengths and three new light effects. The MR16 smart bulb brings smart lighting to conventional spotlights.
Philips Hue App
The Philips Hue app now includes a Security Center. It lets you take action when you receive notifications, including triggering alarms, calling authorities, or trusted contacts.
You can personalize camera settings, create blackout zones, set activity zones, and review event timelines. Matter interoperability will be available via a software update in September 2023.
Pricing and availability
Philips Hue Secure contact sensor is priced at USD 39.99 (Rs. 3,305 approx.).
Philips Hue Secure wired camera is priced at USD 199.99 (Rs. 16,545 approx.).
Philips Hue Secure battery camera is priced at USD 249.99 (Rs. 20,680 approx.).
Philips Hue Festavia string lights come in three effects (100, 250, 500) with prices of USD 119.99 (Rs. 9,925 approx.), USD 219.99 (Rs. 18,200 approx.), and USD 359.99 (Rs. 29,780 approx.) respectively.
Philips Hue MR16 bulbs will be available later this month, with prices to be announced later.
All the above-mentioned products will be available for purchase from the Philips Hue store.
Speaking at the launch, Jasper Vervoort, Business Leader Philips Hue at Signify, said:
As the world leader in smart lighting, we understand the crucial role light plays in security. With our previous innovations like Philips Hue motion sensors and Mimic presence automation, we're now expanding to offer a full suite of home security solutions.

By integrating our smart lighting system with cameras, contact sensors, and app features, we provide a unique security solution through light. And our commitment to innovation doesn't stop here – we will continue to unlock the potential of lighting and security for our users.