ARCHOS is well known for its cheap devices, but this time they have managed to come up with two tablets which are not only cheap but are really fast, 250 GB Seagate HDD, Android 3.1 Honeycomb Android market place and Google mobile app support. ARCHOS unveils the 8" 80 G9 tablet and the 10.1" 101 G9 powered by a 1.5 GHz dual core processor. These devices have it all!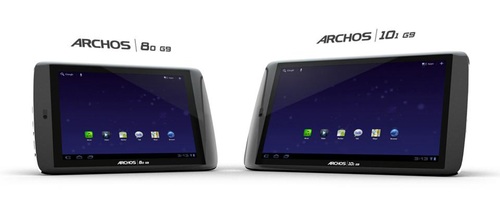 These tablets will be the first from ARCHOS to have the Android market place. The processor of this device looks really amazing but we have always been disappointed by the GPU which TI uses but it is said that the CPU inside these tablets is 50 % more powerful than NVIDIA'a Tegra 2. Other than the size there is no difference between these two tablets.
Spec list of the tablets:
TI OMAP 4 1.5 GHz ARM Dual-Core cortex A9 processor
16 GB internal storage
250 GB Seagate HDD (optional)
720p video playback
Android 3.1 Honeycomb
720p front facing camera
HDMI output
Kick-stand
Apart from the powerful processors there is also a variant of these tablets which comes with 250 GB HDD which will be very useful. These two tablets come with Android 3.1 and will be updated to 3.2 pretty soon, though there is no official word when the update will be coming. Also we could not find any mention of a rear camera. These devices look really great and also priced at an unbelievable low price, the 80 G9 is priced at $279 while the 101 G9 will be sold for $349.
These devices feature a USB port and ARCHOS provides it's 3G USB stick with the tablets for a $49 add on. This USB stick can also be used in your laptops as well.
Catch the teaser of these tablets below:
httpv://www.youtube.com/?watch=wZvTymbstsY
These two tablets have it all, and also priced well below the other tablets in the market. The real power of these devices will come to light only when it is launched so we will have to wait for these devices to come out, and then compare it with other devices in the market.
Source: ARCHOS