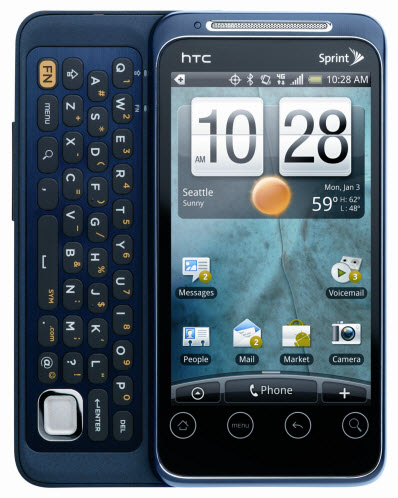 Android OS powered phones are available in wide range of variety, like you can get a high-end Android phone as well as a mid-range powered phone too, all depends on your budget. High-end comes with everything latest and they are always running on the latest OS version, and mid-range devices are sometimes missing it. Android 2.3 a.k.a Gingerbread is the latest version of Google Android OS and high-end devices are shipping with it, also some mid-range devices too. It's also rolling it to devices running on old software version and now it's HTC EVO Shift 4G turn. HTC EVO 4G recently received it and now Shift 4G will start receiving Android 2.3 from June 20th and it will be an over-the-air update. Shift 4G is a QWERTY slider phone, and it's actually Sprint version of Desire Z.
If you are just like me and can't wait to try Gingerbread then just go to Menu>Settings>System updates>HTC software Update and the manual update will start, you can do it right now. It will bring Gingerbread features to Shift 4G as well as Swype text capability.
So Shift 4G users, don't forget to share your Gingerbread experience with us.