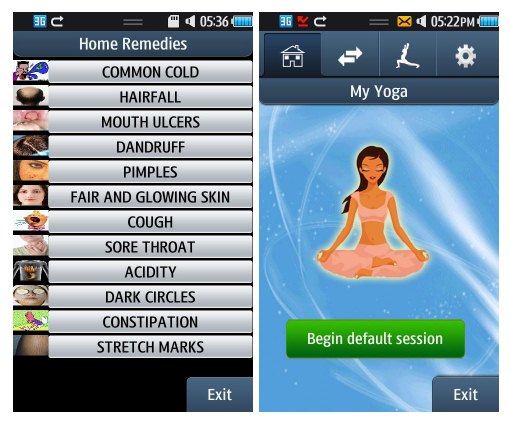 Samsung announced Wave 2  last October and officially launched it in India this January. This phone runs on Samsung's proprietary Bada OS. Here are two useful and unique Bada apps, Home Remedies and My Yoga from the Samsung App store, that crossed 100 million app downloads in the first 10 months and also rolling out operators based billing in 11 countries.

The home remedies app gets you remedies for common ailments using the ingredients in your home, so that you need not go in search for a medical shop late night to buy the medicines. Some of the common remedies include cure for common cold, pimples, sore throat, acidity, constipation etc. All these remedies are given in a step by step procedure that are easy to follow and there are also more than one remedies.
The My Yoga app not only shows you Yoga positions but also guides you through the entire session to complete a asana. Other than playing pre-loaded sessions with voice guidance, that lasts up to 60 minutes, you can also create number of  custom sessions, which could be paused in the middle to take some break.
There are both male and female voices to choose from in the session. This app also provides details like name of the yoga pose and detailed description of each pose and also physical and mental benefits of them.
Download Home Remedies and My Yoga apps from Samsung Apps mobile application on your Wave II smartphone for free.