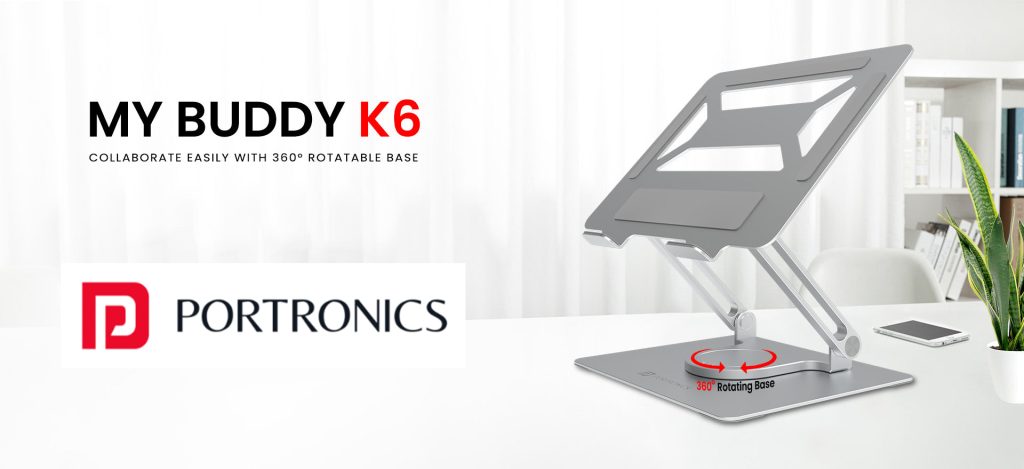 Portronics has launched 'My Buddy K6' Portable Metallic Laptop Stand with 360° Degree Rotating Base. It follows the launch of Mport 13C, 13-in-1 USB-C Docking Station last month.
This laptop stand is made of solid metal construction and boasts incredibly ergonomic shape, 360° Degree rotating base, and adjustable angles.
No matter if you're working at the office or at home, the My Buddy K6 is the ideal companion. It features air vents on the bottom to keep your laptop cool, while its adjustable features let you choose the height and angle of your laptop for an ergonomic working position. With this stand, you can support laptops and tablets up to 15.6 inches.
It's adjustable to fit your laptop's size and weight (up to 10kg), and its 360° rotatable design allows you to turn it easily for collaboration and increased productivity. Plus, its ergonomic angle helps maintain good posture and protect your neck and back from stress. And to keep your laptop from sliding, the stand has silicone anti-slip cushions that hold your laptop and the table.
Quick specifications: Portronics My Buddy K6
Material: Aluminium Alloy + Carbon Steel
Air Ventilation
Compatible with laptops up to 15.6″ screens
Flexible rotating structure
Bears weight up to 10Kg
Panel Size: 310 X 259 X 79mm
Rotating Base: 360 Degree
Adjustment: Multi -Angle
Colour: Silver
Warranty: 1 year
Pricing and availability
The Portronics My Buddy K6 Portable Metallic Laptop Stand is now available for Rs. 2,399 instead of the original price of Rs. 3,999, and with a 12-month warranty. You can purchase this product from Portronics.com, Amazon.in, Flipkart.com, or other leading online and offline stores.