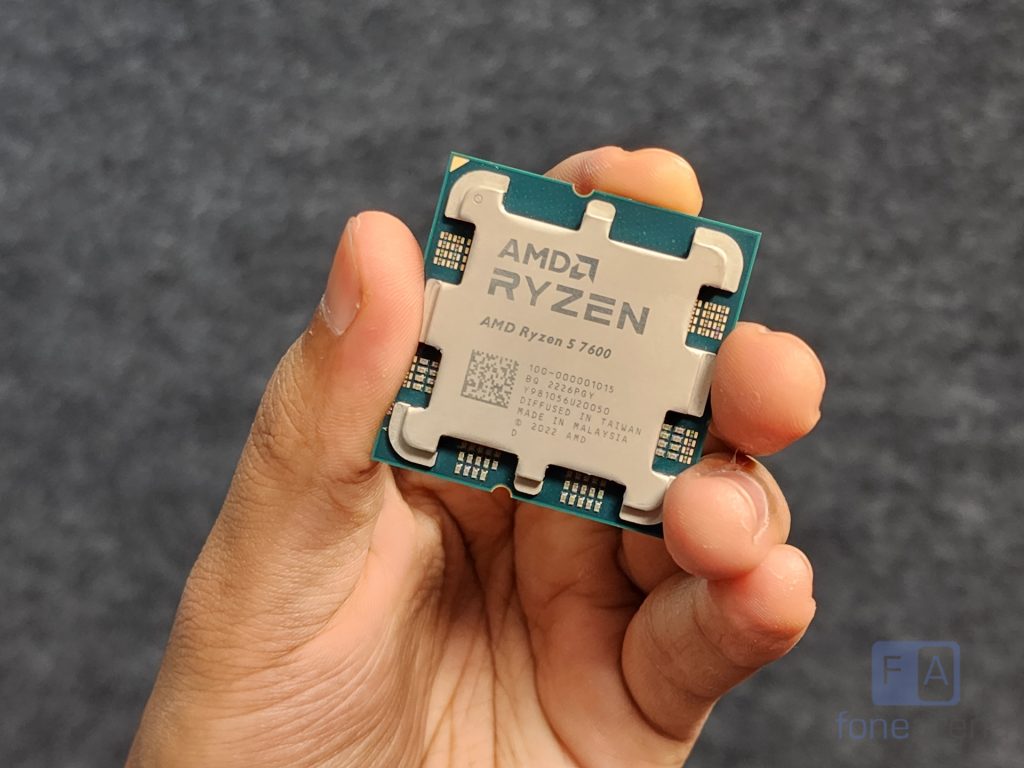 At their CES 2022 event, AMD launched a couple of new processors that expanded their line up of Ryzen 7000-series CPUs. The company introduced three non-'x' variants of the processors they launched last year along with 3 new 7000X3D series processors. We reviewed the Ryzen 7900X recently and was thoroughly impressed by AMD's Zen 4 architecture.
On the other end of the line-up, AMD has the Ryzen 5 7600 processor, which features 6 cores/12 threads but with a TDP of 65W. The lower TDP in theory should reduce the performance, but AMD claims otherwise. Does Zen 4's improved power efficiency really make a difference? Let's find out in this review.
Package
The processor ships in a standard box with AMD Ryzen 5 branding. Unlike the 7000 'x' series processors, the Ryzen 5 7600 ships with a cooler in the box. The cooler is the standard Wraith Stealth cooler that shipped with the previous generation Ryzen 5000 series processors.
Having an included cooler in the box increases the value proposition of the processor. The Wraith Stealth cooler is also more than adequate for most users, and it is great to see it included in the box. 
AMD Ryzen 5 7600 Specifications
| | |
| --- | --- |
| Cores | 6 |
| Threads | 12 |
| Base Block | 3.8 GHz |
| Max Boost Clock | Up to 5.1GHz |
| L2 Cache | 6MB |
| L3 Cache | 32MB |
| PCI Express | PCIe 5.0 |
| Memory Support | DDR5 at 5200MT/s |
| Max Temp | 95 degrees |
| TDP | 65W |
| Manufacturing Technology | TSMC 5nm FinFET |
| Socket | AM5 |
| Architecture | x86 / AMD Zen 4 |
| Launch Price | Worldwide: $229 |
| Warranty | 3 year limited warranty |
Our Test Bench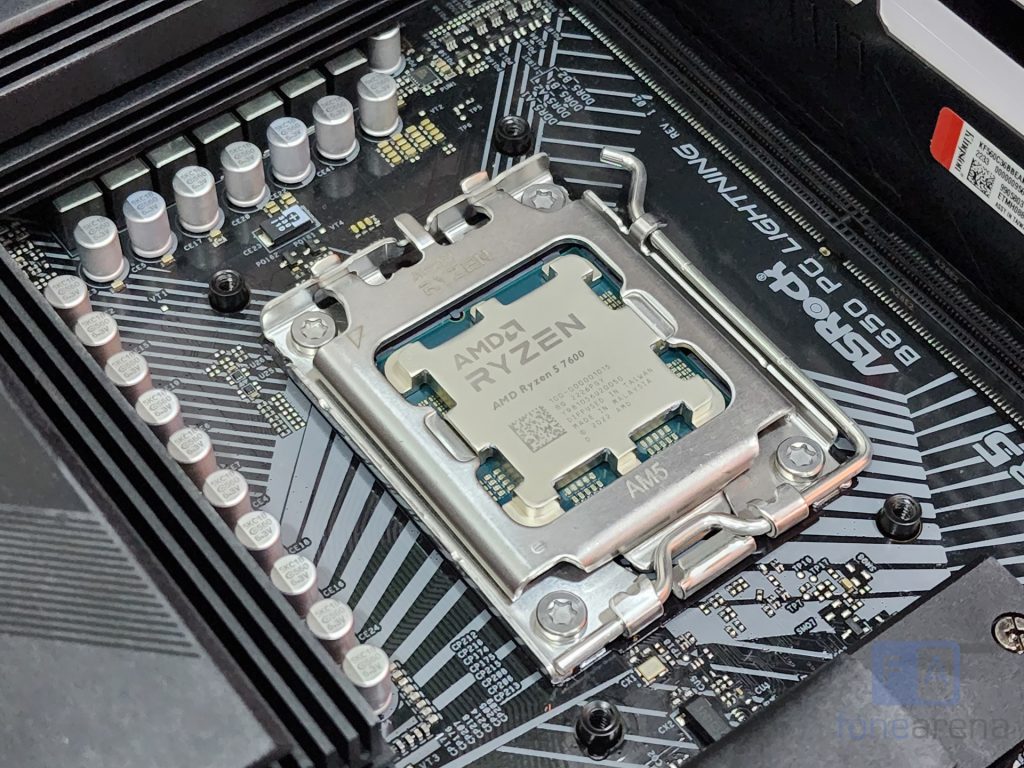 AsRock B650 PG Lightning motherboard

AMD Wraith Stealth cooler

32GB DDR5 5200MHz RAM

WD Black SN850 512GB PCIe 4.0 NVMe SSD

GPU: Nvidia GeForce RTX 3070 

SilverStone ET750-HG 750W modular power supply
Architecture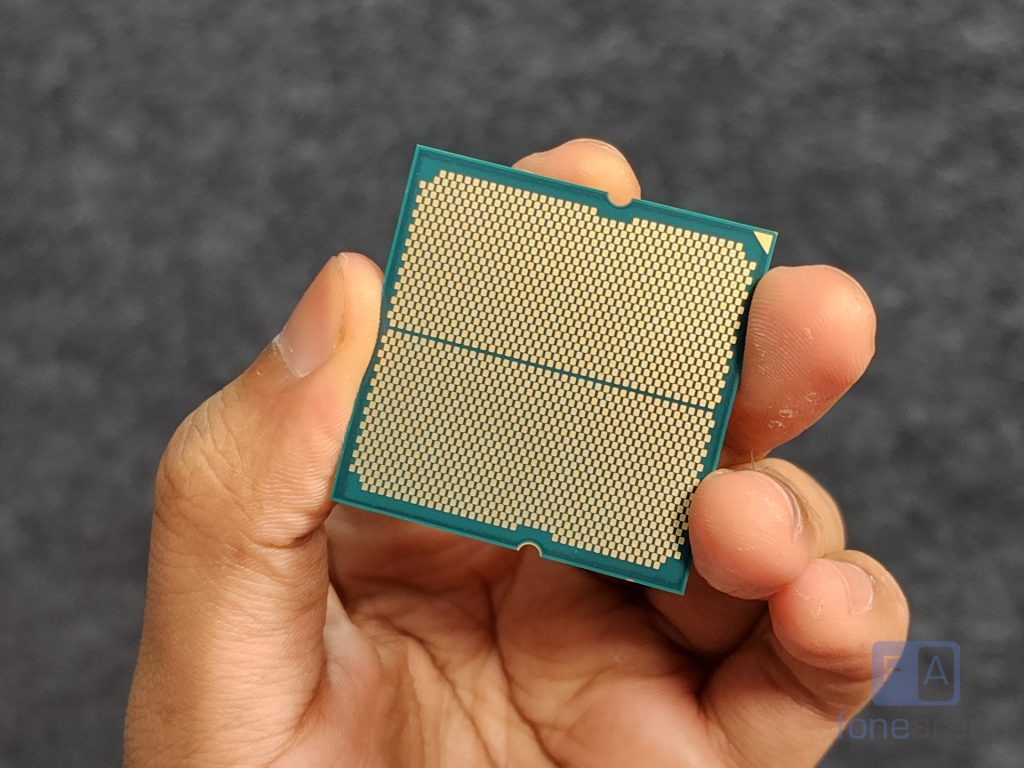 The AMD Ryzen 5 7600 gets all the same Zen 4 architectural updates as the Ryzen 7900X that we reviewed recently. These updates include improved power efficiency, faster base clock speeds, a new 6nm I/O die that incorporates an AMD RDNA 2-based graphics engine and more. The RDNA 2-based iGPU is not as powerful as older Ryzen APUs, however with its 2 compute units and 2.2GHz max frequency, it should be able to run most modern displays comfortably. 
The launch of the 7000-series Ryzen CPUs also included the introduction of the AM5 platform. It switches to an LGA socket, brings support for dual-channel DDR5 memory, PCIe 5.0 and a higher power target. For now, there are 4 chipsets announced for the AM5 platform – X670E, X670 and B650E and B650. They are expected to launch lower-end chipsets soon. 
Benchmarks
For our benchmarks, we focused largely on productivity and synthetic benchmarks, and less on gaming benchmarks. We will be expanding our gaming benchmarks in future reviews.  
Cinebench R23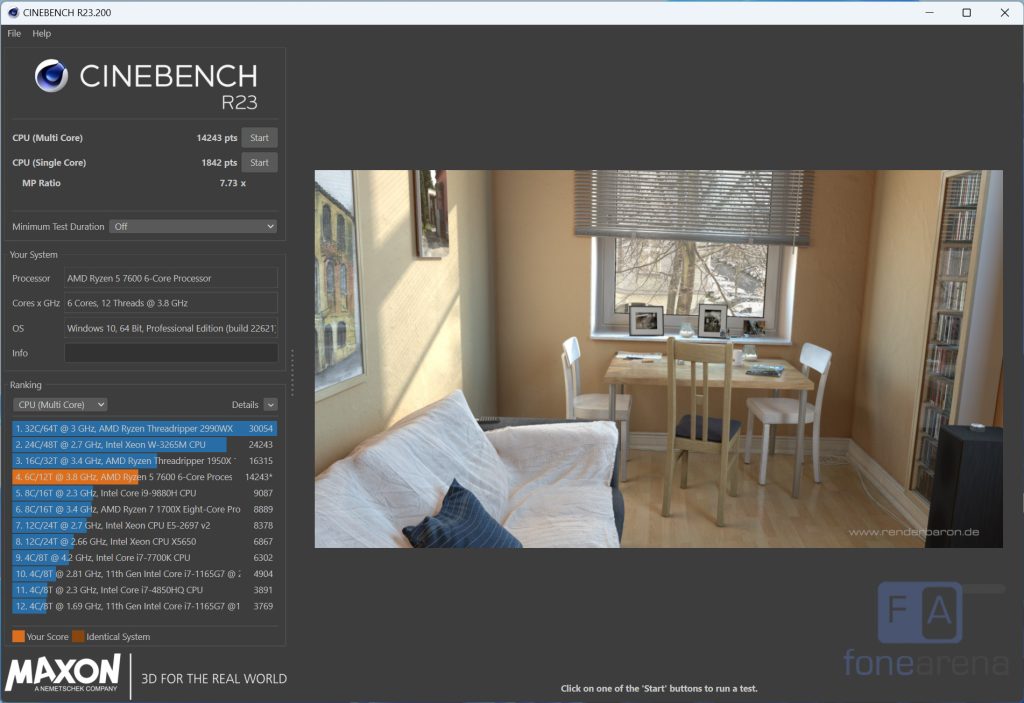 Cinebench is based on the Cinema 4D suite and can be used to measure 3D modeling, animation, motion graphic and rendering performance. We recorded a score of 14243 points in multi-core and 1842 points in single-core. 
GeekBench 5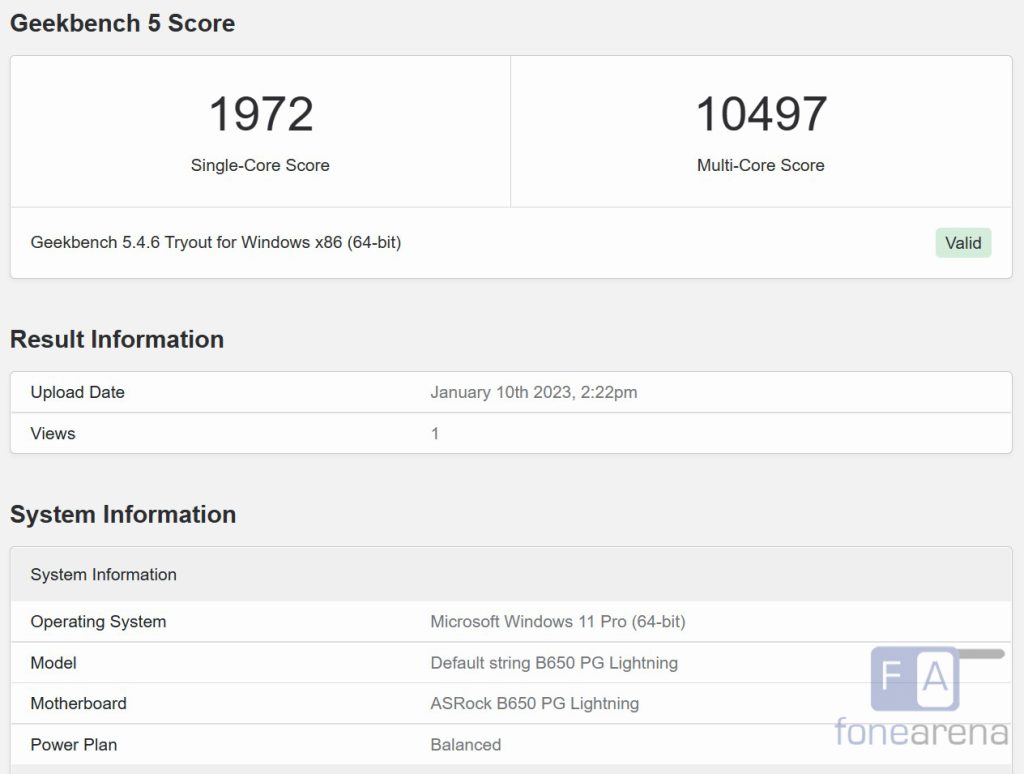 Geekbench is a popular cross-platform utility for benchmarking CPU and GPU performance. We recorded a score of 10497 points in multicore and 1972 points in single core. 
CPU-Z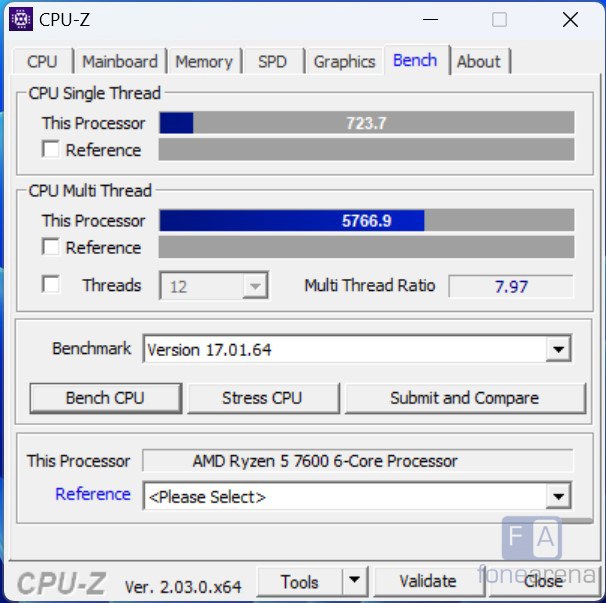 CPU-Z is a very popular tool to check the system information of Windows computers. It has a benchmarking tool built-in which gives a taste of the raw CPU performance of both single-core and multi-core. We recorded a score of 723.7 points in single-core and 5766.9 points in multi-core. 
PCMark 10 Extended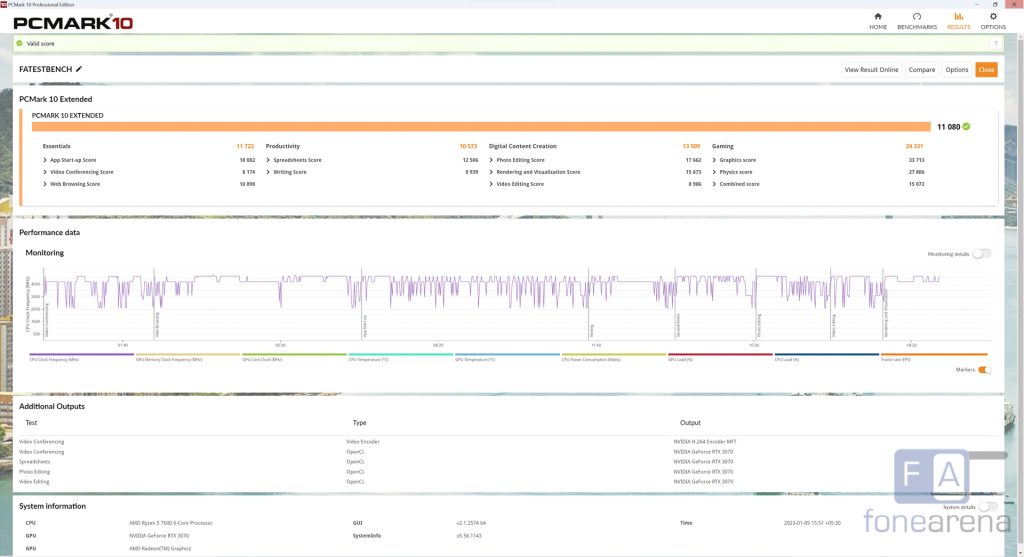 This is a benchmark that is geared more towards general usage and is developed by UL Solutions. For the test, we recorded an overall score of 11080 points. 
Blender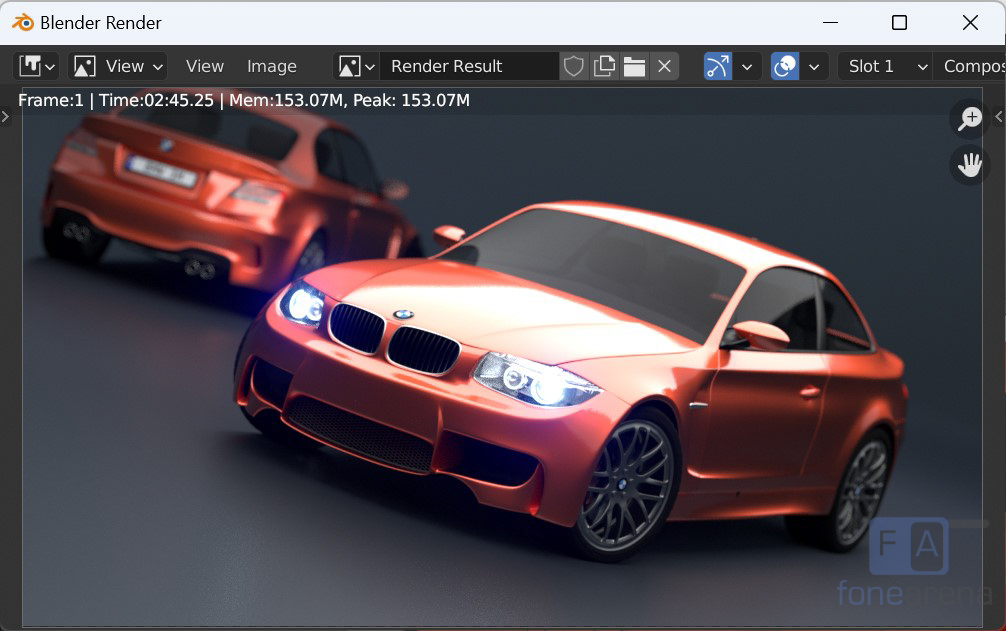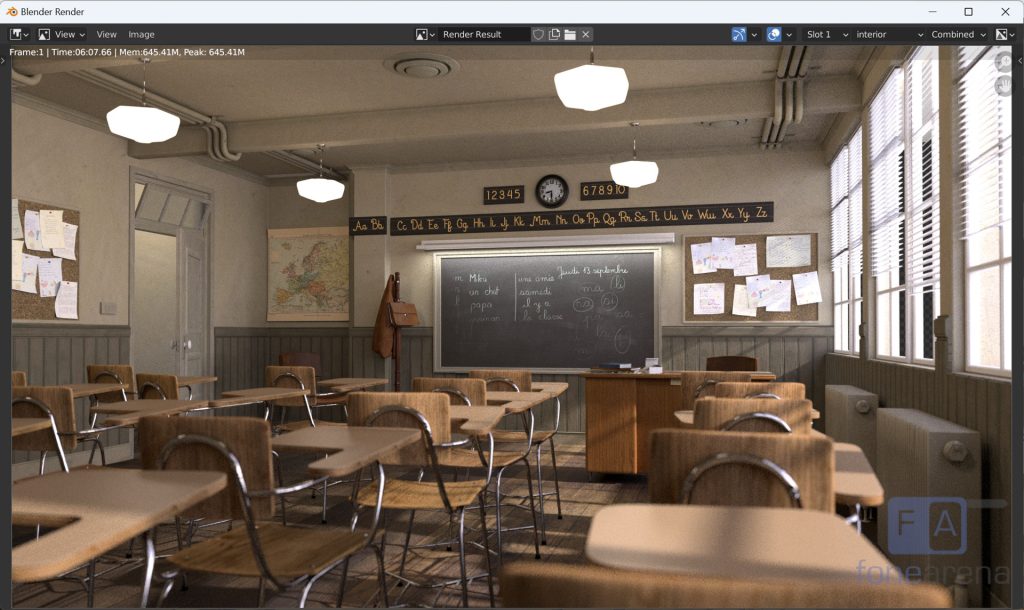 This benchmark is based on the Blender open-source project, which gives an idea about the rendering performance of both CPUs and GPUs. The BMW benchmark was completed in 2 mins and 45 seconds, while the classroom benchmark was completed in 6 mins and 7 seconds. 
Jetstream 2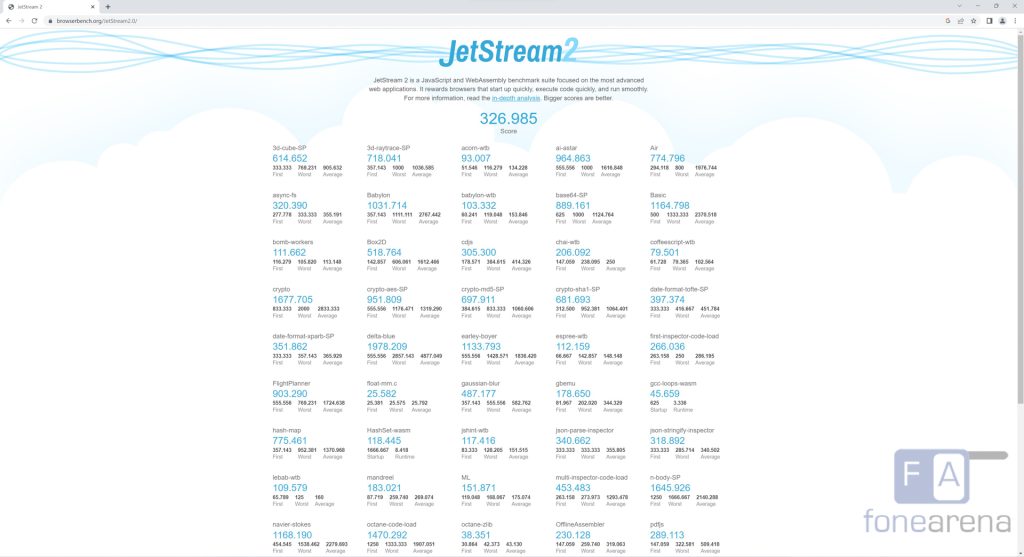 Jetstream is a Javascript benchmark which can measure browser performance effectively. It was run in Google Chrome.
Mozilla Kraken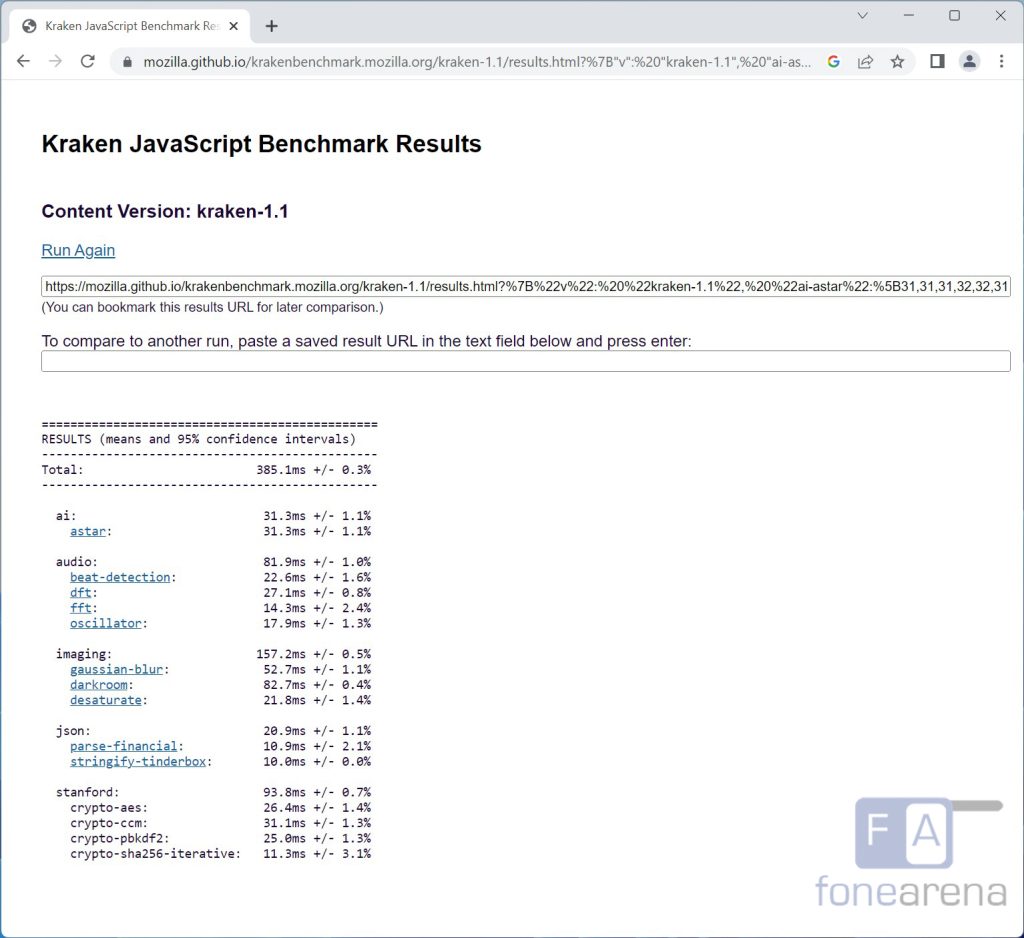 Mozilla Kraken is another JavaScript benchmark which is built by the Mozilla Foundation and gives a glimpse into real world web browsing performance. This test was run in Google Chrome.
7-Zip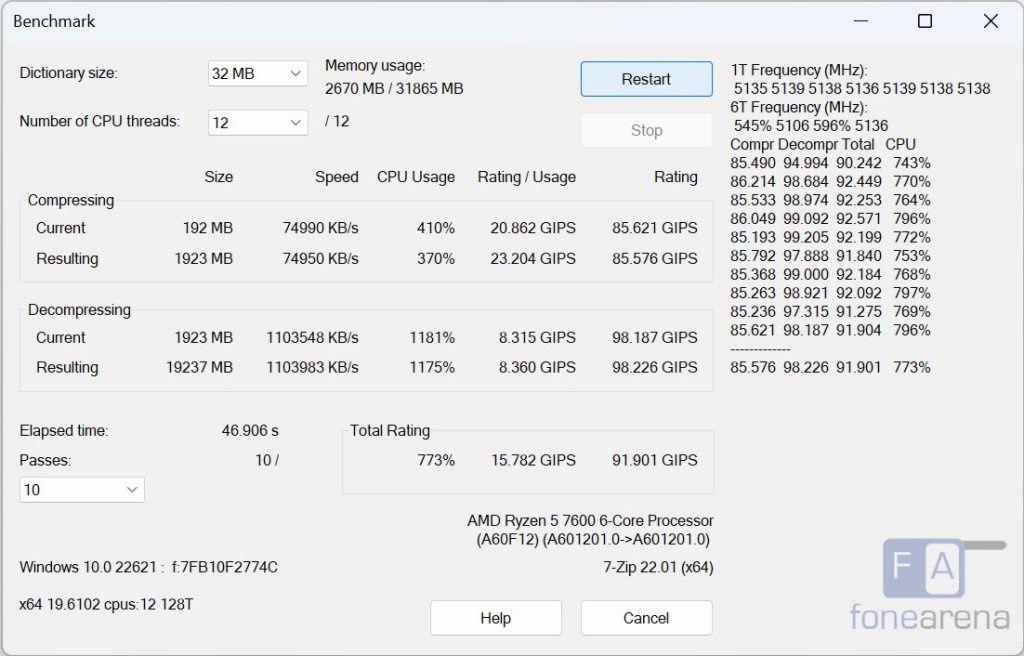 This is a built-in benchmark that comes with the 7-zip file compression app.
Gaming Performance
We tested the CPU under a couple of games at 4K and nearly maxed out settings. Here are our results: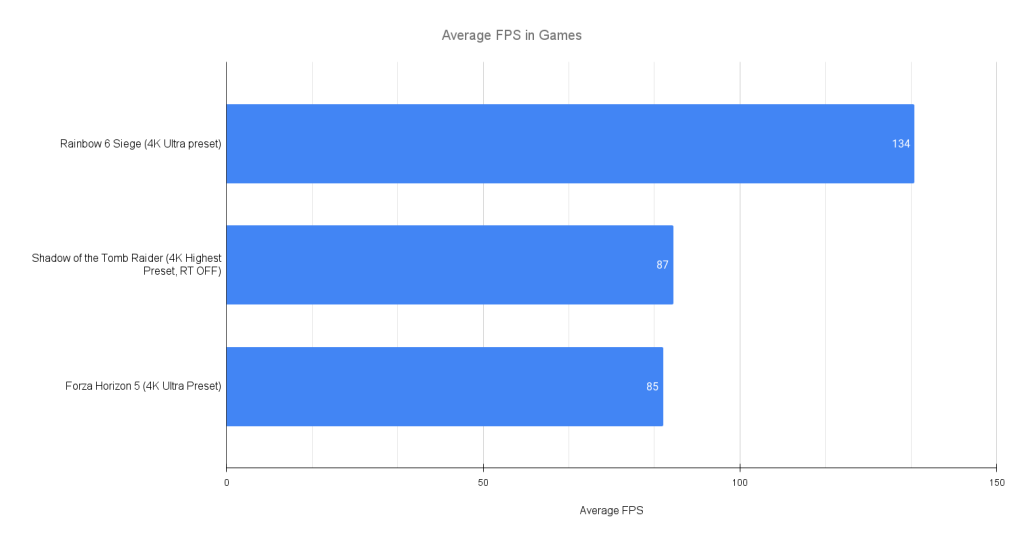 Ryzen Master / Overclocking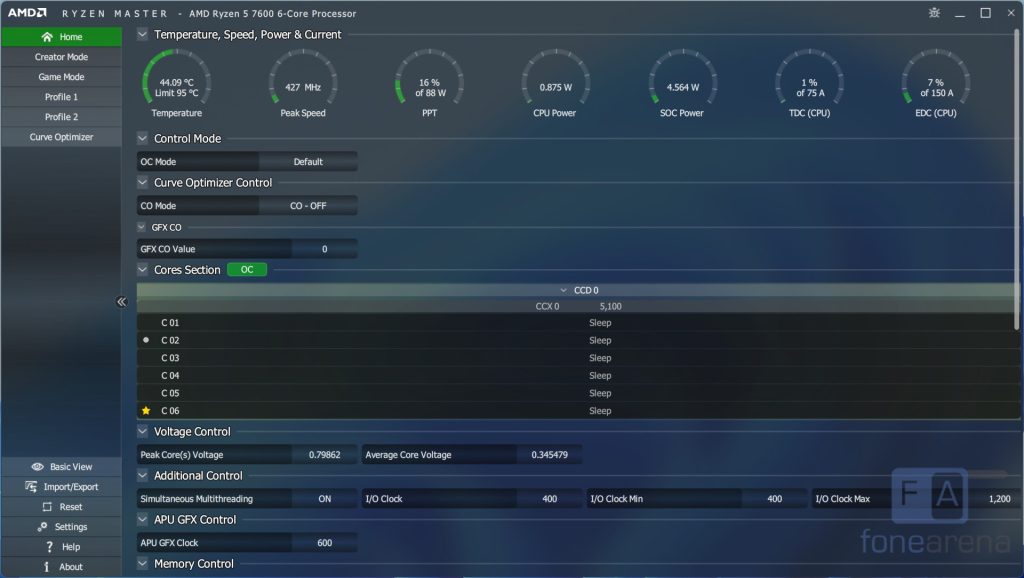 Even though the Ryzen 5 7600 is designed to be the value offering, AMD did not lock out features such as overclocking. As announced during their launch event, the entire 7000 series processor line up will support overclocking, and that includes the Ryzen 5 7600 too. Although the processor may not necessarily be great for overclocking, it is nice to have the option to apply tweaks to get some extra performance. 
On Windows, AMD's RyzenMaster is a great tool to monitor CPU performance right down to each individual core along with other various parameters. The tool also allows users to overclock without having to go into the BIOS settings. Just remember that manual overclocking can be a hit-and-miss, and it does require more technical know-how.
We request you to use the tool at your own risk, and we would not be responsible in any way if you void your warranty in case you damage your CPU
Real World Performance / Thermals
The power target is an interesting discussion for the Ryzen 5 7600. The first three processors in the 7000 series had increased power targets at up to 170W TDP. However, the non 'x' variants have a reduced power target of just 65W. According to AMD's claims, Zen 4's power efficiency is so good that the Ryzen 5 7600 can perform nearly as well as the Ryzen 5 7600X (which runs at up to 105W).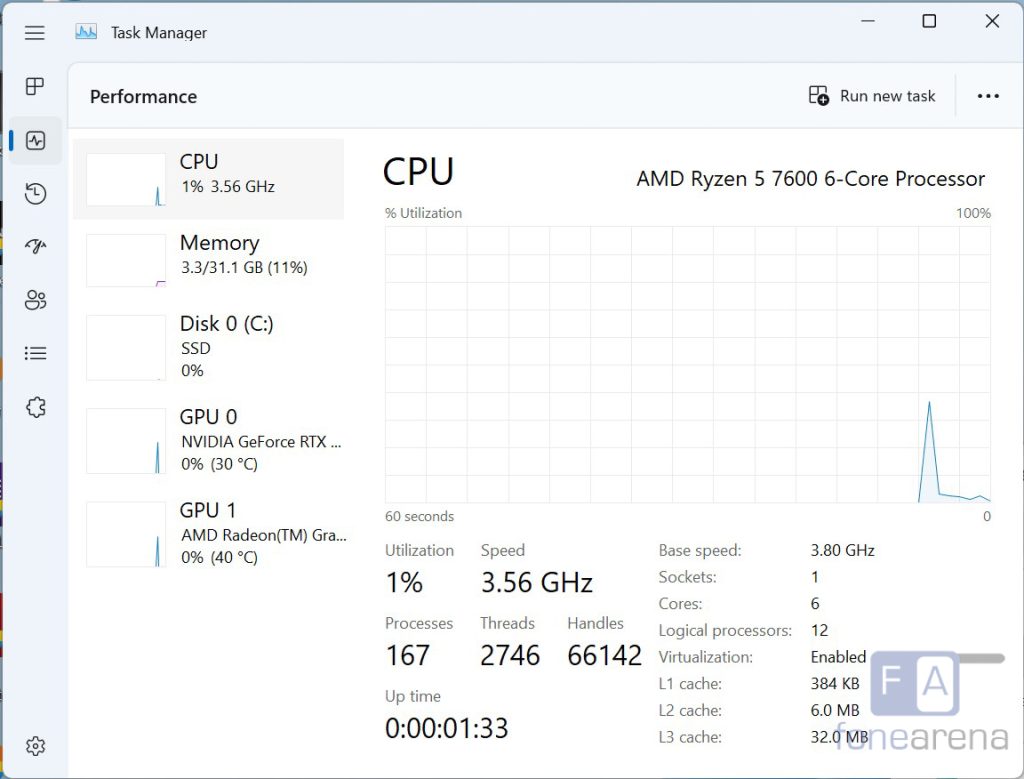 Using the included Wraith Stealth cooler, we tested the processor with synthetic loads and gaming loads. When running AIDA64's stress test, the processor peaked at 5.1GHz and then eventually settled down to 4.86GHz on all cores. During this time, the processor drew a peak of 72W and the temps touched a maximum of 94.5° C. This is an impressive result, considering that it was under an unrealistic synthetic load and with the in-box cooler. 
Under gaming loads, the temps were much better. The processor would boost its frequency comfortably whenever required, and the temps were well under control. If you do want to overclock the CPU, however, I would recommend getting an after-market cooler. 
Conclusion – Verdict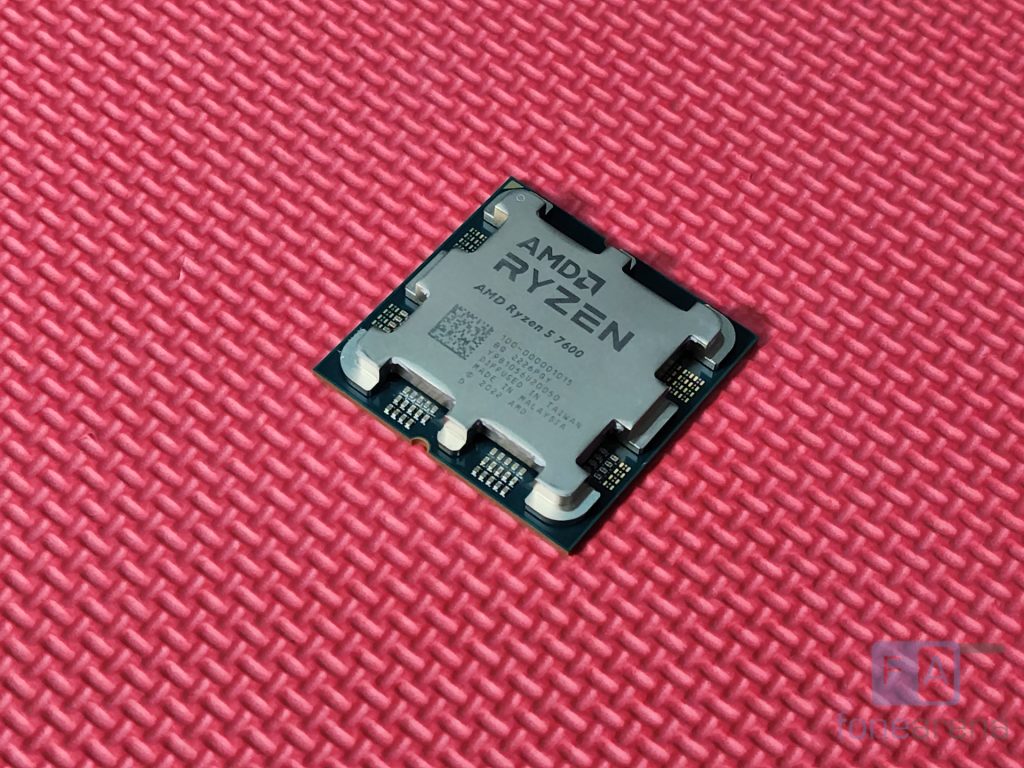 The Ryzen 5 7600 is a great processor that offers upgraded performance over the Ryzen 5 5600X while maintaining a similar price and TDP. AMD's Zen 4 architecture has impressive power efficiency, and the Ryzen 5 7600 is clear proof of it. Performance is great for gaming, and productivity capability is pretty good too. 
The switch to AM5 brings support for newer technologies such as DDR5, PCIe Gen5, AMD EXPO RAM technology and more. At the point of publishing this review, the platform adoption costs are quite high, as motherboards and DDR5 memory are still expensive. This hurts the value proposition of the processor for now, but it will improve as those components will get cheaper. 
Regarding the price, AMD is recommending $229 in worldwide markets and we can expect the pricing in India to be just under Rs. 20000. At that price point, it presents a great value. It is solid for gaming without costing too much in price and power, and it can easily handle light productivity applications. Compared to the Ryzen 5 7600X, the Ryzen 5 7600 offers an even better value in a lot of areas. 
Pros
6 cores and 12 threads – Great balance for gaming and productivity 

More performance at lower 65W TDP

Support for DDR5, PCIe Gen 5.0 and AMD EXPO

Impressive power efficiency during gaming loads

Bundled cooler is sufficient for most users
Cons
Platform adoption cost is higher due to new motherboards and memory standards

Requires newer DDR5 RAM and not backward compatible with DDR4