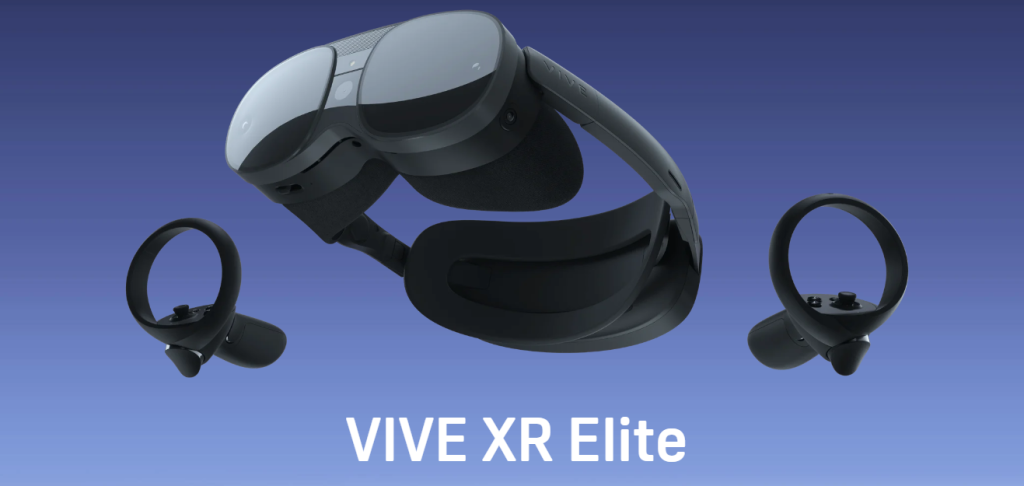 At CES 2023, HTC VIVE introduced the VIVE XR Elite, its next consumer flagship all-in-one XR headset, after the Vite Flow last year. The headset combines Mixed Reality (MR) and Virtual Reality (VR) features into a single compact, lightweight, powerful, and extremely versatile device suitable for gaming, fitness, productivity, and other applications.
HTC VIVE XR Elite
A completely new dimension of MR situations is made possible by the hand-tracking and full colour RGB pass through cameras found in the VIVE XR Elite. Playing video games with characters running around your rooms falls under this category. Having the ideal workstation with numerous virtual screens while retaining access to your physical keyboard and mouse is also possible.
The VIVE XR Elite offers wireless PC streaming over Wi-Fi or the most recent generation, Wi-Fi 6E, with low latency and excellent graphics, and it can be quickly connected to a PC via USB-C to access PCVR content from VIVEPORT and Steam.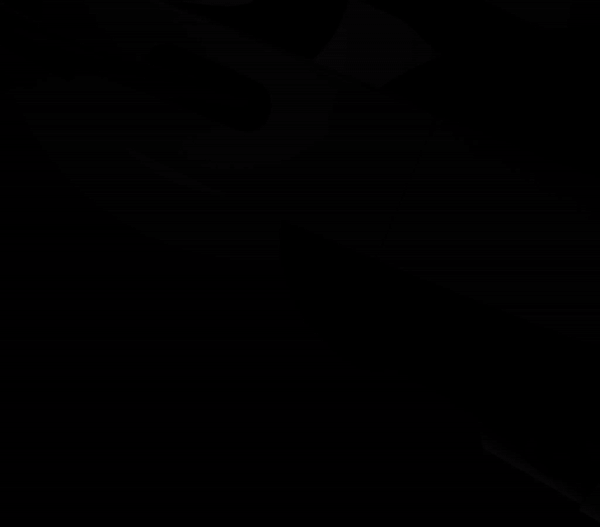 New content includes Demeo, Hubris, YUKI, Maestro: The Masterclass, Les Mills Body Combat, FigminXR, Unplugged: Air Guitar, Finger Gun, and also more. Even more content will be added after the launch, including Everslaught: Invasion and, later in the year, full MR games like Eggscape.
Even more, VIVE XR Elite supports wireless multimedia streaming from compatible Android smartphones, opening up a whole new world of entertainment. You can enjoy watching on a 300-inch personal cinema screen while wearing a headset.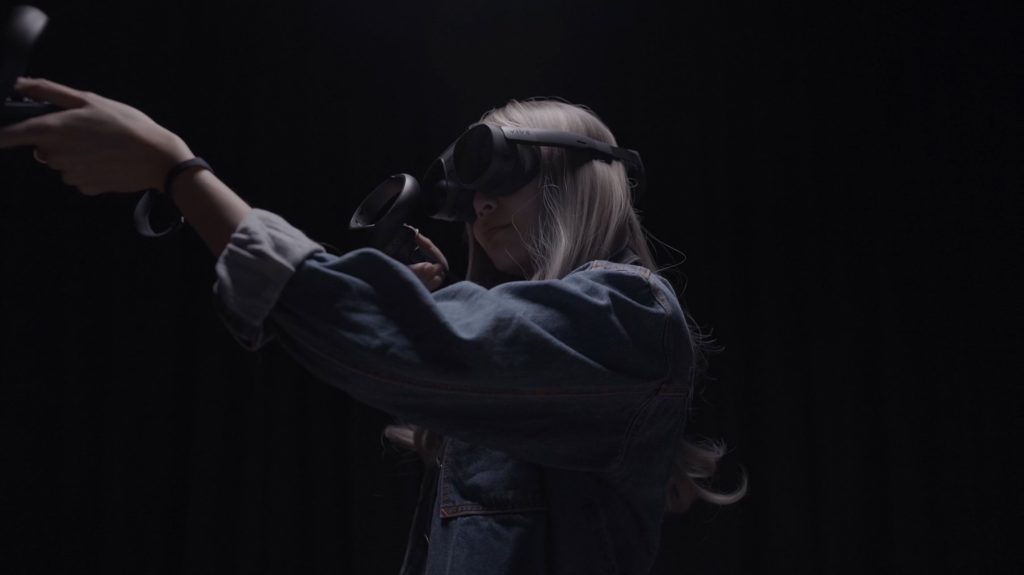 This includes movies from Netflix and Disney+ as well as video games like Fortnite. For a more immersive gaming experience, you can even connect a Bluetooth controller to your phone. The VIVE XR Elite boasts a sleek modular design that can be quickly changed into a spectacles form factor by removing the battery and inserting the VIVE XR Elite temple pads.
With four wide-field-of-view cameras, exceptional 6DoF spatial accuracy, a depth sensor, hand-tracking, and capacitive sensing for your finger movements on the controllers, developers have a plethora of options for incorporating accurate movement into VR and MR content to enhance your overall experience.
The VIVE XR Elite has both physical controllers and hand-tracking to ensure critical accuracy for gaming, working, or studying. The VIVE Wrist Tracker is also compatible for increased hand tracking, and it may be attached to things in XR that you want to track.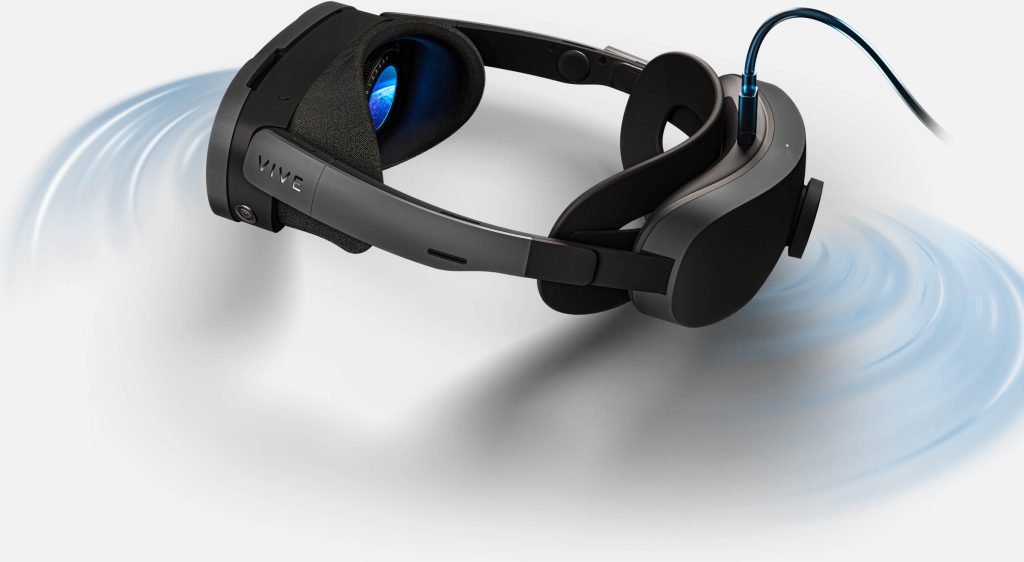 The VIVE has a broad 110-degree field of view, 4K resolution, and a refresh rate of 90Hz. It also has a built-in fine-adjustable IPD slider on the outside of the headset. The entire headset, including the battery, weighs only 625g and is removable and hot swappable. It includes 30-watt fast charging and is charged by USB-C power delivery.
It also incorporates a removable cloth face gasket attached by magnets, making it simple to clean or replace. The sound stage is improved by adding larger speakers that provide levels of immersion, greater bass, and other features. VIVE XR Elite combines the finest of HTC VIVE's hardware and software innovation, allowing you to dive right into XR via VIVERSE.
HTC has teamed with the premier Japanese creator platform pixiv to integrate VRoid's Anime-Style Avatars into VIVERSE, making it simple to bring avatars into VIVERSE by leveraging the open VRM standard.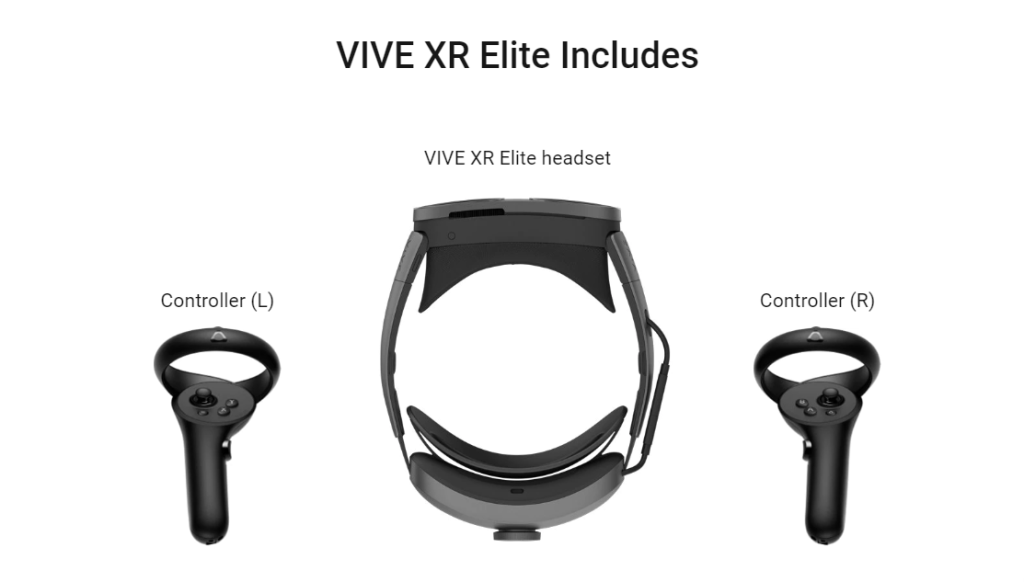 Quick specifications: HTC VIVE XR Elite
Resolution: 1920×1920 pixels per eye (3840×1920 pixels combined)
Headset Tracking: 6 DoF Inside-out Tracking
Refresh Rate: 90 Hz
Field of view: Up to 110 degrees
Audio: Dual microphones for echo cancellation; Embedded speakers
Processor: Qualcomm® Snapdragon™ XR2
Storage & Memory: 128 GB / 12 GB
Connections: 1x USB 3.2 Gen-1 Type-C peripheral port; 1x USB 3.2 Gen-1 Type-C power port
Bluetooth 5.2 + BLE and Wi-Fi 6 + 6E 1
Sensors: 4x Tracking cameras, 16 MP RGB camera, Depth sensor, G-sensor, Gyroscope and Proximity sensor
Battery: 26.6Wh Battery Cradle – removeable & hot-swappable
Tracking: VIVE Inside-out Tracking
Pricing and availability
The HTC VIVE XR Elite is priced at US$ 1,099 (Rs. 90,825 approx.) and will be available for pre-order globally on January 5th via vive.com and participating authorized retailers.
Furthermore, in select regions, HTC VIVE's latest headset will be available with a special offer of an XR games/content package.
Speaking at the announcement, Cher Wang, Co-Founder and Chairwoman of HTC Corp, said,
The VIVE XR Elite all-in-one represents the next milestone in the progression towards the fully immersive internet, going beyond today's VR with accurate pass-through video to open up a new realm of realism in learning and playing.

This advanced yet compact device offers the best of all worlds for consumers, providing the ideal physical gateway to the universe of experiences offered by VIVERSE, our version of the metaverse, with the widest variety of content inputs even up to the very latest standards such as WiFi 6E.