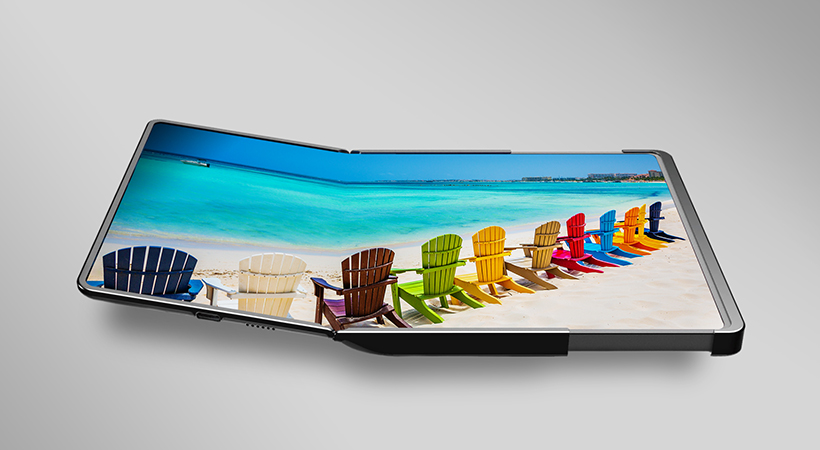 Samsung Display today unveiled innovative products that hint at the future of OLED technology before showcasing these at this year's CES 2023.
Samsung also unveiled the Odyssey Neo G9, the world's first dual 4K gaming monitor, the ViewFinity S9, and more that are launching at the event.
The firm will present an invitation-only exhibit at CES 2023 under the topic "Disruptive Tech Journey Unlocks Sustainable Futures," the first entirely in-person exhibition since 2020. Samsung Display brings small, medium, and large OLED products to show the future of displays.
The innovative products include "Flex Hybrid," which blends foldable and slidable characteristics into one display, and large-screen slidable will be future laptop prototypes. QD-OLED 2023 will have brighter and more realistic image quality thanks to a new optimization method, IntelliSense AI, and OLED HyperEfficient EL material.
Future of Smart Mobile Devices: Slidable
Samsung Display has introduced foldable and sliding products over the years. At CES 2023, the company plans to show off its next smart mobile device, the Flex Hybrid. The Flex Hybrid has foldable technology on the left and sliding technology on the right. On the 10.5-inch 4:3 display or the 12.4-inch 16:10 screen, users could watch movies and videos.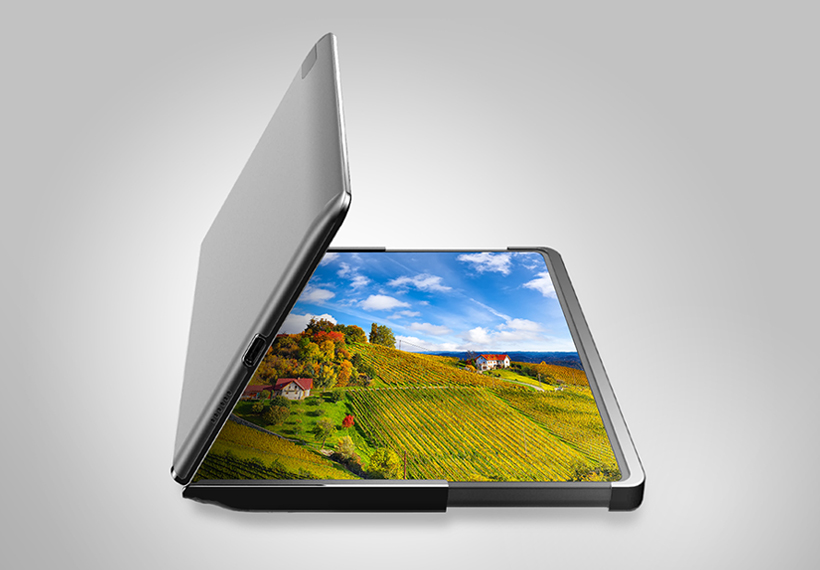 Samsung Display CEO JS Choi showed off the 17-inch large-screen slidable display at Intel Innovation 2022 in September. It will make its debut for the first time at CES this year.
The slidable display has two concepts: Flex Slidable Solo, which stretches the screen in one direction, and Flex Slidable Duet, which expands the display in both directions.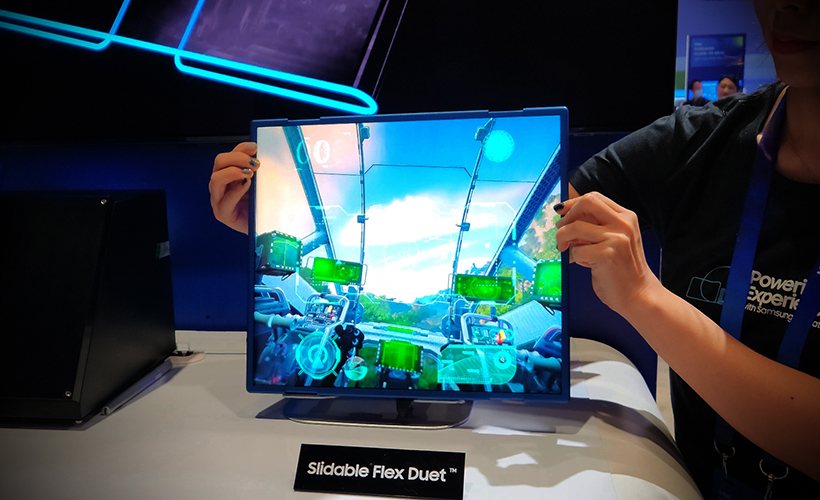 The screen is 13–14 inches, which is small enough to carry around, but it can be stretched to 17.3 inches so you can do more than one thing at once, play games, or watch movies.
'QD-OLED 2023' with advanced AI algorithm and HyperEfficient EL material
QD-OLED display technology, which initially launched at CES 2022 to astound consumers with its exceptional colour and highest image quality without distortion at any viewing angle, will return as "QD-OLED 2023." Samsung Display added QD-OLED panels to its 77-inch TV, the largest in its family of 55, 65, 34, and 49-inch displays.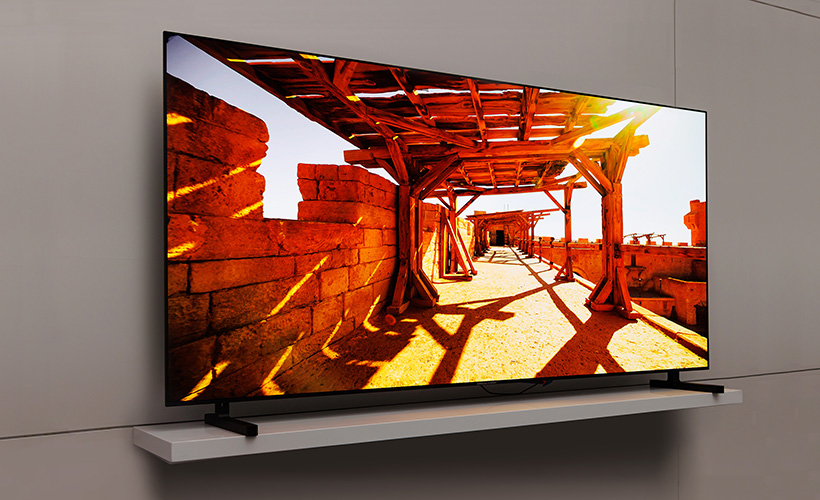 Color brightness will be improved with IntelliSense AI and a new OLED HyperEfficient EL material in the 2023 lineup. Further, the combined RGB colour brightness is now over 2,000 nits, achieving astounding image quality.
According to Samsung Display, AI technology based on big data collects information on each pixel in real time and uses it to precisely manage light. This improves image quality and panel efficiency.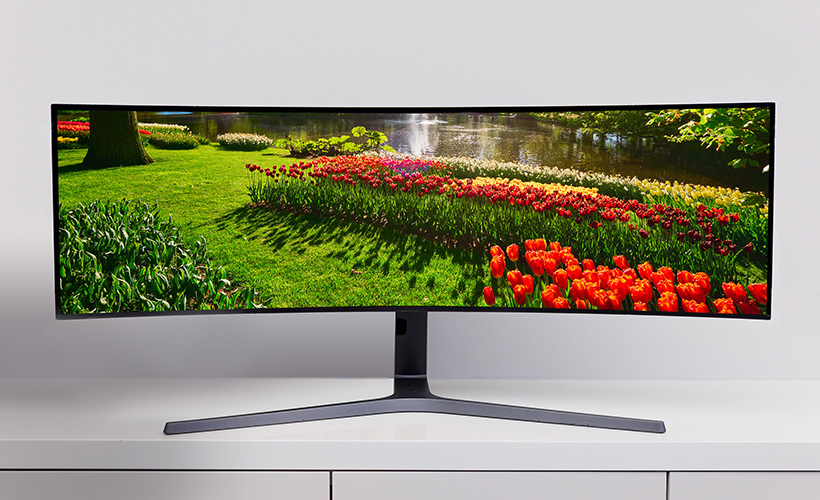 A new OLED HyperEfficient EL material added to QD-blue OLED's emitting layer increases the light source's efficiency. The QD colour conversion layer makes RGB light brighter and clearer.
Applying high-efficiency organic materials and superior AI technologies, QD-OLED 2023 reduces the power consumption of the 2022 model by 25%. While minimizing power consumption, consumers will experience accurate colours and greater picture quality on bright and dark screens.
New Digital Cockpit: Unlocking next-level experiences in self-driving vehicles
Samsung Display's New Digital Cockpit targets the self-driving vehicle market, which is predicted to grow quickly. This display combines a 34-inch and a 15.6-inch screen for vehicle digital cockpits. In autonomous mode, the huge screen can display entertainment. The 700R curvature of the cockpit display helps the driver focus on the road.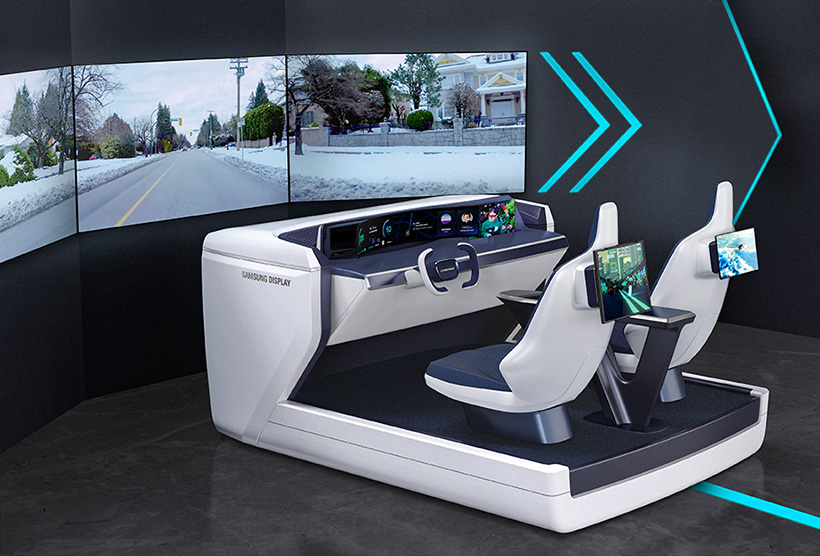 Additionally, Samsung Display's exhibition space introduces sustainable technologies. OLED Grows Green introduces eco-friendly and low-power technologies that cut greenhouse gas emissions and explains the process of recycling glass, a precious resource in OLED manufacture.
Availability
From January 4–7, 2023, the company will hold a showcase at CES under the theme "Disruptive Tech Journey Unlocks Sustainable Futures."
An official from Samsung Display stated when announcing the OLED technologies,
OLED is in the limelight as a key part of luxurious car interior design as it adds 'perfect black expression' to design. With Samsung Display's flexible and curved design products, we're able to offer a variety of automotive solutions.