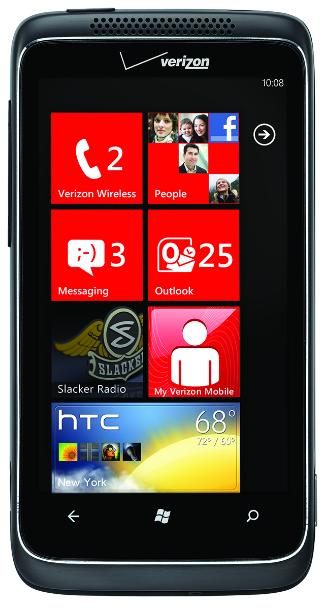 We are hearing about HTC Trophy from a long time now, which is actually Verizon's first ever WP7 device. We saw it first time back in February with Verizon branding on it and we heard a lot of rumored release dates. But now Verizon finally lifts the curtain and officially announces the HTC Trophy. Verizon will launch their first ever WP7 device on May 26th and it will go for $149.99 after $50 mail-in rebate. It will be available on Verizon online store on May 26th, and it will hit their outlets on June 2nd. Check out the features of the device after the break:
1 GHz Snapdragon® processor
WVGA 3.8-inch touchscreen
Surround sound through SRS WOW HD™
5-megapixel camera with autofocus and LED flash
720p HD video capture
16 GB on-board storage
Wi-Fi connectivity: 802.11 b/g/n
Global ready – allowing customers to enjoy wireless voice and data service in more than 200 countries, with more than 125 with 3G speeds
HTC Hub-customization through downloadable applications that offer even more entertainment and productivity
View and edit Microsoft Office® documents, including Excel®, Word® and PowerPoint® with the Office Hub and data access on SharePoint® servers
Well Verizon customers, if you are looking forward to a Windows Phone 7 device, then don't forget to get your hands on HTC Trophy. So who's getting it next week, anyone?