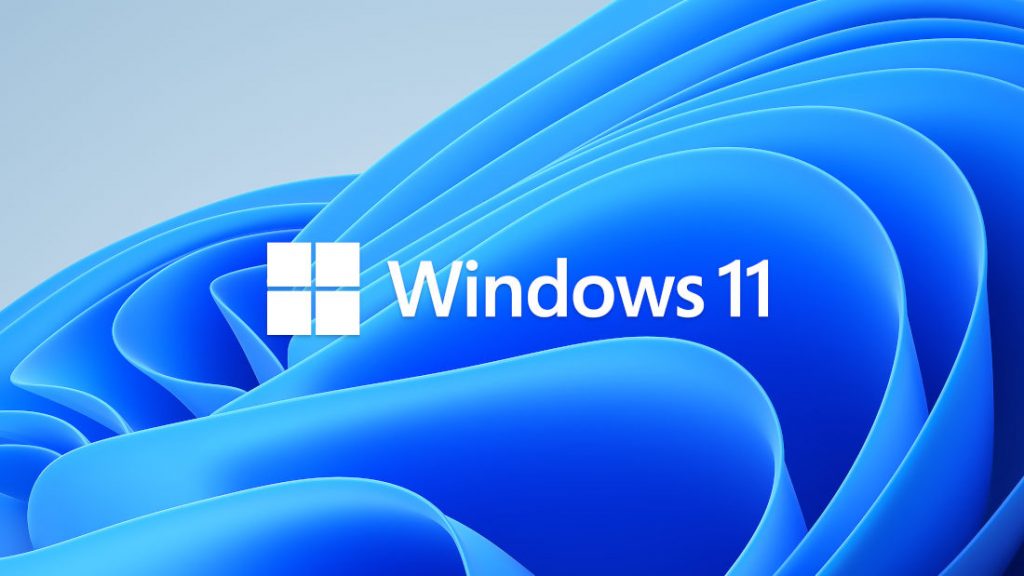 Microsoft began sending out the Windows 11 2022 Upgrade today, the first big feature update since Windows 11 was released on October 5, 2021. The company says the first major upgrade to Windows 11 makes the PC easier and safer to use for everyone, enables people to be more productive, and makes Windows the best place to connect, create, and play.
Making the PC easier and safer
Upgrades to the Start menu, faster and more accurate searches, Quick Settings, more local and current events in Widgets, and tabs in File Explorer, which was your top request, are some of the new changes.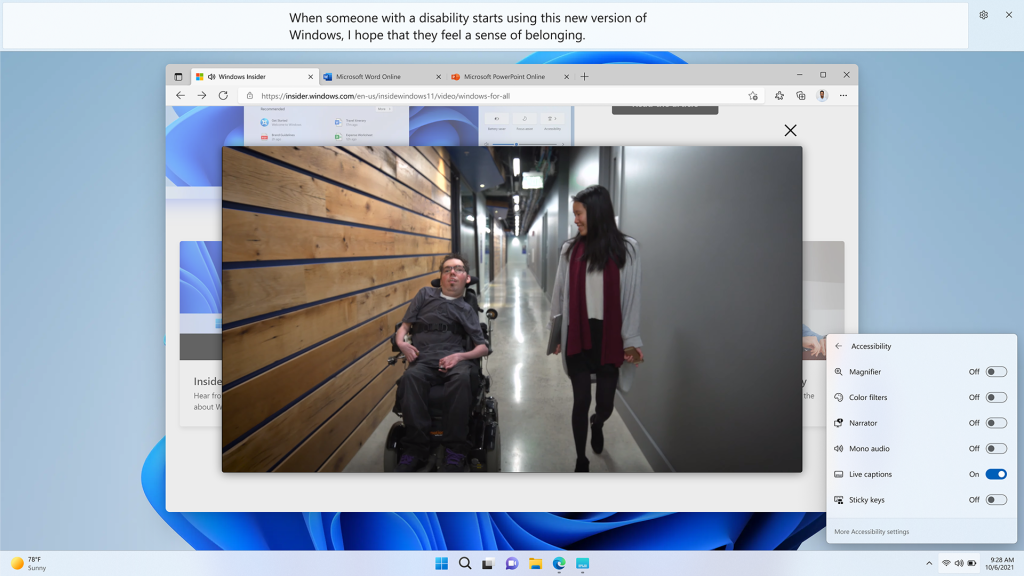 The company will add a number of new accessibility features, such as system-wide live captions that automatically create captions from audio content on Windows 11 and voice access (preview).
Natural Voices for Narrator makes audio for reading or surfing the web sound better because it sounds more like real speech.
Microsoft's comprehensive security solutions use 43 trillion security signals daily.
Smart App Control lets you download apps without fear. also builds Microsoft 365 Personal and Family's Defender app. Microsoft Defender provides Windows' built-in security to Android, iOS, and Macs.
Users in the U.S. who pay for Microsoft 365 Personal and Family will soon be able to use identity theft monitoring to keep their personal information safe online.
More Productive
Workers will be more productive than ever with the new Windows 11 2022 update thanks to improvements to Snap layouts, the Focus feature, and speed and battery optimizations.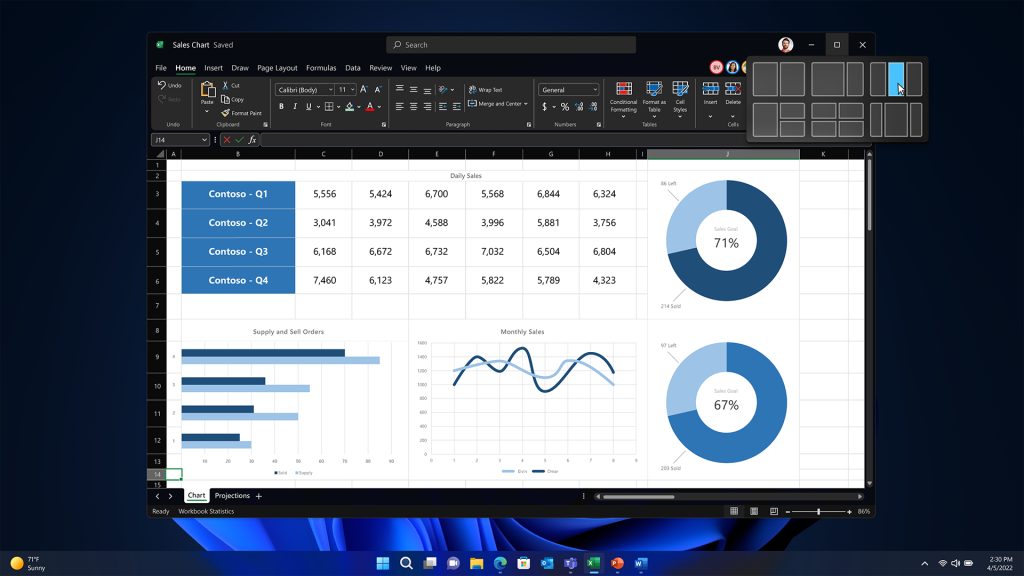 Snap layouts: Snap layouts in Windows 11 have changed multitasking, helping individuals optimize their view when they need numerous apps or documents at once. Also, improving Snap layouts with enhanced touch navigation and the ability to snap multiple Microsoft Edge tabs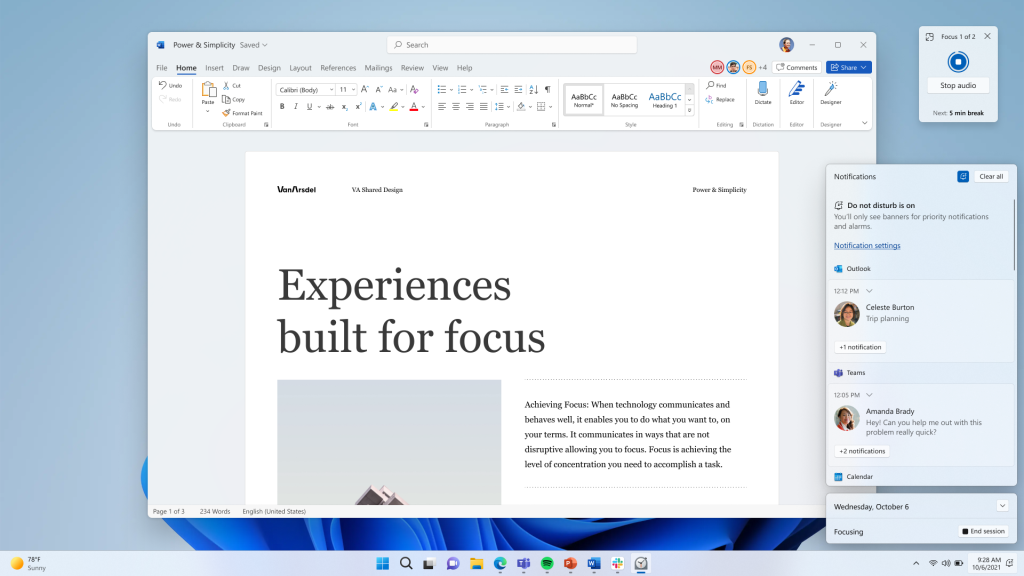 Focus sessions and Do Not Disturb: Helps users avoid distractions. Windows disables taskbar badges and application alerts when you start a focus session. Focus integrates with the Clock app to help you focus and remind you to take breaks.
Connect, create and play
Microsoft improved those experiences with this update by including features like Windows Studio Effects, new creation tools, more gaming features, and improvements to the Microsoft Store interface.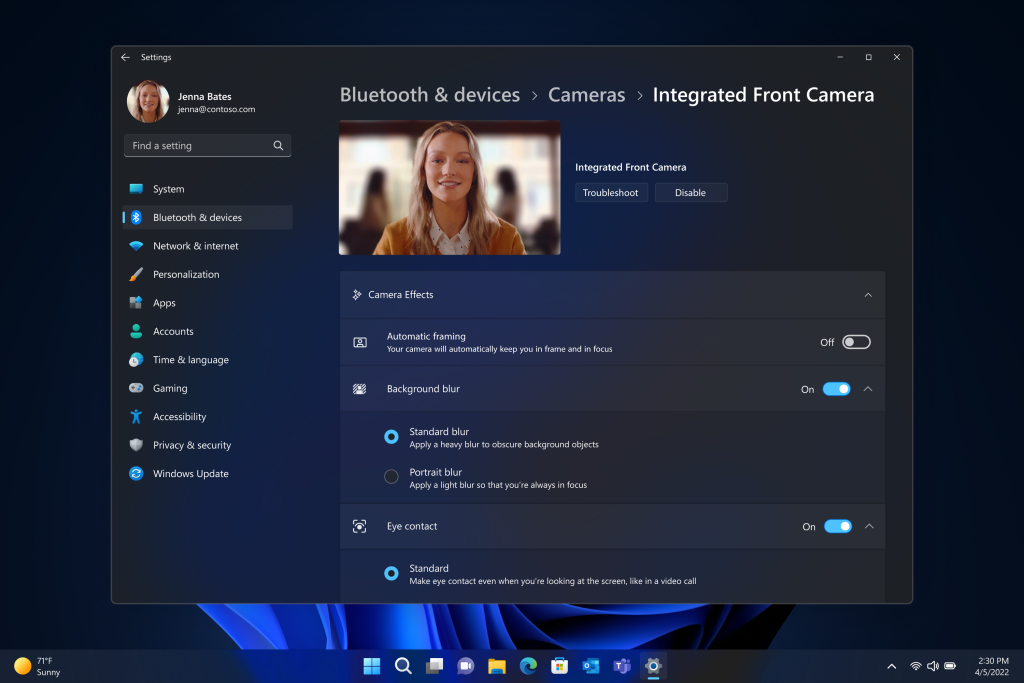 New Windows Studio camera and audio effects: Advanced AI-enabled Voice Focus and new Windows Studio camera and audio effects help you look and sound your best on conference calls, ensuring that you are heard. Eye contact, which helps you establish a stronger connection with the people you're speaking to, background blur, and automatic framing ensure that the camera follows you as you move.
Clipchamp: With this update, Microsoft adds Clipchamp as an Inbox app to Windows 11 to make video editing fun and easy.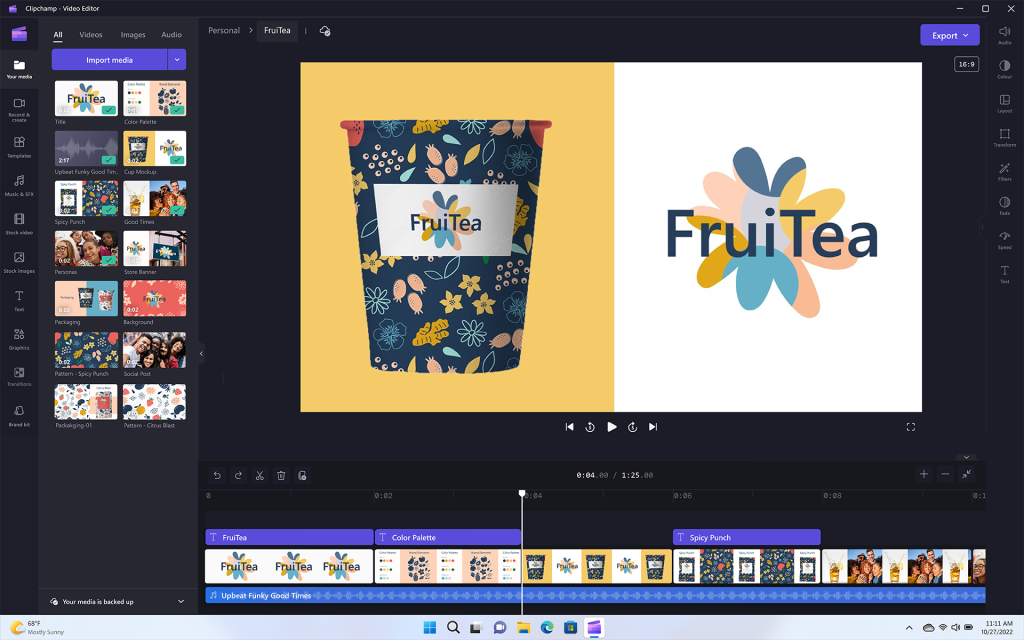 Gaming optimizations and Game Pass: On windowed games, the update will reduce latency and enable Auto HDR and variable refresh rate. With Game Pass incorporated into Windows 11, players can play hundreds of PC games.
Amazon Appstore Preview to international markets: Microsoft is expanding the Amazon Appstore Preview to international regions, delivering 20,000 Android apps and games to Windows 11 PCs that fulfil hardware criteria. In addition to a growing collection of apps and games, we're moving to the next step of the Microsoft Store Ads experiment, helping developers reach the right customers.
Security, management and flexibility
Microsoft says that the new Windows 11 2022 Update has more security and management features that will make IT work more efficiently.
Microsoft Defender SmartScreen: When a user puts their Microsoft credentials into a fake app or website, Microsoft Defender SmartScreen lets them know.
Windows Hello for Business: Introduced presence sensing to Windows Hello for Business, so devices with sensors can securely log you in when you approach and lock when you depart.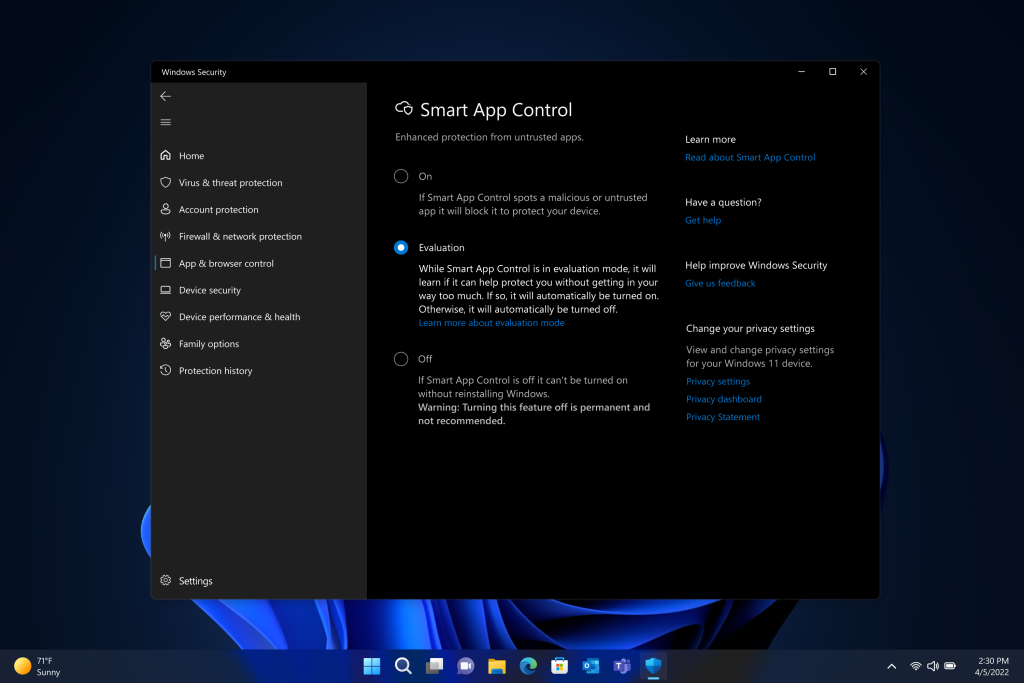 Smart App Control: Smart App Control is useful for all businesses. Smart App Control stops Windows 11 from running apps that aren't trusted or aren't signed, as well as script files and harmful macros. Your employees can use the tools they desire, and your organization is secured. Smart App Control uses the same artificial intelligence (AI) as Windows Defender Application Control to figure out how safe an app is before it even starts. It also says it is the best alternative for firms not using Microsoft Intune.
Continuous Windows innovation
This update improves Windows Update. Windows Update is carbon conscious, reducing carbon emissions on your devices. When devices are plugged in, turned on, and connected to the Internet, and regional carbon intensity data is available, Windows Update will schedule installs when doing so may result in lower carbon emissions because more electricity is flowing from lower-carbon sources on the electric grid. Changed Sleep and Screen off defaults to reduce PC carbon emissions when idle.
Enhancements to File Explorer: This update adds tabs to File Explorer so you can organize it like Microsoft Edge. The new File Explorer homepage lets you pin critical files for quick access. Through OneDrive and your Microsoft 365 account, you can see colleagues' activity on your shared files at a glance.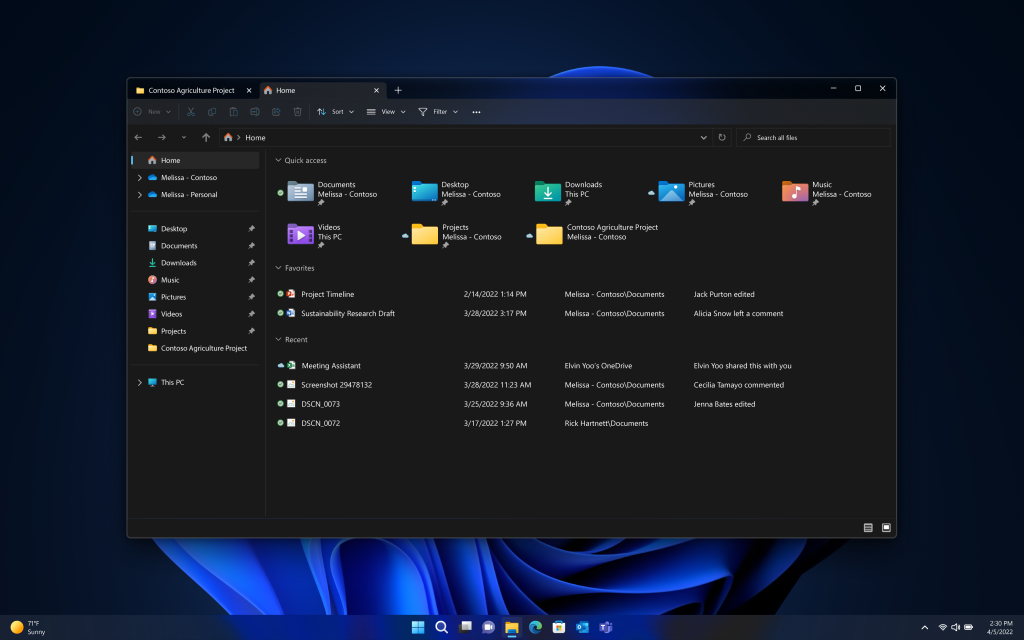 Photos app: Microsoft will enhance the Photos app in Windows 11 to include a beautiful gallery, simplifying browsing, locating, managing, and consuming photos. It lets you simply backup images to OneDrive, enjoy amazing Windows experiences, and enjoy "Memories."
Suggested Actions on Copy: Copy contact information and upcoming dates, and get recommendations on what to do next, such as calling over Teams or Skype or creating an event in the Calendar app.
Taskbar Overflow: An overflow menu that lets you view all of your overflowed apps in one place will be accessible from the taskbar.
Share to more devices: Using nearby sharing, find and distribute to more devices, including desktops.
Availability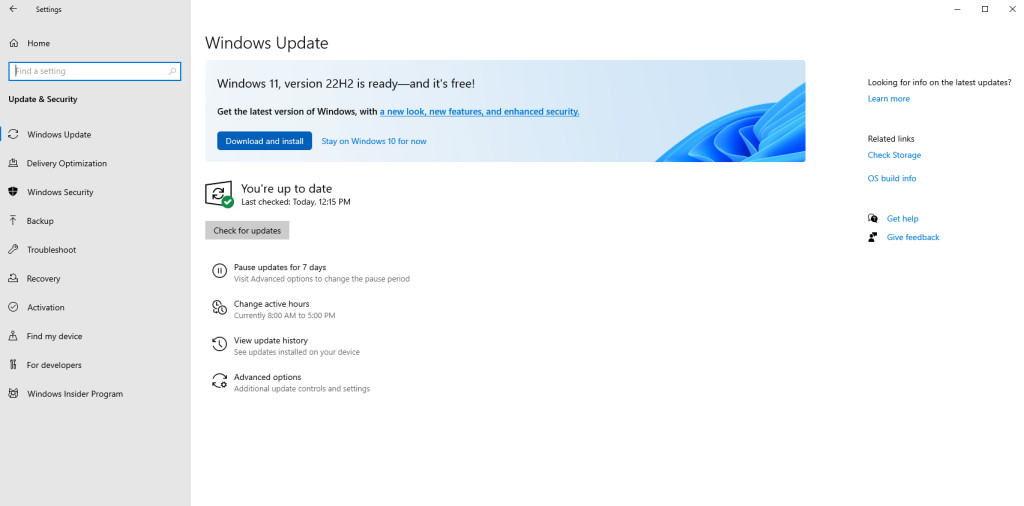 Starting today, the Windows 11 2022 Update rolls out in 190+ countries. To learn more about the roll-out approach for the Windows 11 2022 Update, you can visit here.
Speaking on the announcement, Panos Panay, EVP, Chief Product Officer, Windows + Devices, said,
We're excited to take this next step with Windows 11, to inspire journeys like yours. Windows 11 was designed to bring people together, to help people play and have fun, to empower productivity and inspire creativity. Serving more than a billion people, Windows is the platform for the world's innovation. For consumers, Windows 11 will make your everyday easier.

For businesses, Windows 11 is the operating system for hybrid work and the most secure version of Windows yet. For developers and creators, Windows 11 is the open platform creating even greater economic opportunity for your creations. We will continue to invest in delivering Windows experiences that enrich people's lives as we aspire to meet your evolving needs.