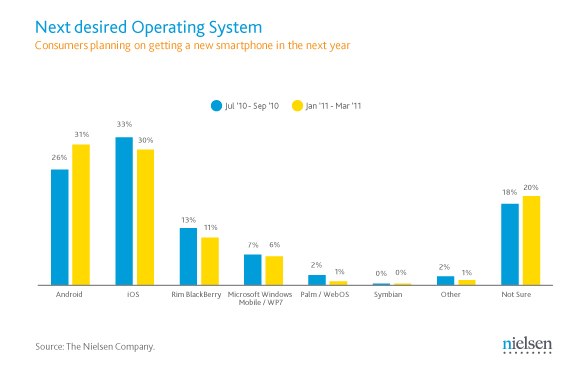 Competition between mobile operating systems is increasing each and every day. At the moment, Android is leading the race and is the most favorite OS. Well, if you don't believe me then a report is proving it. According to Nielsen survey, they went out to find out which is the best and most wanted OS at the moment in USA, and mostly people are choosing Android as their future OS and iOS is the runner-up. Last year, iOS was leading but things in mobile market changes so rapidly. Nielsen is reporting that:
According to the latest figures, 31 percent of consumers who plan to get a new smartphone indicated Android was now their preferred OS. Apple's iOS has slipped slightly in popularity to 30 percent and RIM Blackberry is down to 11 percent. Almost 20 percent of consumers are unsure of what to choose next.
iOS is currently falling behind Android but iOS will still remain the second powerful OS. As Gartner also reported that Android will dominate the mobile market by 2015, it looks like it will happen before 2015. RIM BlackBerry OS looks really outdated to users and that's the reason they are moving from BlackBerry to other devices. BlackBerry World event is around the corner, so let's see if RIM can do something amazing to impress their fans.
Google I/O is also next month and I am pretty sure that Google will introduce some new features to Android. Reason Android is leading that it's highly customizable, easy to use and a lot of devices are available to choose from. The only problem Android is facing right now is the battery problem. People are complaining that battery life on Android is very low, but it can be increased by rooting and adding some good ROMS, but we are talking about stock ROM. So I hope Google will also make a solution for it.
Apple iOS is unique, simple, and very easy to use. Even a little kindergarten child can use it, that's the reason people like it. Android is a little complicated as compared to iOS, but iOS is not highly customizable like it. Apple will be launching the newer version of iOS soon, so I hope it will bring some good new features to iOS users.
So folks, tell us what is your favorite OS at the moment?