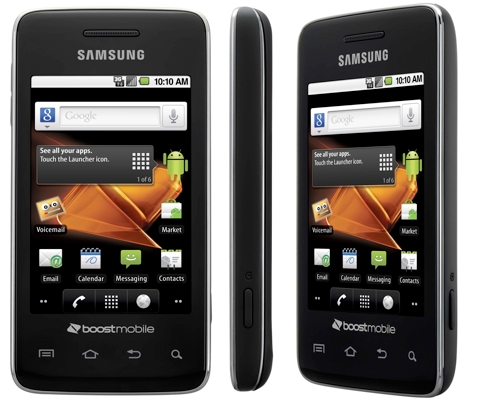 Boost Mobile recently announced its first CDMA Android phone, the Samsung Galaxy Prevail. This handset runs on the Android 2.2 (Froyo) Operating System. The entry-level Galaxy Prevail Android phone will be exclusively available on the airwaves of Boost Mobile in the US. This handset comes with a 3.2 inch touchscreen display, 2 megapixel camera, 32 GB expandable memory and more.
"We are excited to partner with Samsung to launch this innovative touchscreen phone for wireless users who are interested in upgrading to an Android experience without spending more on their monthly plan," said Andre Smith, vice president-Boost Mobile. "The Samsung Galaxy Prevail delivers the power of the Android platform to our customers' fingertips while bringing tremendous value to our customers' wallets."
Samsung Galaxy Prevail Features

:
3.2-inch touchscreen display
Android 2.2 OS
2 megapixel camera
Video recording capabilities
GPS enabled
Android Market
Bluetooth capable
Easy access to Gmail and Google Talk
Wireless Web enabled
Switch between portrait and landscape
Speakerphone with voice-activated dialing
Telenav navigation
MicroSD cards slots
Up to 32GB expandable memory
2GB card included
Voice mail, caller ID, call waiting and three-way calling
This handset allows you to access more than 150,000 apps from the Android Market. Samsung Galaxy Prevail comes with a price tag of $179.99 without any contract. This handset will be available by the middle of May on Boost Mobile's $50 Monthly Unlimited with Shrinkage plan.