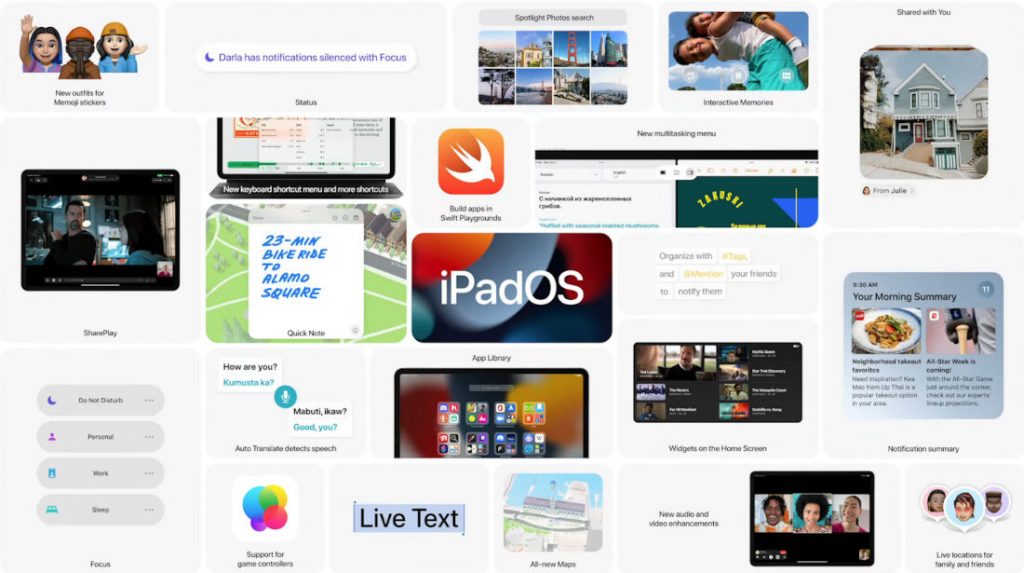 Along with the iOS 15, Apple also introduced iPadOS 15 that brings a new Home Screen design with integrated widgets, better multitasking with Split View and Slide Over, system-wide note-taking with Quick Note. Other features such as SharePlay, a redesigned Safari experience, Translate, new privacy controls in Siri, Mail, and more are same as iOS 15.
Multitasking and Keyboard Shortcuts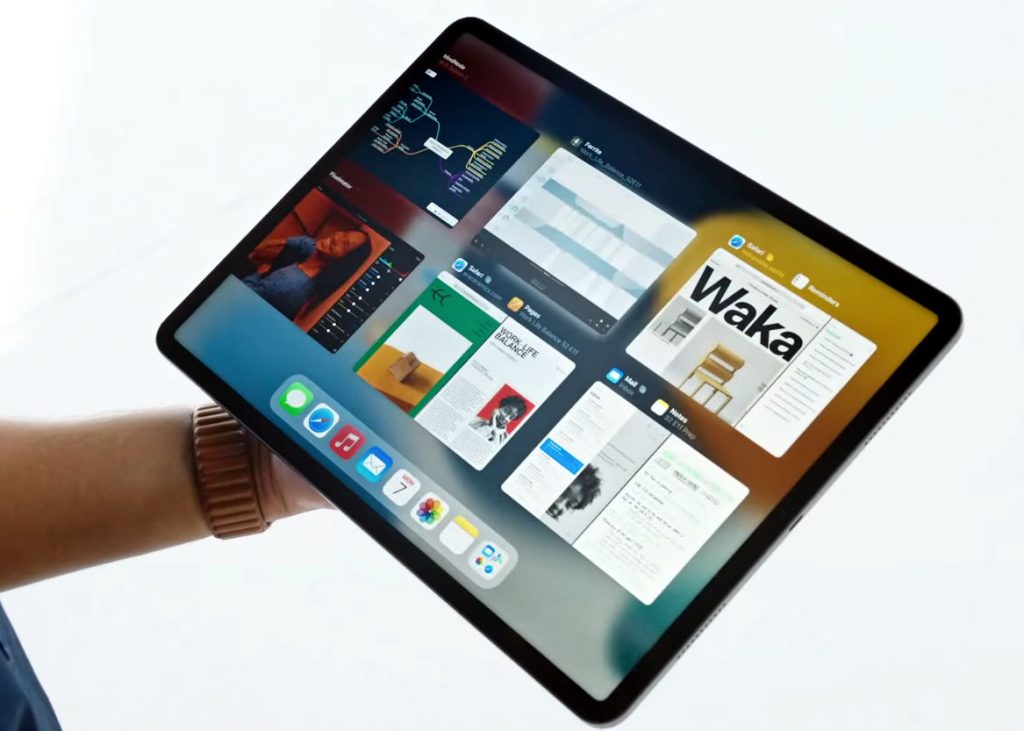 Tap to reveal a new Multitasking menu that lets you create a full screen, Slide Over, Split View, and in some instances, a center window, so you can work on multiple apps at once. When you choose a multitasking layout, you get access to your Home Screen, where you can select from your apps, and choose which ones you want to work with at the same time.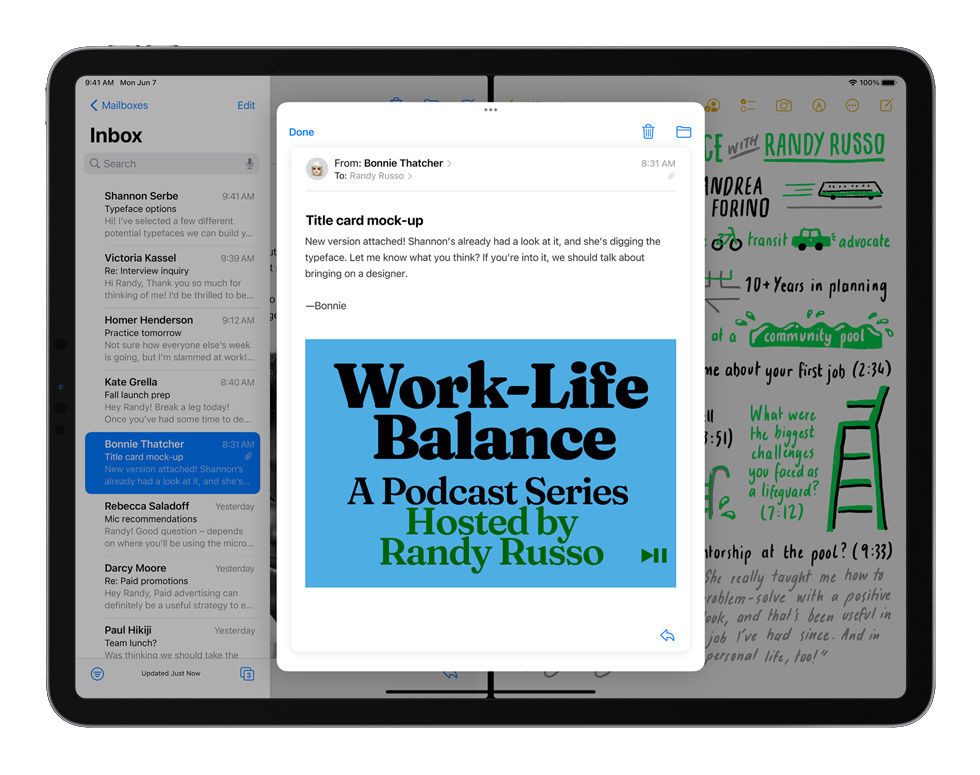 Users now have quick access to the Home Screen when using Split View, making it easier to get to the right app. Using the new shelf, they can also multitask with apps that have multiple windows like Safari and Pages, as well as quickly preview emails.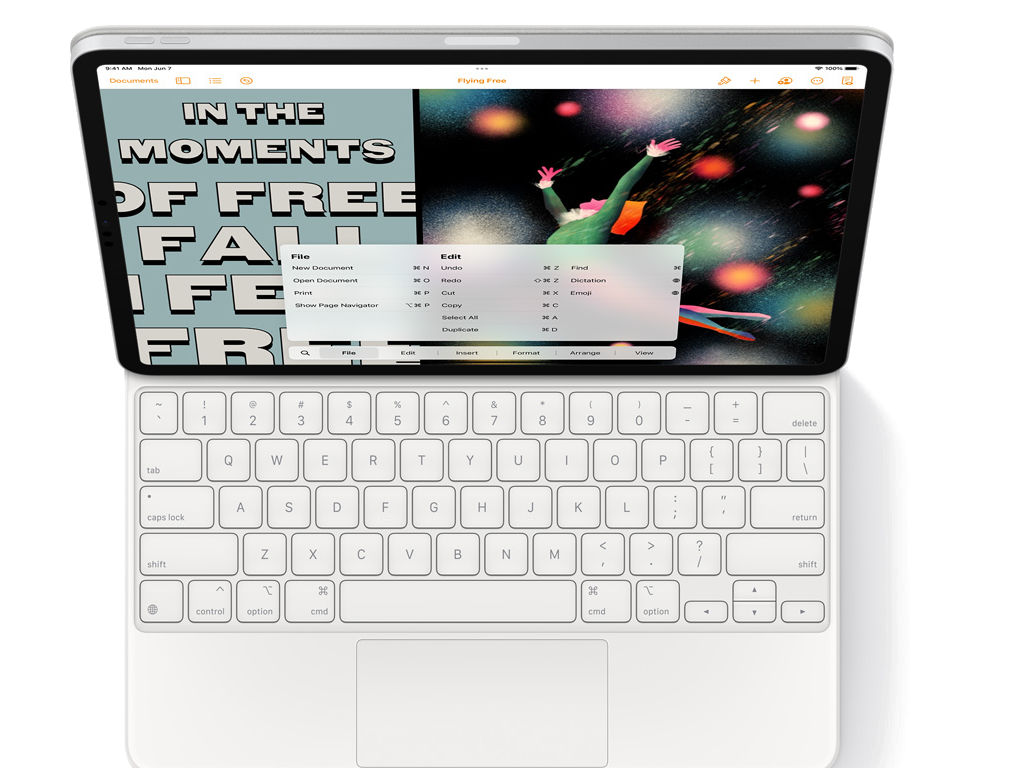 Attach a keyboard to your iPad and view a list of all shortcuts. Press and hold the Command key to view shortcuts for an app, multitasking, and more. Users can quickly set up and switch between Split View and Slide Over with new shortcuts for multitasking right from the keyboard.
Widgets and the App Library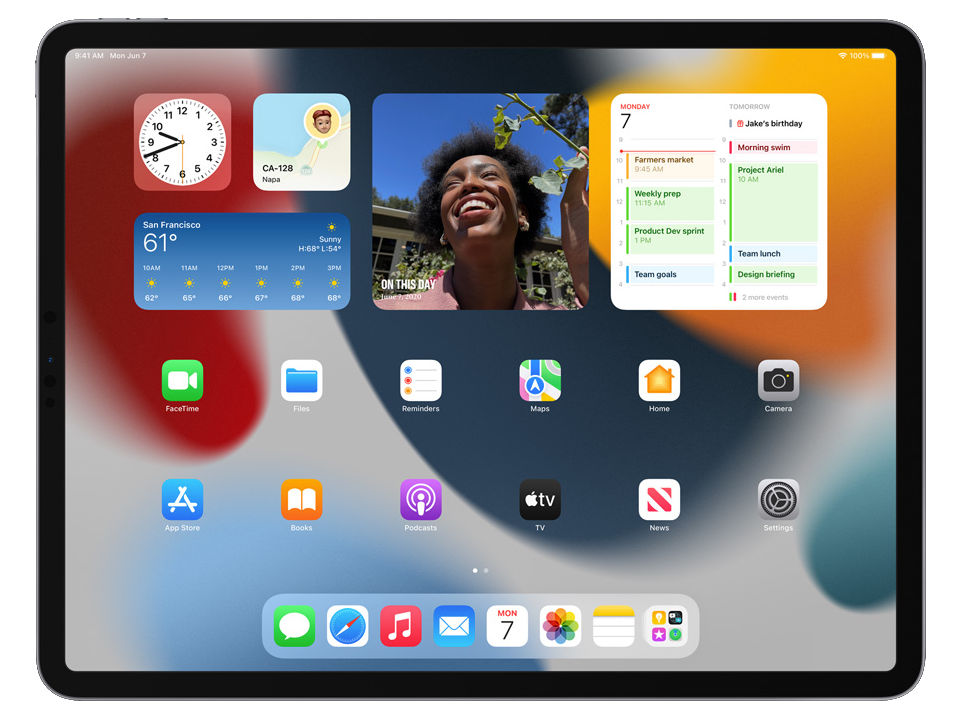 Now you can place widgets among apps on your iPad. Find My, Contacts, Game Center, App Store, and Mail all have new widgets. And many widgets now come in the new larger size so that you can take full advantage of the iPad canvas.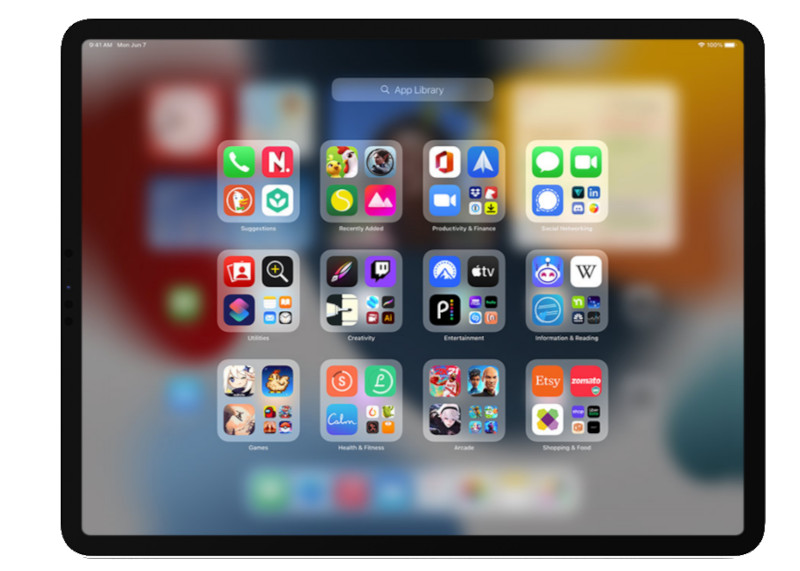 The App Library automatically organizes your apps into helpful categories like Productivity and Games. And for quick access, it's built right into the Dock.
Quick Note and Notes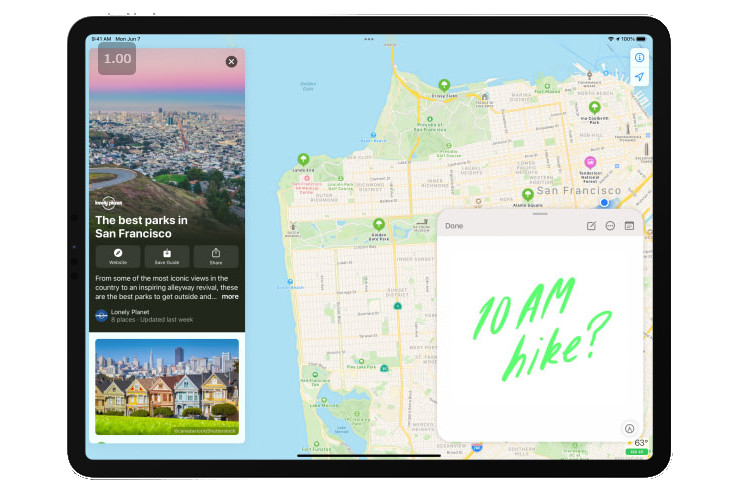 Notes is now available system-wide with Quick Note, a fast and easy way to get to a note no matter what you're doing. Jot down information over any app or screen. Start a Quick Note with a keyboard shortcut, from Control Center, or with a swipe up from the corner using your finger or Apple Pencil. Add handwriting, links, Safari highlights, tags, and mentions to a Quick Note, so you can get to important names, numbers, and ideas easily.
FaceTime Spatial audio, SharePlay and more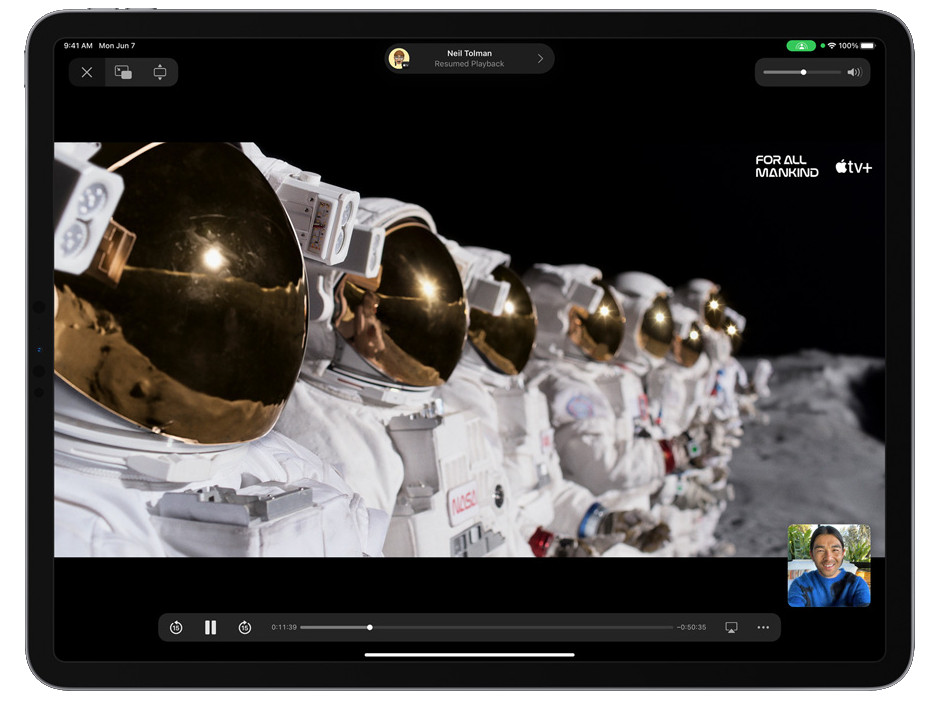 With Spatial audio, voices in a FaceTime call sound as if they are coming from where the person is positioned on the screen, and the new Voice Isolation mode spotlights your voice by using machine learning to identify ambient noises and block them out. There is Grid View in Group FaceTime calls, FaceTime links, and the SharePlay lets you watch movies and TV shows and music with your friends in your FaceTime calls. It also has Portrait mode to blur the background and FaceTime links lets you invite your friends into a FaceTime call using a web link.
Translate app for iPad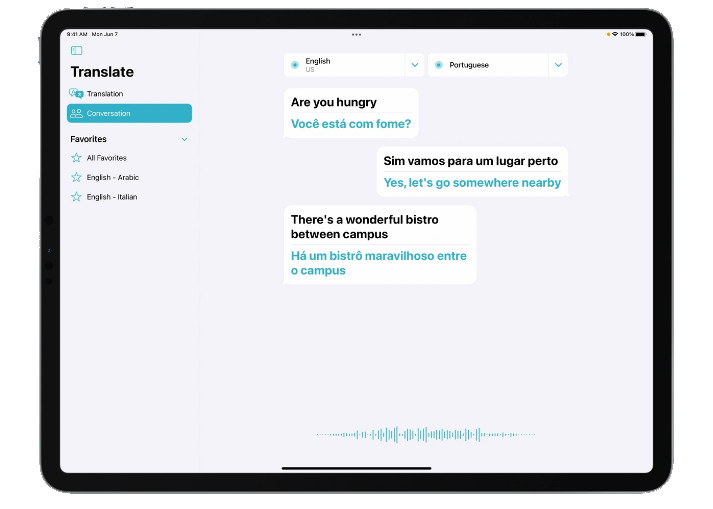 The Translate app brings Auto Translate features that detects when someone is speaking, and in which language, so users can converse naturally without having to tap a microphone button. Face-to-face view allows two people to sit across from each other with iPad between them and see translations of the conversation from their own side. Text can now be translated anywhere on iPad by selecting it and tapping Translate, and handwritten text can also be translated. In combination with Live Text, users can even translate text in photos.
Tools to Find Focus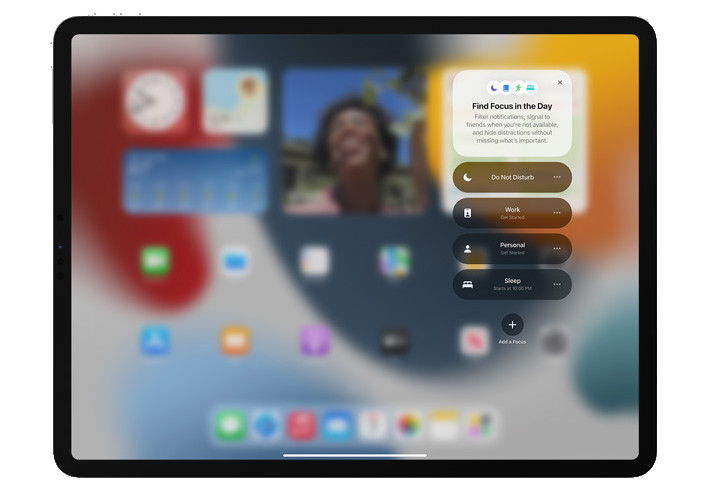 Focus helps you stay in the moment when you need to concentrate or step away. Choose a Focus that allows only the notifications you want. Pick from a list of suggested Focus options or create your own. When you're using Focus, your status will be automatically displayed in Messages. And for truly urgent messages, there's still a way for people to notify you.
Live TextSearch, Photos Memories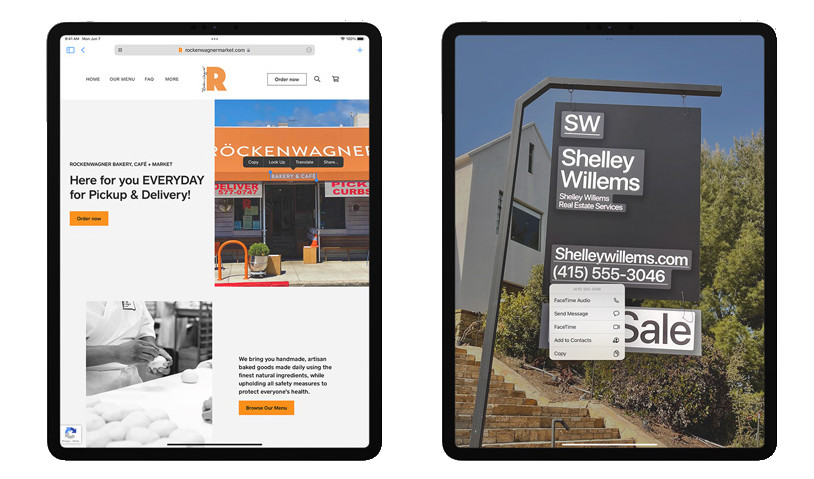 Live Text intelligently unlocks rich and useful information in images, so you can make a call, send an email, or look up directions with just a tap on the highlighted text in a photo. Live Text understands seven different languages: English, Chinese, French, Italian, German, Portuguese, and Spanish. And with system‑wide translation, you can simply tap and translate. With Visual Look Up, swipe up or tap the information button on any photo to highlight recognized objects and scenes.
Spotlight shows you more information at a glance with new rich search results for artists, entertainers, TV shows and movies, as well as your contacts. And you can now search your photos in Spotlight, and even search based on text in your photos by using Live Text.
Memories introduces a new interactive, immersive interface, along with new Memory mixes that let you personalize the look and feel of your story with a song and vibe to match.
Build Apps with Swift Playgrounds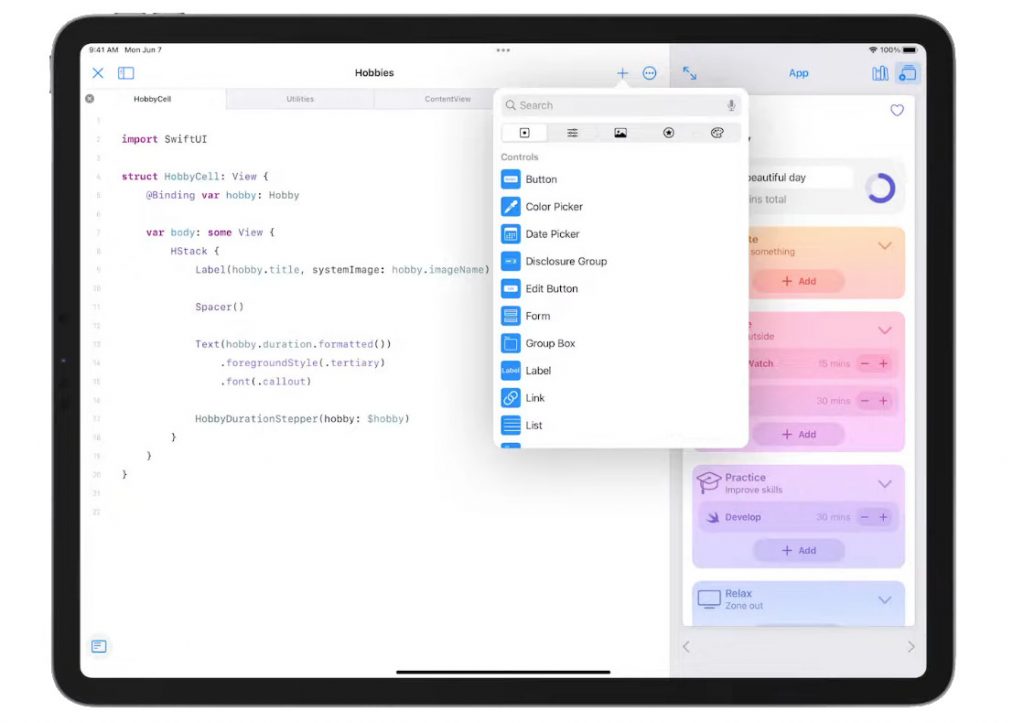 Swift Playgrounds users have the tools to build iPhone and iPad apps right on their iPad and submit them directly to the App Store. Code is immediately reflected in the live preview while building apps, and users can run their apps full screen to test them out. A new open project format based on Swift packages can open and be edited in Swift Playgrounds for iPad as well as within Xcode on Mac, offering users even more versatility to develop apps across iPad and Mac.
Other features
Streamlined tab bar in Safari takes up less space on the page and takes on the color of the site you're on, extending your webpage to the edge of the window.
Universal Control lets you work with a single mouse and keyboard to move between iPad and Mac for a seamless experience, with no setup required.
Shared with You works across the system to find the articles, music, TV shows, photos, and more that are shared in Messages conversations, and conveniently surfaces them in apps like Photos, Safari, Apple News, Music, Podcasts, and the Apple TV app, making it easy to quickly access the information in context.
Maps delivers new ways to navigate and explore the world. Experience significantly enhanced details in cities for neighborhoods, commercial districts, elevation, and buildings, new road colors and labels, custom-designed landmarks, and a new night-time mode with a moonlit glow.

Mail Privacy Protection helps stop trackers from snooping on an email, and App Privacy Report provides transparency into how apps are sharing information with other companies.
Siri brings on-device speech recognition, audio of Siri requests is processed entirely on iPad by default, and performance improves significantly. Siri also adds Announce Notifications on AirPods, the ability for users to share what's on their screen just by asking, and more.
iCloud+ combines everything users love about iCloud with new premium features, including Hide My Email, expanded HomeKit Secure Video support, and an innovative new internet privacy service, iCloud Private Relay, at no additional cost.
New accessibility features such as VoiceOver screen reader now uses on-device intelligence to explore objects within images, enabling users to discover more details about the people, text, table data, and other objects within images.
Availability and Eligible devices
iPadOS 15 will be available for iPad Air 2 and later, all iPad Pro models, iPad 5th generation and later and iPad mini 4 and later this fall, which is around September. The developer preview of iPadOS is already available, and a public beta program will be available to iPadOS users next month.