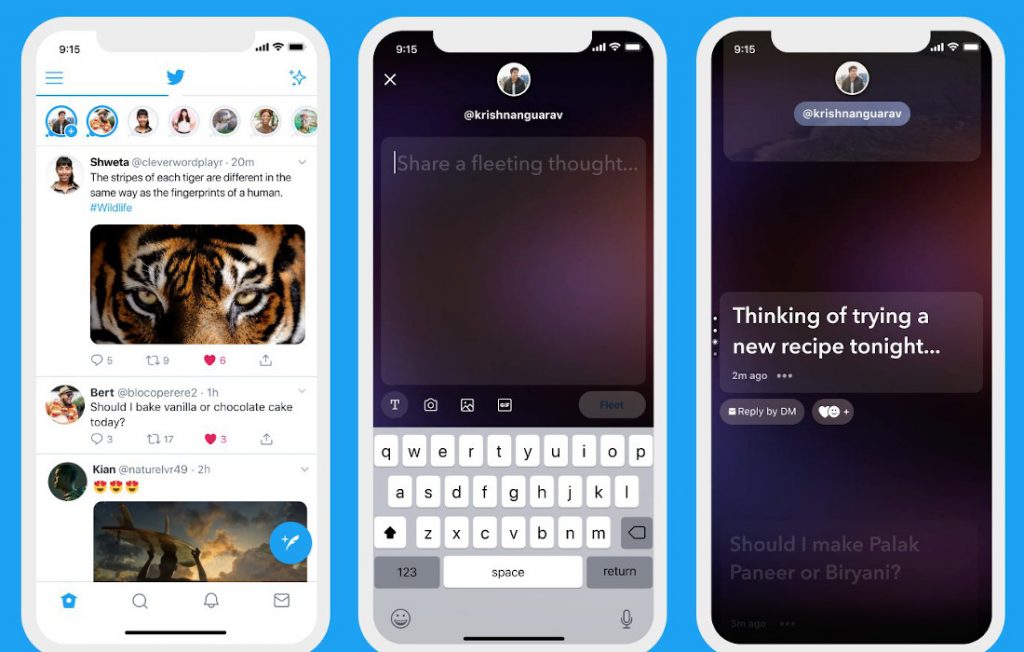 Earlier this year, Twitter started testing a new feature that is similar to Snapchat called "Fleets", in Brazil and Italy. The feature allowed users to capture their ideas and momentary thoughts in the form of temporary posts that disappear after 24 hours. Today they announced that Twitter will be expanding the testing of Fleets to India.
The idea of Fleets is to give users an outlet to express their quick thoughts and emotions without the pressures of being public and permanent or getting distracted by the number of likes and retweets. Users will be able to see Fleets of the accounts they follow at the top of their Twitter Feed or at the account's profile page itself.
To create a new Fleet, follow these steps:
Tap the avatar on the top left of your profile to create a new Fleet.
Start typing or tap a media icon to add photo(s) or video(s).
Tap 'Fleet' to post.
To view someone's Fleet:
Tap an avatar to see their latest Fleets.
Swipe down to see newer Fleets and up to see older Fleets.
Swipe left or right to see Fleets from other accounts you follow.
To engage with your followers on Fleets:
Buttons to reply and react are available when Direct Messages are open.
Followers can reply privately via DM or quickly react with an emoji, and continue the conversation privately in DMs.
Replies and reactions will appear in DMs along with the Fleet they are responding to.
Twitter will be rolling out Fleets for users in India for both iOS and Android in an update that will release in the coming days.
Commenting on testing Fleets in India, Manish Maheshwari, MD, Twitter India said:
India is important for Twitter since it is one of our largest and fastest-growing audience markets globally. We are excited to bring the Fleets experiment to India and make it one of the first three countries in the world to experience this new product. From the test in India, we'll learn how adding a new mode of conversation changes the way Indians engage on Twitter. It'll also be interesting to see if it further amplifies the diversity of usage by allowing people to share what they're thinking in a way that is light-touch and light-hearted.