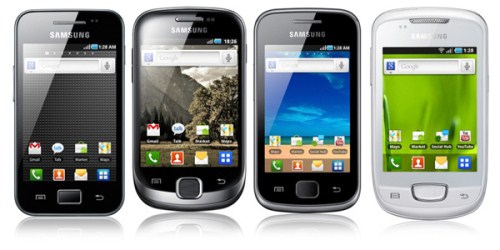 Samsung today announced the Samsung GALAXY family of budget smartphones Samsung GALAXY Ace , GALAXY Fit,GALAXY Gio,Samsung GALAXY mini.

These smartphones runs on the Android 2.2(Froyo) platform with Samsung Touch Wiz UI. All these phone have a decent enough hardware to handle the OS quiet smooth, and these phones comes with mostly widely used connectivity options, and all those basic features that you would expect from any budget phone.
JK Shin, President and Head of Samsung's Mobile Communications Business, said,
"In creating the Samsung GALAXY smartphone line-up, we wanted to expand on the things that made the Samsung GALAXY S such a runaway success whilst diversifying our product range. Each device delivers something different, with the idea that each user is an individual and wants their mobile experience to be easy and fun. With these four Samsung GALAXY smartphones we help them share the joy they have in their lives and bring their experiences to their friends and family."
The GALAXY series was inspired by the success of the original Samsung GALAXY S which has seen huge sales around the globe. Also these set of devices will be showcased at the Mobile World Congress from February 14th to 17th in Barcelona. We'll be reporting live from there.
You can find specs of the above device from our device section here.
Samsung GALAXY Ace , Samsung GALAXY Fit , Samsung GALAXY Gio , Samsung GALAXY mini.