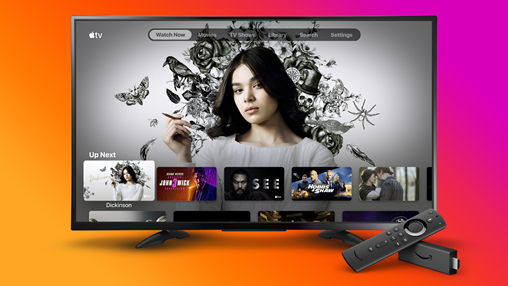 Amazon Fire TV Stick and Fire TV Stick 4K got back support for official YouTube app earlier this year and following that announcement, now, Amazon has announced that the Fire TV is getting support for Apple TV app starting today globally.
Fire TV users in over 60 countries can download and enjoy the Apple TV app and users can watch the movies, TV shows and channels they purchase from Apple on their Fire TV. Apple TV+ all-original video subscription service that is launching on November 1st 2019 will also be available to subscribers on the Apple TV app on Fire TV. Users can also use the Alexa Voice Remote for far-field voice control on Apple TV+ once it launches. However, there is no mention of Apple TV channels on Fire TV yet.
The Apple TV app is available today for Fire TV Stick 2nd Gen and Fire TV Stick 4K, in the United States, Canada, United Kingdom, Germany, France, Italy, Spain, and India. Also, Fire TV Basic Edition users in more than 50 countries including Australia, Austria, New Zealand, Brazil, Ireland, Mexico, and many more will be able to start using the app today.
In related news, Amazon added Alexa Announcements on all Fire TV devices recently and Alexa Announcements is a feature that allows users to send out their announcement i.e., voice-based message to all of their Alexa-enabled devices in their home network at the same time.