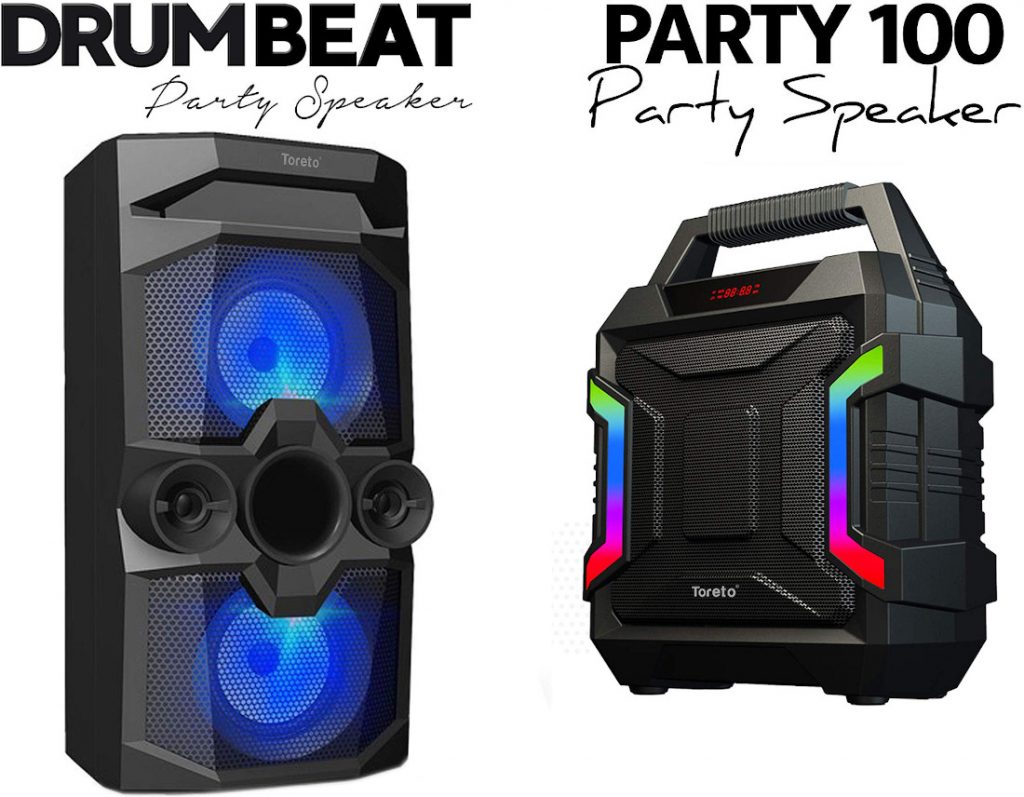 Toreto, an Indian audio manufacturer has two new products designed for blasting music during parties; the Drum Beat and Party 100. They are large powerful Bluetooth capable speakers with an easy to carry handle on the top so that one can carry the speakers around easily, for example, to their Diwali parties. The speakers also feature wired mic support to enable Karaoke mode for some extra fun during parties.
The Drum Beat comes with two 25 Watt speakers that can easily fill an entire party with music. In case that is not enough, Toreto has added True Wireless Connection (TWS) technology that allows the speaker to be connected to another Drum Beat Speaker to double up the sound.  The Toreto Party 100 on the other hand, are also large speakers, albeit smaller than the Drum beats, that have a 20 Watt output and a 2200 mAh battery built in.
Both speakers feature Bluetooth 5.0 for fast connectivity, micro SD card support , 3.5mm aux input and USB flash drive input. The speakers come with separate Bass and Treble controls to let users fine tune their music as they desire
The speakers also come with a mic-in input to use Karaoke mode in the speaker. With this mode, one can use the included microphone and set up fun Karaokes for parties. Toreto claims 3-5 hours of battery life with continuous usage and also comes with a power adapter to help you charge it on the go.
The speakers are available at retail stores across India and on e-commerce websites for an introductory price of Rs. 5999 for the Drum Beat and Rs. 3699 for the Party 100, while the MRP is Rs. 7999 and Rs. 3999, respectively.