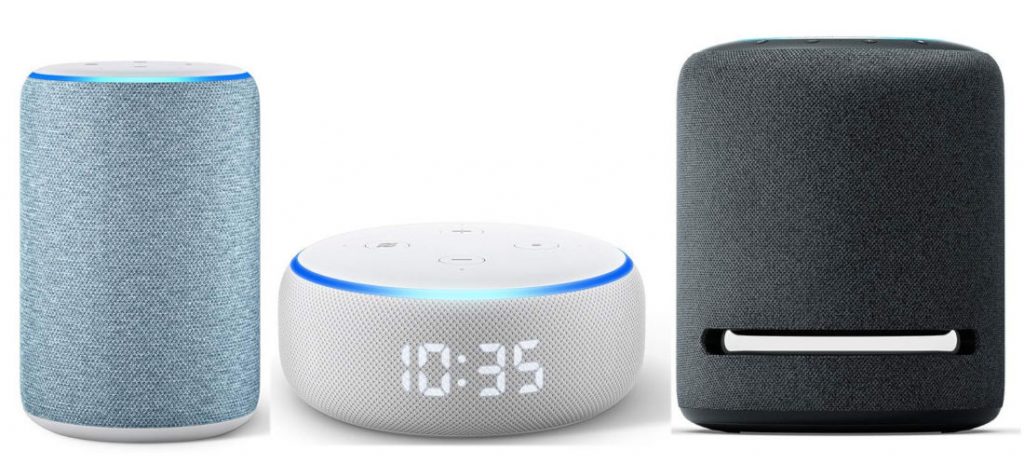 At an event in the US, Amazon introduced All-new Echo (3rd Gen) – Smart speaker with Alexa with the same audio, but with an updated fabric design, new Echo Dot (3rd Gen) with clock that has an LED display that shows the time, outdoor temperature, timers, or alarms and Echo Studio with five directional speakers and Dolby Atmos for immersive studio-quality sound, room adaptation technology, and a built-in smart home hub.
All-new Echo (3rd Gen) features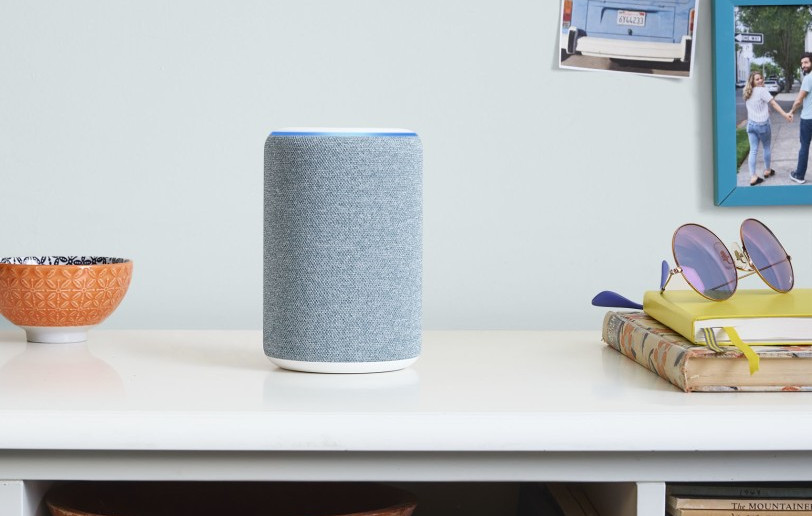 Comes with a new fabric design and improved sound, providing the best all-in-one access to Alexa.
Enjoy premium sound – New premium speakers with 2.5″ woofer and  0.6″ tweeter powered by Dolby to play 360° audio with crisp vocals and dynamic bass response.
Voice control your music: Stream music from Amazon Prime Music, Apple Music, JioSaavn, Gaana and Hungama Music – just ask for a song, artist or genre. You can also use your voice to adjust equalizer settings.
Connect with others: Call or message family and friends who have an Echo device or the Alexa app and use Alexa to make Skype calls. Use announcements like a one-way intercom to broadcast messages to all your Echo devices.
Voice control your smart home: Control lights, plugs and more with compatible connected devices.
Designed to protect your privacy – Built with multiple layers of privacy protections and controls, including a microphone off button that electronically disconnects the microphones.
Alexa has skills – With tens of thousands of skills and counting, Alexa is always getting smarter and adding new features and skills like booking a cab, ordering food, playing games, and more.
Echo Dot with clock (3rd Gen) features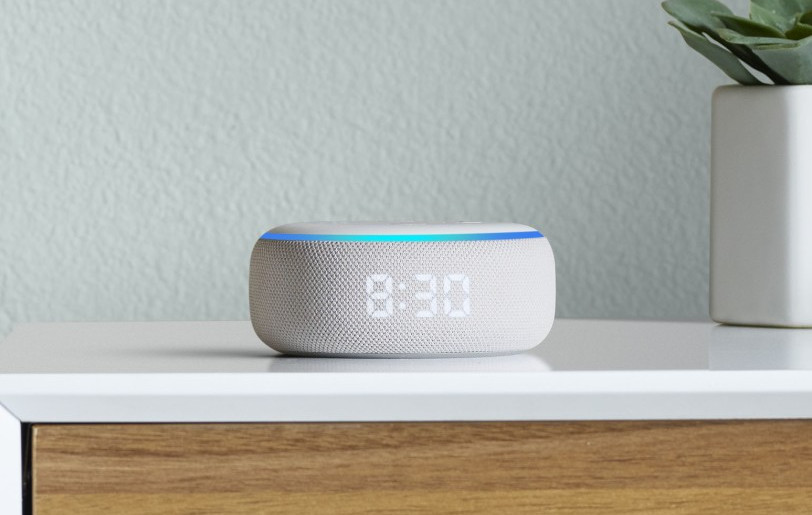 LED display shows time, outdoor temperature, or timers.
1.6″ speaker for audio
Perfect for your bedside table – ask Alexa to set an alarm. Tap the top to snooze. The light sensor automatically adjusts the display's brightness, day or night.
Voice control your music
Works with compatible smart home devices
Designed to protect your privacy
Alexa skills
Echo Studio features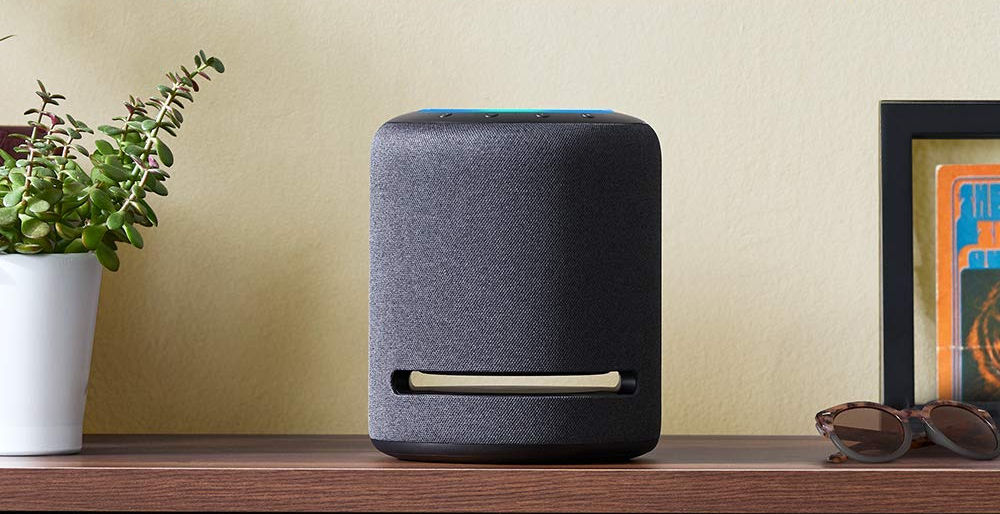 Immersive sound – 1″ tweeter, three 2″ mid-range speakers, and 5.25″ woofer produce powerful bass, dynamic midrange, and crisp highs. 330W of peak power produce deep, rich bass by using the bass port at the bottom to maximize airflow and bass output from the woofer.

Dolby Atmos technology adds space, clarity, and depth, making Echo Studio the best-sounding Echo device.

24-bit DAC and a power amplifier with 100 kHz of bandwidth for high-res, lossless music playback.
One or two Echo Studio devices can be paired with the Fire TV Stick 4K for audio playback with multi-channel sound and support for Dolby Atmos, Dolby Audio 5.1, and stereo audio.

Voice control your music

Adapts to any room – Automatically senses the acoustics of your space, fine-tuning playback to deliver optimal sound.

Built-in smart home hub – Set up your smart lights and plugs from Philips Hue and Anchor without a separate hub – just ask "Alexa, discover my devices". Also control other compatible smart devices from Oakter, Syska, TP-Link, Wipro, and more.

Connect with others

Designed to protect your privacy

Alexa skills
Pricing and availability
All-new Echo (3rd Gen) in Blue (new), Black, Grey and White – Rs. 9,999, pre-order from Amazon.in, ships from October 16
Echo Dot with clock (3rd Gen) in White – Rs. 5,499, pre-order from Amazon.in, ships from October 16
Echo Studio in Black – Rs. 22,999, pre-order from Amazon.in, ships from November 7
Customers who pre-order can avail of a smart bulb at no extra cost and a smart plug at Rs. 199.
Amazon also announced ways that Alexa is getting smarter, making life more convenient and giving customers even more control over their experience.
Users can enjoy these Alexa features from today:
Interact with Alexa in Hindi or Hinglish – Alexa can now understand customers speaking to her completely in Hindi or Hinglish, in multiple contexts, and varied regional accents and dialects. You can enjoy asking Alexa for diverse Hindi content such as jokes, shayaris, games, Kabir ke dohe, Panchatantra stories, Bollywood dialogues, more than 500 Alexa skills, and even spellings of words in Hindi.
Alexa can now adjust how fast (or slow) she speaks Customers can now ask Alexa to speak slower or speak faster, depending on your preference, enabling Alexa to adapt to a diverse set of customer needs. Whether customers ask Alexa for the weather, the latest news, a sports update, about an upcoming event on their calendar, and more, they can now choose from seven speeds – Alexa's standard speaking rate, four faster speaking rates, and two slower speaking rates.
Alexa can Recommend Routines Customers around the world regularly use routines to execute multiple smart home commands with a single voice command, and now Alexa is able to recommend routines that you may want to set up based on your daily habits. For example, if a customer sets their alarm for 6 AM and then immediately ask for the weather every day, Alexa will suggest setting up a routine so that the alarm is always set and the weather plays as soon as it goes off.
Alexa can tell you about her responses Alexa will soon offer two new voice-based features that provide customers with more transparency over the responses they get. If a customer is curious to understand what Alexa heard when you asked her to tell you the news or play a specific song, soon you will be able to ask , "Alexa, tell me what you heard" and Alexa will read back your most recent voice request.
The following Alexa features will be available later this year:
Alexa is becoming multi-lingual Starting next month, customers will be able to switch between English and Hindi when talking to Alexa. For example, if a customer asks for the weather in Hindi, Alexa will reply in Hindi, e.x. "Alexa, aaj mausam kaisa hai?" and when they ask for information in English, Alexa will understand and respond in English e.x. "Alexa, tell me about Chandrayaan-2". This multi-lingual mode can be useful in Indian households where users speak both Hindi and English.
Alexa can whisper Gone are the days of waking up your spouse or a sleeping child when asking Alexa for information in the morning, for the time when you get home late, or when you just want to turn your alarm off. Whisper Mode is a new feature that allows you to whisper to Alexa, and she will whisper her response back to you. This feature will be rolling out later this year.
Additional control for customers—Auto-Delete Voice Recordings Alexa and Echo devices are built with multiple layers of privacy protections. Earlier this year Amazon introduced the ability for customers to say, "Alexa, delete everything I said today," and "Alexa, delete what I just said" to make it easier for customers, or anyone else interacting with a device, to delete their recordings. Available later this year, customers will be able to choose to have their voice recordings older than three or 18 months automatically deleted on an ongoing basis. This feature will be available in addition to the ability to access and delete utterances individually, or all at once, which customers have today.