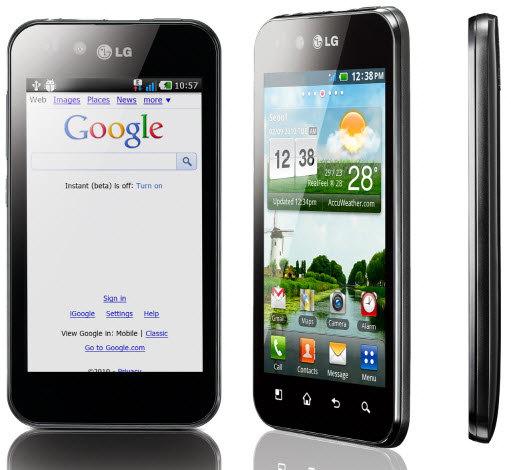 LG recently launched the Android powered Optimus Black smartphone. This handset currently runs on the Android 2.2 (FroYo) OS, but it can be later updated to the Android 2.3 (Gingerbread) OS. This handset comes with a 4 inch NOVA display, which is designed to be the brightest, clearest and most readable among mobile screens with 700 nits of brightness for optimal visibility.
According to LG, the NOVA display on LG Optimus Black also reduces the power consumption by 50 percent during general indoor use compared to a conventional LCD display. The NOVA technology enables the users to maintain a great visibility even under strong sunlight. NOVA display offers a higher level of brightness, which allows the users to browse the web, read emails or write documents easily and with natural experience.
LG Optimus Black comes with the Wi-Fi Direct technology, which is designed for quick and high-quality data transfer between mobile devices. Optimus is also the world's first smartphone with a 2 megapixel front-facing camera. This handset features an Optimus UI 2.0, 3G Connectivity, Wi-Fi, microSD card slot, 32 GB expandanle memory, 3.5 mm headphone jack, 1500 mAh battery and so on. Optimus Black weighs only 109g.
The Optimus UI 2.0 allows you to directly access messages, emails and missed calls from the locked screen with just a single finger tap. The price and complete specs of this handset is not available yet. This handset will be released worldwide in the first half of 2011.