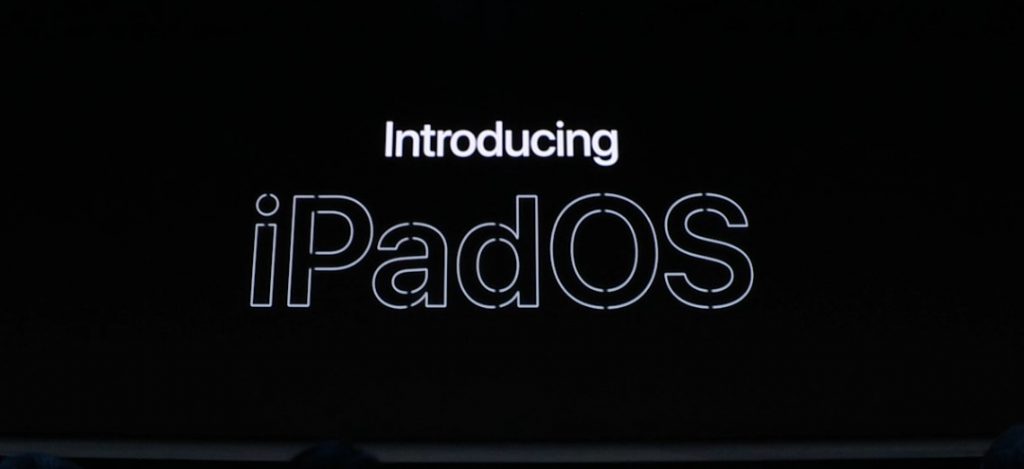 Along with the iOS 13, Apple also introduced new iPadOS designed specifically for the iPad's larger display such as redesigned Home screen, Multiple apps in Slide Over, more natural ways to use Apple Pencil, Sidecar and more. iPadOS also benefits from the great new updates in iOS 13 such as Dark Mode, QuickPath, Sign In with Apple and more
New Home Screen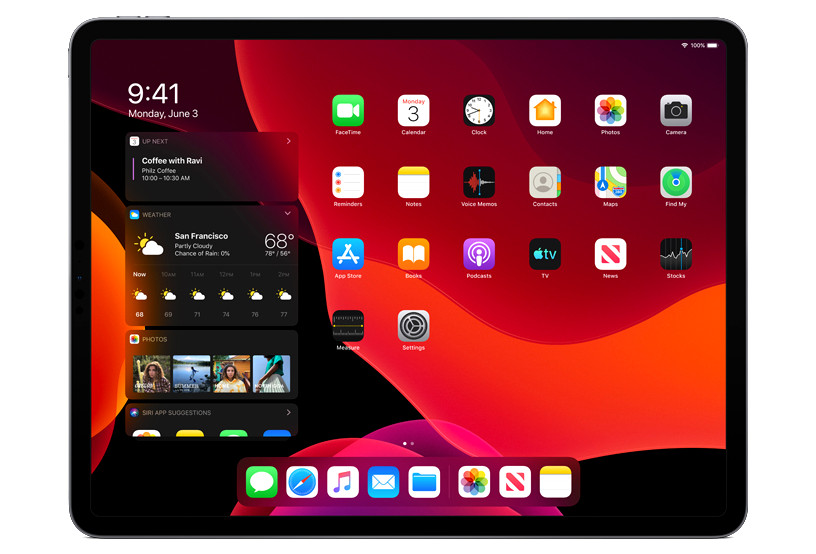 The Home screen has been redesigned with the icons arranged in a tighter grid. The refined layout gives you more room for apps and information. Get at‑a‑glance information by pinning your Today View widgets on the Home screen. Use the widget editor to choose your favorite widgets, which will always appear on the Home screen. Swipe up to see all your other widgets.
Multitasking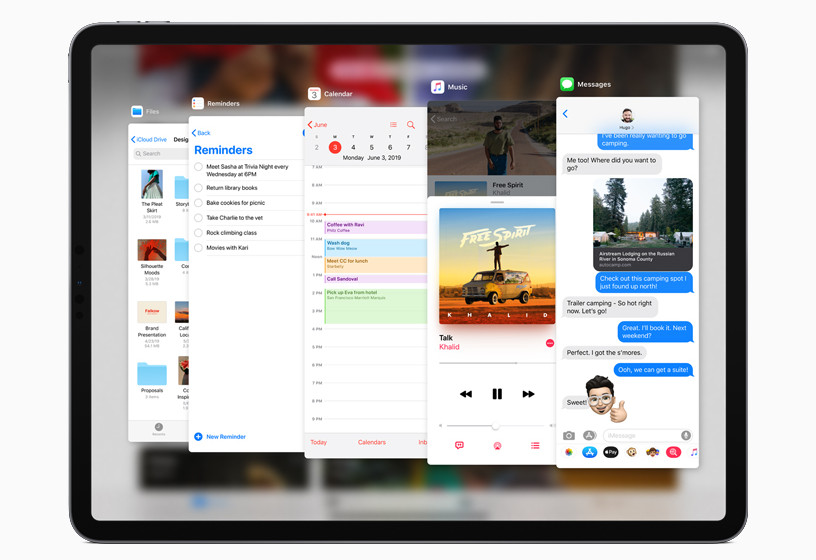 Keep multiple apps at the ready in Slide Over and quickly access your favorites with just a swipe. Quickly move between Slide Over apps by swiping along the bottom. Swipe up to see all the apps in Slide Over. Easily make a Slide Over app full screen by dragging it to the top. Quickly close a window in Slide Over by going to the App Switcher and flicking up.
You can now open multiple windows from the app in Split View. Open a window from the same app in multiple spaces so you can work on different projects across your iPad. Quickly open a window by dragging the content into its own space. Drag a link to open Safari, a location to open Maps, or an email address to open Mail. The updated App Switcher shows all spaces and windows for all apps along with title windows.  See all the open windows for an app by tapping its icon in the Dock.
Apple Pencil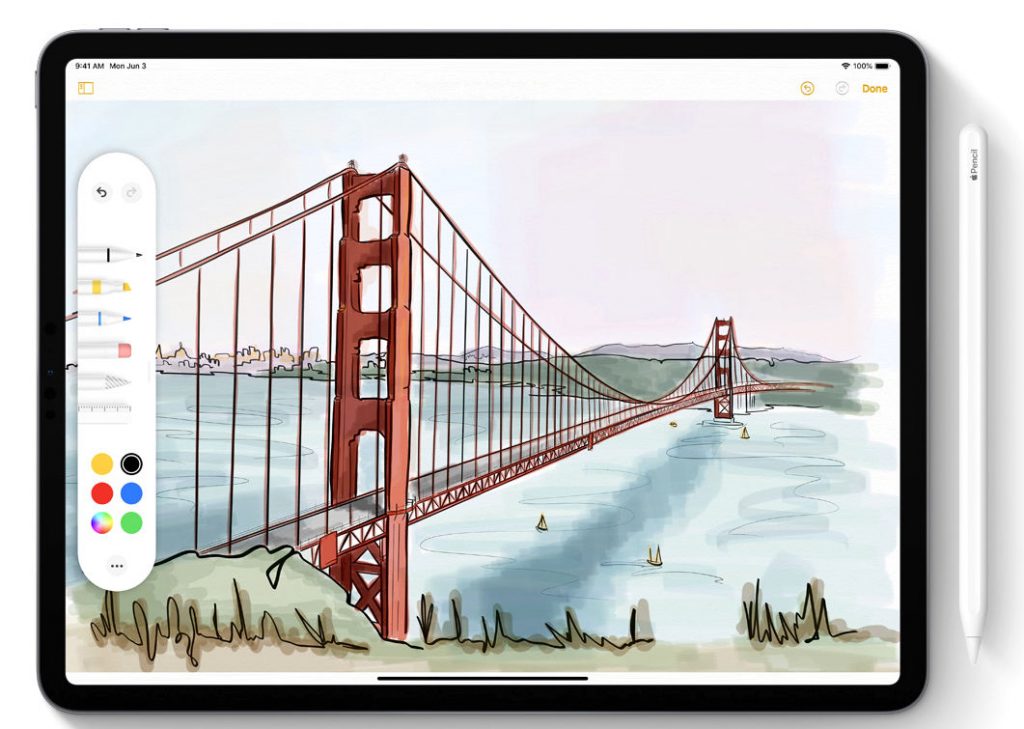 Thanks to advanced prediction algorithms, latency in Apple Pencil is as low as 9 milliseconds.  The redesigned tool palette has a fresh new look and several improvements. You can drag it to either side of the screen, or minimize it in the corner so you have more room for your content.
A pixel eraser lets you remove exactly what you want from a drawing, and a ruler makes it easy to draw straight lines. Now when you take a screenshot, you can capture the entire document, email, or web page and mark it up.  Quickly take a screenshot using Apple Pencil by dragging it from either bottom corner.
Files App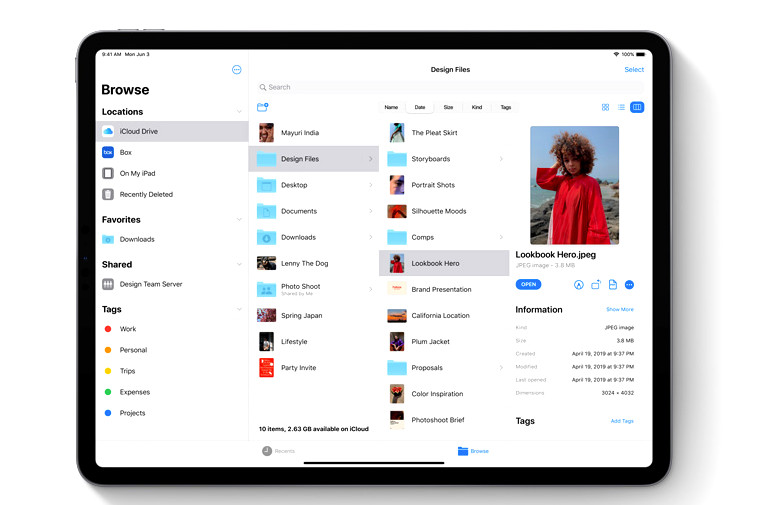 Easily browse files deep in nested folders in the new Column View. Just select a file and get a high‑resolution preview. Quick Actions make it easy to rotate, mark up, or create a PDF in the Files app. Column View displays a rich set of metadata, so you can see the details for each file as you browse.
A new downloads folder gives you a central place to access your web downloads and attachments from Safari and Mail. Access files on a USB drive, SD card, or hard drive. Connect to a file server at work or a home PC using SMB from Files. Share folders with friends, family, and colleagues in iCloud Drive.
Desktop-Class Browsing with Safari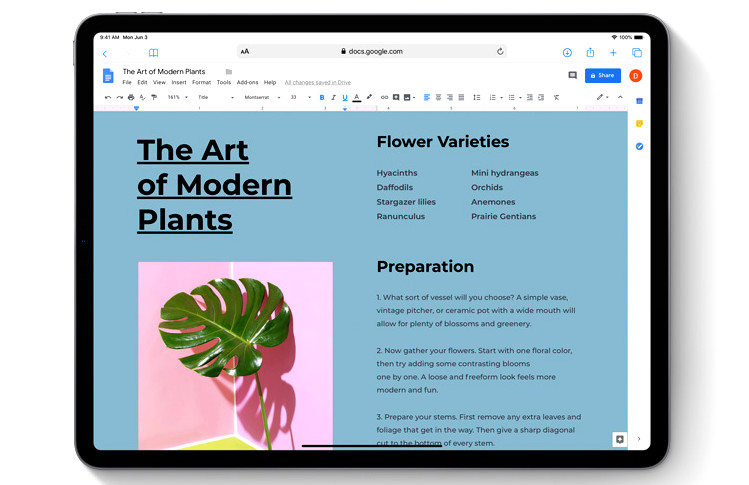 iPadOS automatically presents the desktop version of the website, scaled appropriately for the iPad display, and optimizes it for touch, so web apps work great. An updated start page design includes favorites, frequently visited, and most recently visited websites so you can quickly get to the site you want.
Siri suggestions surface relevant websites in your browsing history, frequently visited sites, links sent to you in Messages, and more. Download Manager lets you check the status of a file you're downloading, access downloaded files quickly, and drag and drop them into a file or email you're working on. Navigate the web even faster with over 30 new keyboard shortcuts when you use an external keyboard.
Improved Text Editing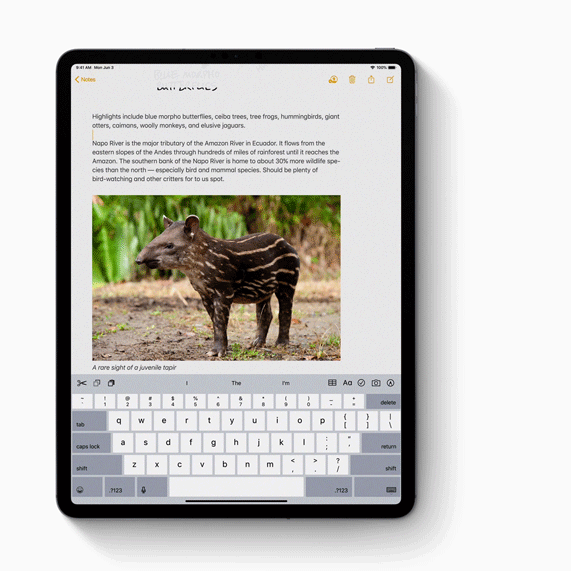 New gestures make cut, copy, and paste a snap. Pinch up with three fingers to quickly copy, pinch up with three fingers two times to cut, and pinch down with three fingers to paste. Instantly navigate long documents, web pages, and conversations by dragging the scroll bar. Moving the cursor is even faster and more precise — just pick it up and drag it to where you want.  Quickly select email messages, files, and folders by tapping with two fingers and dragging.
Other features
Dark Mode delivers a dramatic dark color scheme that looks great across the system and is easier on the eyes in low-light environments.
Custom Fonts can be installed for use across the system, perfect for creating beautiful documents on iPad. Fonts from boutique and major vendors such as Adobe, DynaComware, Monotype, Morisawa and Founder will be available on the App Store.
A new floating keyboard saves space and includes support for QuickPath — making one-handed typing easy and leaving more room to display apps. Customers can pinch in to enable the floating keyboard and drag it anywhere on the screen.
Photos curates the library to highlight the best images, automatically hiding clutter and similar photos to showcase significant events from the past day, month or year. Photo editing is more intuitive with new tools that are easier to apply, adjust and review, and almost all photo editing capabilities are available for video editing.
Sign In with Apple is a fast, easy and private way to sign in to apps and websites using Apple ID.
Maps feature a new basemap, built from the ground up: Look Around with beautiful street-level imagery of cities using high-resolution 3D photography; Collections for a new way to share restaurants, shops or destinations; and Favorites for quick navigation to frequent locations.1
Performance improvements make the entire system more responsive with faster Face ID unlock, and a new way to package iPad apps on the App Store that reduces download sizes by up to 50 percent, makes app updates up to 60 percent smaller, and results in apps launching up to twice as fast.
Availability and Eligible devices
iPadOS will be available for iPad Air 2 and later, all iPad Pro models, iPad 5th generation and later and iPad mini 4 and later this fall, which is around September. The developer preview of iPadOS is already available, and a public beta program will be available to iPadOS users next month.