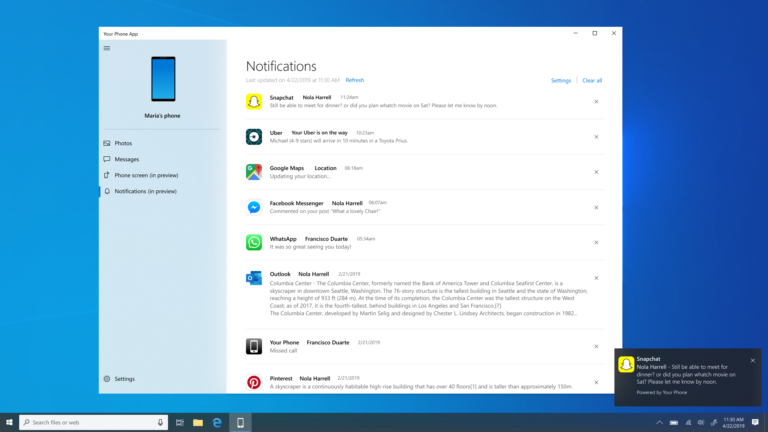 Microsoft introduced the 'Your Phone' feature for Windows 10 at the Developer Conference in 2018. The new 'Your Phone' feature in Windows 10 enables instant access to text messages, photos, and notifications.  Now, Microsoft is said to be working on adding a new feature to 'Your Phone' which displays Android notifications on Windows 10 PCs.
A new Insider Preview Build for Windows 10 reveals that Microsoft is indeed testing a feature as a part of 'Your Phone' that will display Android alerts on Windows 10 PCs.
In this new feature, if a user allows applications to display alerts, the user can view the status update or message without reaching to the smartphone. Additionally, users can choose to clear notifications all at once or one at a time on the PC and the same will be reflected on the user's smartphone. Also, the preview build suggests that users can't respond to notifications at least for now.
With this preview, a user can:
See incoming phone notifications in real-time
View all of your phone notifications in one place
Customize which notifications you want to receive
Clear notifications individually or all at once
Microsoft is rolling out the feature gradually to Windows Insiders using the 1803 (RS4) build and users will need a phone with a minimum of 1GB of RAM and running Android 7.0 Nougat or newer.