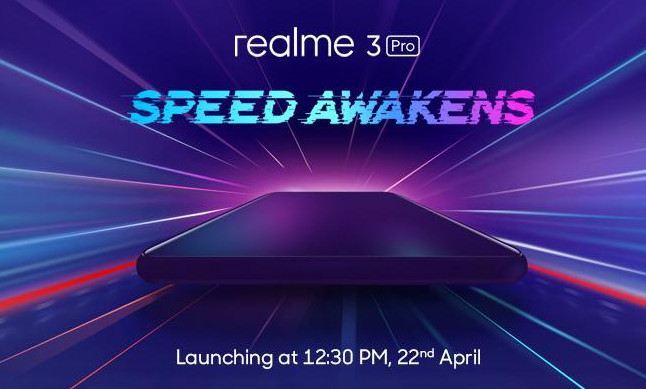 Realme already announced that it will launch its flagship Realme 3 Pro smartphone on April 22nd. Today the company has announced its first ever Blind Order Sale that will let realme fans and customers to pre-order realme 3 Pro by simply registering themselves on realme.com on April 19th between 00:00 hrs to 23:59 hrs to get R-Pass, a unique code, that will assure a guaranteed purchase of realme 3 Pro sale on April 29, between 12:00 hrs to 23:59 hrs only on the brand website.
The R-Pass for realme 3 Pro will allow fans to buy any variant and color of realme 3 Pro subject to availability of colors and variants at the time. realme will issue 5000 R-Pass for the sale.
Since the flagship comes in limited quantities, a first come first serve policy will be followed for this flash sale, said the company.
How to place realme 3 Pro blind order
Visit realme.com on 19th April (00:00 AM to 23:59 PM)
Login using realme ID
Register for the blind order by clicking the 'Order Now' button
In case of successful registration, fans will randomly receive an R-Pass
R-Pass for realme 3 Pro will be added to user's realme account
The R-Pass is valid to order a realme 3 Pro only on April 29 from 12:00 hrs to 23:59 hrs.
The customers who do not receive R-pass, will receive a notification message before the first flash sale.
Realme 3 pro will also be available on Flipkart. The company recently confirmed support for fast charging that will offer 5 hours of talk time with 10 minutes of charge.
Regarding the Blind Order Sale, Madhav Sheth, Chief Executive Officer, realme India, said:
We always strive to offer the best and most convenient way to our fans to buy all realme products. Since we are expecting high demand from our fans for realme 3 Pro, we have devised this Blind Sale Offer to make sure our hardcore fans get exclusive purchasing opportunities for our devices. We will announce more exciting surprises to make sure our fans don't need to wait for flash sales.