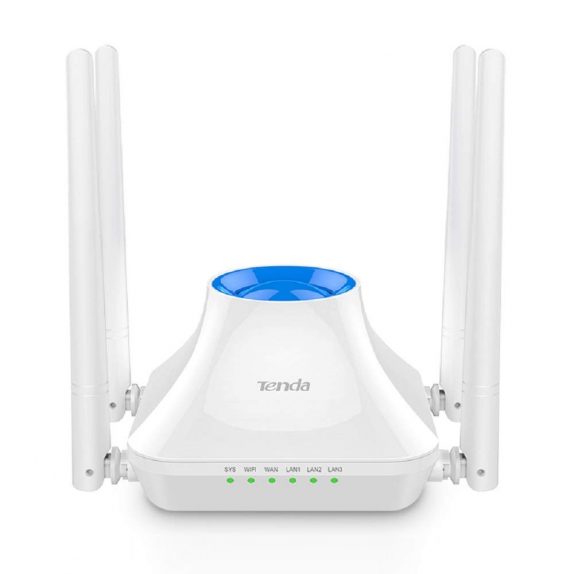 Tenda has launched the F6 300Mbps Wi-Fi router in India that is specially designed for average home and SOHO setups. The company claims that F6 is not like those traditional Wi-Fi Routers that provide you with speed but also packs in good looks. The large interior space, the top vents, and the bottom heat sink dissipate heat thus creating an efficient cooling system.
The Tenda F6 is equipped with four 5dBi high-gain omnidirectional antennas providing wireless signal coverage to every corner. It is based on MIMO technology and can perform multiple transmissions and multiple transmissions, allowing signals to travel farther and better through the wall.
Additionally, it comes with a more concise interface optimization, networking and embedded intelligent diagnostic functions, a real-time guide for the user to install and set up. With IP bandwidth control, Internet demand distribution of each computer is according to different users of Internet bandwidth which helps to avoid individual users to download software or online HD movies taking up too much bandwidth and affecting other users.
The F6 comes with IEEE802.11b, IEEE 802.11g, IEEE 802.11n protocol standard, and a working frequency band/frequency of 2.4GHz and doesn't support 5GHz. It comes with 10/100M WAN*1; 10/100M LAN*3; DC2.1 interface. It is compatible with Windows XP/7/8/10, Linux, iOS 6 or later, Android 4.0 or later. The Tenda F6 is available online on Amazon.in and is priced at Rs. 1899.
Commenting on the launch, John Dung, Director, Tenda India, said:
Today the router has become a piece of essential equipment in our lives. With the F6 it will not just be a piece of equipment but also one that can be showcased. A router with a good appearance will bring altogether a different feeling.