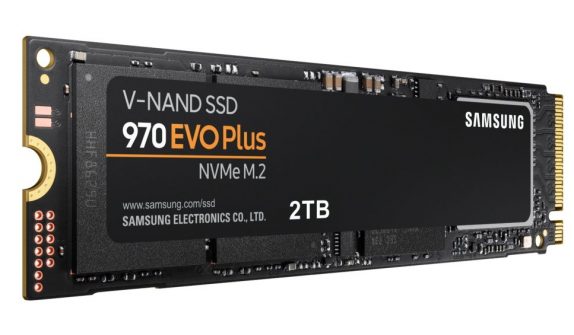 Samsung Electronics has introduced the Samsung 970 EVO Plus; the company's newest entry to the (NVMe) SSD portfolio. It comes with up to 2TB storage capacity. Samsung says that the 970 Evo Plus has achieved significant performance improvements – up to 57% faster write speed.
The 970 EVO delivers sequential read and write speeds of up to 3,500 megabytes per second (MB/s) and up to 3,300 MB/s, respectively, while random speeds come in at up to 620,000 IOPS for read and up to 560,000 IOPS for write operations. It also allows users to upgrade their devices as the 970 Evo comes in a compact M.2 form factor using the PCIe Gen3 x4 interface that is found in most modern computers.

It comes with Samsung 9x-layer V-NAND 3-bit MLC storage memory, and Samsung Phoenix Controller. The 970 EVO Plus comes in various storage options; the 250GB, 500GB, and 1TB capacity versions are now available for purchase worldwide, and the 2TB capacity will become available in April.
The Samsung  970 EVO Plus in 250GB, 500GB and 1TB capacity are priced at Rs. 6,479, Rs. 9359, Rs. 17,999, respectively and will be available in February. The 2TB variant will be available in April at Rs. 35,999.
Dr. Mike Mang, vice president of Brand Product Marketing, Memory Business at Samsung Electronics said:
Since introducing the first NVMe SSDs to the consumer market in 2015, Samsung has continued to challenge technical barriers in SSD design and performance. The new 970 EVO Plus powered by Samsung's latest fifth-generation V-NAND technology will now offer unrivaled performance in its class when taking on demanding tasks like 4K content editing, 3D modeling and simulation as well as heavy gaming.