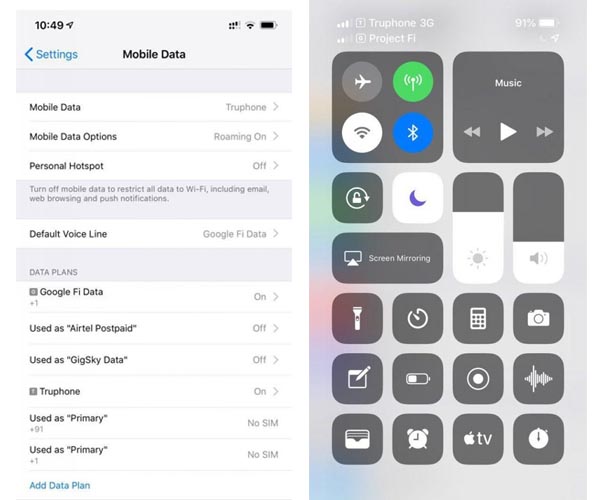 When Apple announced support for Dual SIM functionality on the iPhone XS and XS Max, a lot of readers were asking if they would have more than one eSIM on a device. Turns out, you can have save several eSIMs to the iPhone XS and activate any one SIM at anytime. This is such an awesome feature which is only available on the iPhone XS at this point. On a recent trip, I managed to activate several eSIMs on my iPhone XS Max and it worked like a charm. I managed to also try a couple of eSIM based data roaming providers Gigsky and Truphone.
Welcome to the Multiple eSIM Party!
As you can see in the above screenshot, I had several SIMs configured on my iPhone. I use an Airtel Postpaid connection in India which has uses an eSIM.  I was using Google Fi service on my physical SIM card slot. I had set up Gigsky and Truphone too using the eSIM and was currently using the Truphone service. I could toggle between the various eSIMs seamlessly and get access to various networks and plans without having to pop out physical SIMs.
How to switch between eSIMs on the iPhone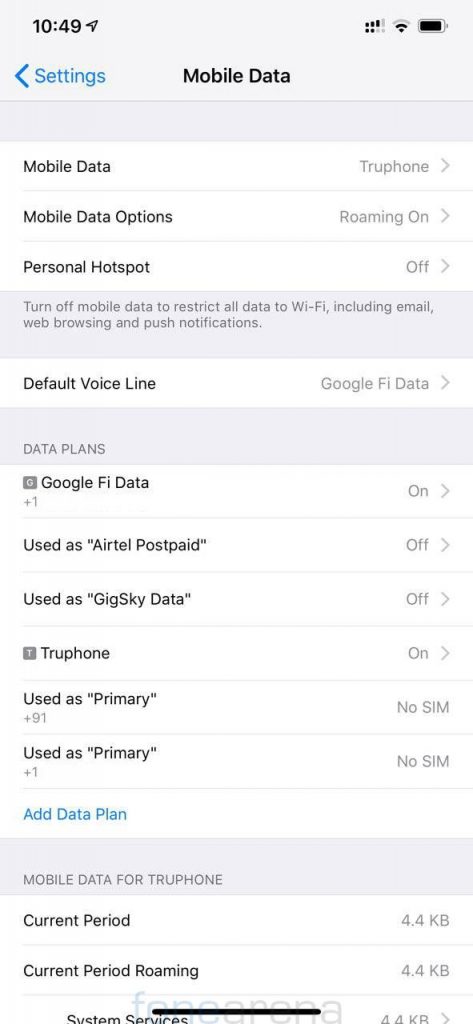 It would be good to point on that the Dual SIM feature is only supported on the iPhone XS, XS Max and the XR. Apple's implementation of Dual SIM functionality means you have only one physical SIM card slot and another is a programmable eSIM card. iOS allows you to store more than one eSIM on the iPhone. I remember using this in the past on the iPad but the implementation on the iPhone is way better. All you go to do is get the connection activated by your operator or data roaming provider. Truphone/Gigsky are the only Apple authorized global data roaming providers at the point for the iPhone. Once your connection is activated and the eSIM has been provisioned, your eSIM has been saved to your iPhone. You can now choose to turn off the connection and download another eSIM and activate the connection. Obviously, at any point only one eSIM connection can be active. I could toggle between my Airtel Postpaid, Truphone, Gigsky, Google Fi and Jio connection for data usage all on a single phone!
Truphone
Truphone offers data roaming plans in over 80 countries for the iPhone XS using the eSIM starting at 6 GBP for 1 day which gives 300MB of data. They also offer longer duration plans : 15GBP / 1GB / 30 days and 42GBP / 3GB / 30 days.  It took some time for the Truphone app to provision my eSIM and finally I got the data to work. It was stuck on 3G for some reason on my iPhone XS Max.
I had picked the base 300MB plan and although the speeds weren't great, it did get the job done. Their app also indicates the data left which is a nice touch. I managed to get Truphone working along side my Google Fi SIM.
GigSky
GigSky's activation process was much faster and the data speeds were better. They offer data roaming in over 190 countries. The plans are based on regions and start at $10 for 300MB per day for most regions.
Have you tried the Dual SIM feature on the iPhone XS or XR ? Let me know the comments below.