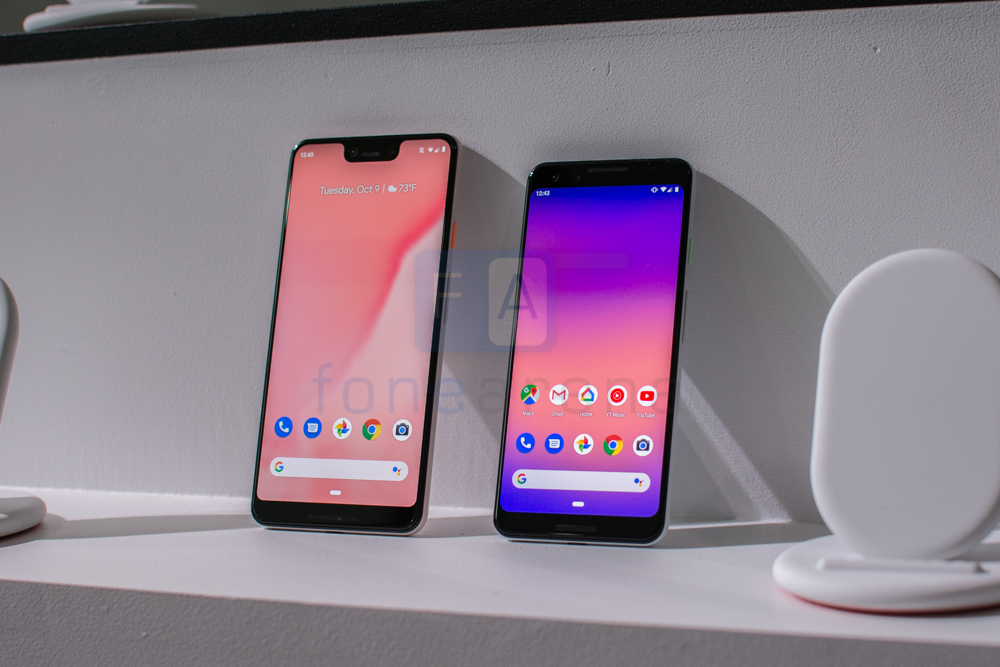 Is the Pixel 3 XL the most leaked smartphone in history? That's entirely possible. But hardware only tells a part of the story. We were at the launch of Google's latest in New York and here's our first impressions of the all new Google Pixel 3 family.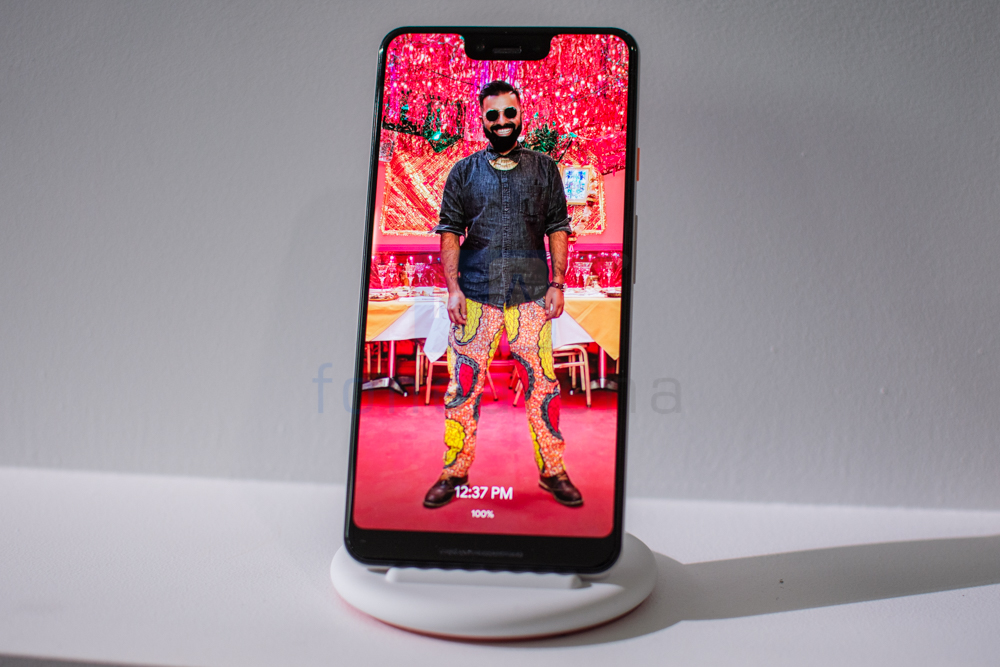 Let's talk design. The 'notch' has taken over practically all Android flagships and the larger Pixel is no exception. Unless you've been living under a rock, you've probably seen leaked images of the Pixel 3 XL, and we can confirm that the notch is just as big as you'd feared. Even larger than the chin of the phone, it cuts deep into the 6.3" OLED panel. It's not ideal and won't help the phone win any design awards but as I've observed over the last few months of 'notch' living, you get used to it. Should you have to? Probably not but hey, Google justifies it by adding in dual cameras as well as dual front firing speakers. More on these in a bit.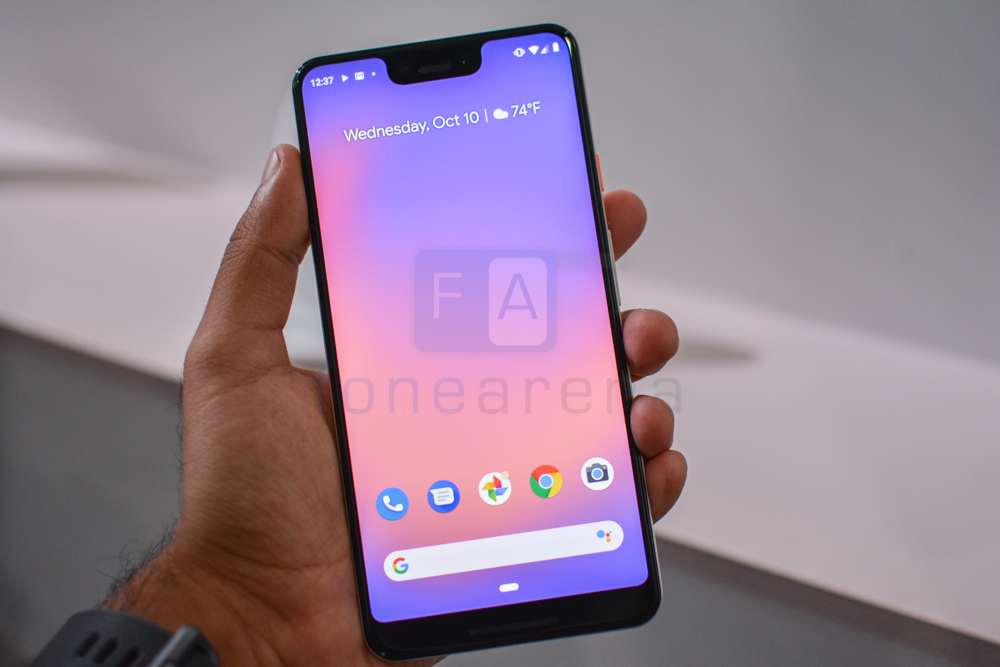 Right, now that we've talked about the notch, there's the other biggie. Last year's Pixel 2 XL was widely derided for its terrible OLED panel. The benchmark was set low but the Pixel 3 XL takes a giant leap forward. The 6.3" OLED screen looks fantastic. Sporting a resolution of 2960×1440, the screen has an 18.5:9 aspect ratio. There's Gorilla Glass 5 too. Google is really talking up the screen with a claimed 100,000:1 super contrast ratio, 24 bit panel and UHDA certified HDR support.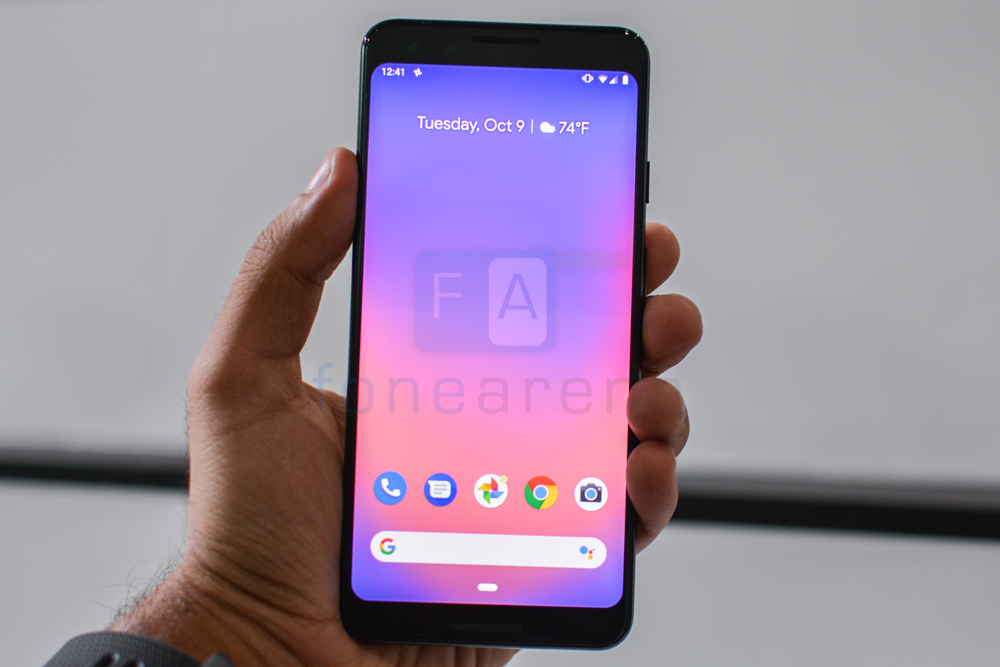 All that jargon aside, the screen is really nice to look at and while you won't have to, there's an option to boost up saturation even further. The smaller sized Pixel 3 is similarly specced except for the lower Full HD resolution mated to a 5.5inch screen. Oh, and it doesn't have a notch.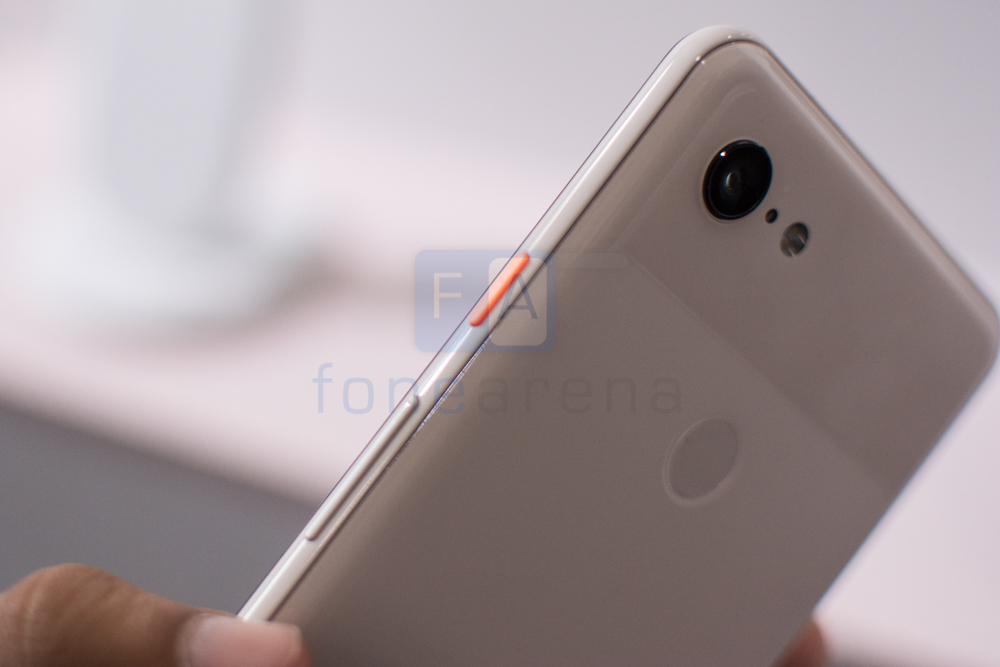 Around the phone is an aluminium band with what Google calls a hybrid coating. The coating gives the phone a soft touch plastic like feel that is very comfortable and premium. The right side sports the power button. The white variant has a mint blue power button while the soft pink has an orange button. The black version plays it safe with a pure black colorway. The volume rocker is placed further down. In general tolerance levels are really good and the volume buttons are nice and clicky. Both the phones now have their SIM card slots along the bottom edge alongside the USB Type C port for charging up the phone. The phone supports USB-PD based fast charging.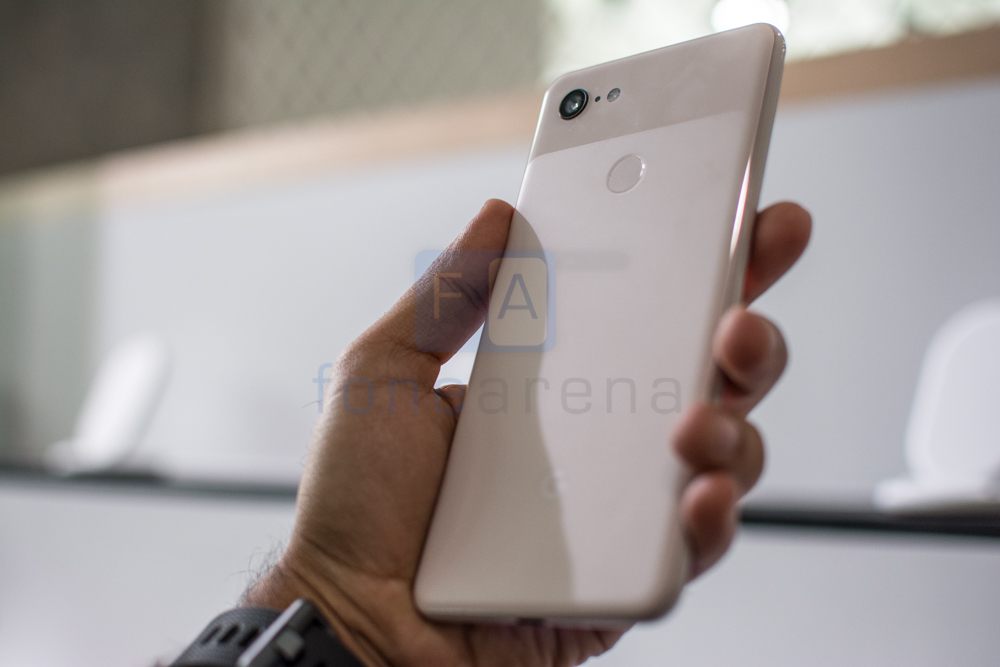 The back of the phone continues the dual tone design language pioneered by Google starting with the first generation Pixel. While the first and second generation Pixel used a combination of metal and glass, the Pixel 3 XL and Pixel 3 both have switched over to an all-glass back. To continue the design language of the Pixel line though, Google has etched a pattern into the glass itself. The lower 2/3rds has a luxurious soft-touch finish that feels absolutely amazing in the hand. The top is glossy, just the way it has always been on the lineup. Honestly, the end product is so well done that you could easily be fooled that these are two separate segments. It also doesn't feel like glass. This might be a positive or negative depending on who you ask but the back of the phone feels quite a bit like polycarbonate. It doesn't hurt that the phone weighs a mere 184 grams or 148 grams for the smaller sized model.
What's under the hood?
Now, Pixel phones have never been about cutting-edge hardware. Once again, that's true here as well. Sure, you get a Snapdragon 845 chipset but the RAM tops off at 4GB. Is it enough? For most users, yes. Heavy duty gamers will likely find offence with this though especially now that phones with up to 8GB of RAM are commonplace. The Pixel 2 XL performed well enough for the most part and with all the performance optimisations under Android 9, the Pixel 3 XL should too. We'll be testing that out in our full review shortly. Storage options are 64 and 128GB and there's no microSD support of course. You do get unlimited full resolution photo and video uploads all the way till January 2022.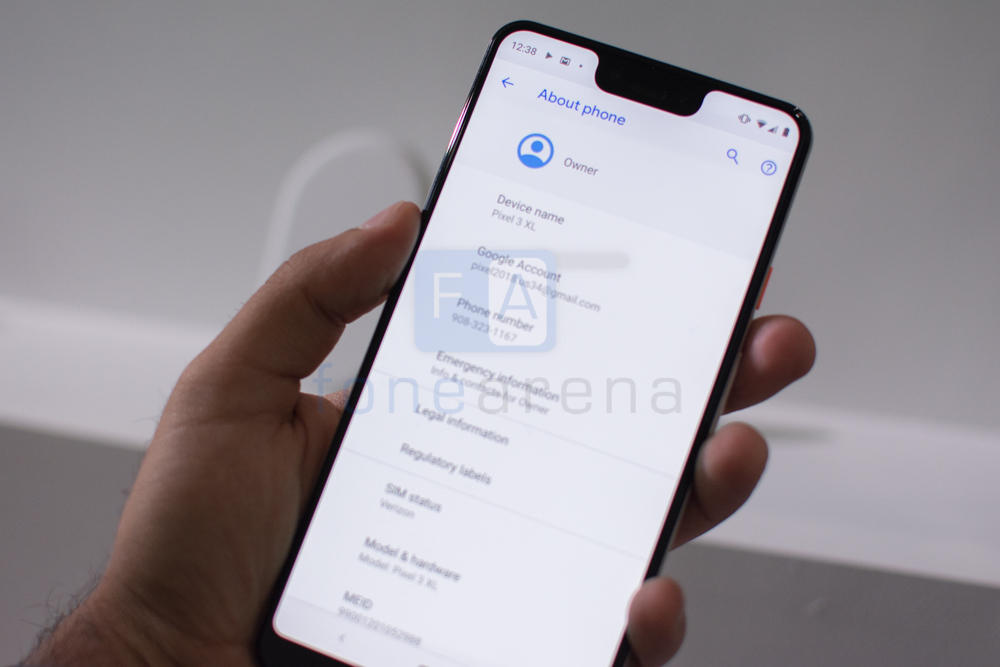 Software-wise, the phone is running Google's flavour of stock Android. Essentially stock Android Pie with a few Pixel specific additions including a bunch of exclusive wallpapers, camera optimisations, features like Now Playing detection that works completely offline. You also get in camera Google Lens support that can detect QR codes, phone numbers, addresses and more. Pixel users also get first access to features like Digital Wellbeing.
Camera
The Google Pixel has consistently ranked as one of the best camera smartphones you can buy through the magic of computational photography. The Pixel 3 aims to continue that streak through Google's AI shenanigans. There's still only one rear facing camera module. The 12.2MP sensor has a 1.4micron sensor size. There's optical image stabilization and an f/1.8 aperture. The field of view is 76 degrees. Over on the front are two cameras. One is a standard camera with a 75 degree field of view and phase detection autofocus. The second is an ultra wide-angle camera with a 96degree field of view, f/2.2 aperture and no focusing capabilities.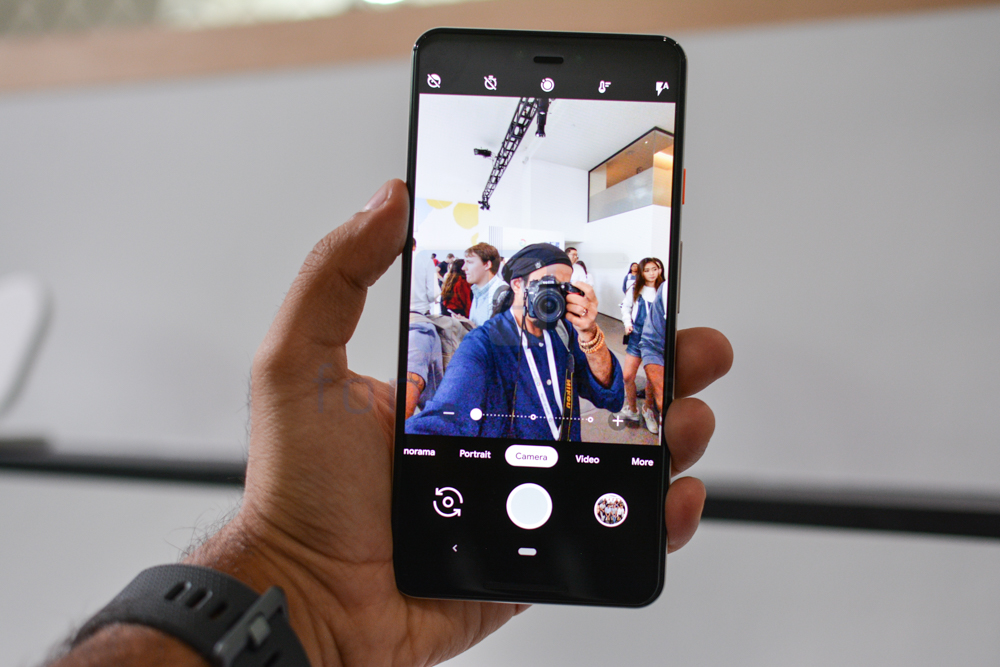 Our first impressions indicate quite a step up from the already amazing Pixel 2 XL. Google has added in a whole bunch of new shooting modes to the camera software and is clearly going all in on software to enhance photography instead of using multiple sensors and lenses.
First up is Top Shot, a smarter burst mode that auto selects the best photograph where you're smiling or where you're not blinking. Next is Photobooth. A feature that seems to have taken a whole lot of learning from Google Clips and is meant for a party atmosphere where you keep the phone switched and it automatically captures the best moments. It's a bit of a niche use case, but we're quite excited to see how well it works.
The actual image quality has got a most definite bump up. We did a quick comparison with our Pixel 2 XL and the shots look much better in terms of metering. Low lights shots have an almost film-like take on how they handle noise. Simply put, the Pixel 3 takes stunning photos and that's just based on our very early impressions. We also observed that the 3XL is much better at handling lens flare.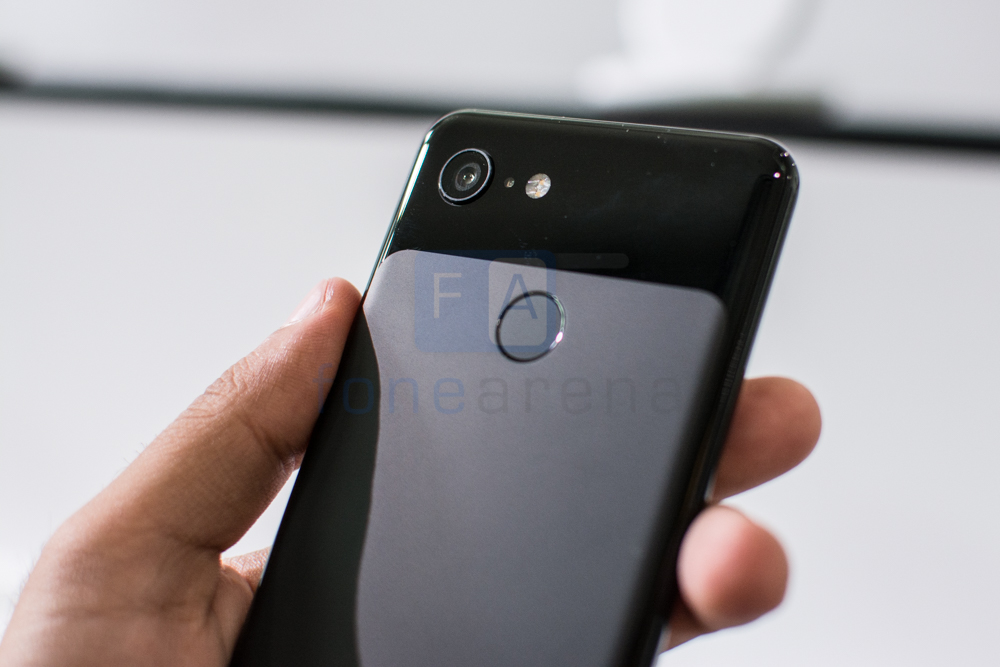 Also, new is an enhanced implementation of the RAISR AI based digital zoom that made its way to the Pixel 2 XL via an update. This time around, the phone captures multiple frames using the natural movement of your hand to essentially create a super-resolution shot. The phone then uses AI to digitally zoom in and hopefully give you good shots. We'll test it out in our review. Google also has a feature called Night Sight that will be rolling out post-launch. The feature is aimed at improving low light photography using computational processing and AI. The phone now lets you save RAW images in case you want to experiment with them in post-processing.
Moving on to the front cameras, the dual cameras work in tandem to let you capture a standard shot or get a whole lot more in the frame. The UI is seamless and you don't really need to switch cameras. Adjusting the level of zoom or frame of view automatically decides which camera to use. Portrait mode is available of course as are beautification features. In fact, the camera now lets you adjust the level of skin tone adjustment and blemish you want. That's a whole lot of camera features and honestly, we've barely touched the basics. Rest assured, you can expect much more in-depth coverage over the coming days.
Other Features
One of the big talking points for this year is support for wireless charging. It took them a while to get there but the Pixel 3/XL both support wireless charging over the Qi standard. This works in tandem with the Pixel Stand accessory. Unlike many chargers though, the stand isn't just a charging dock.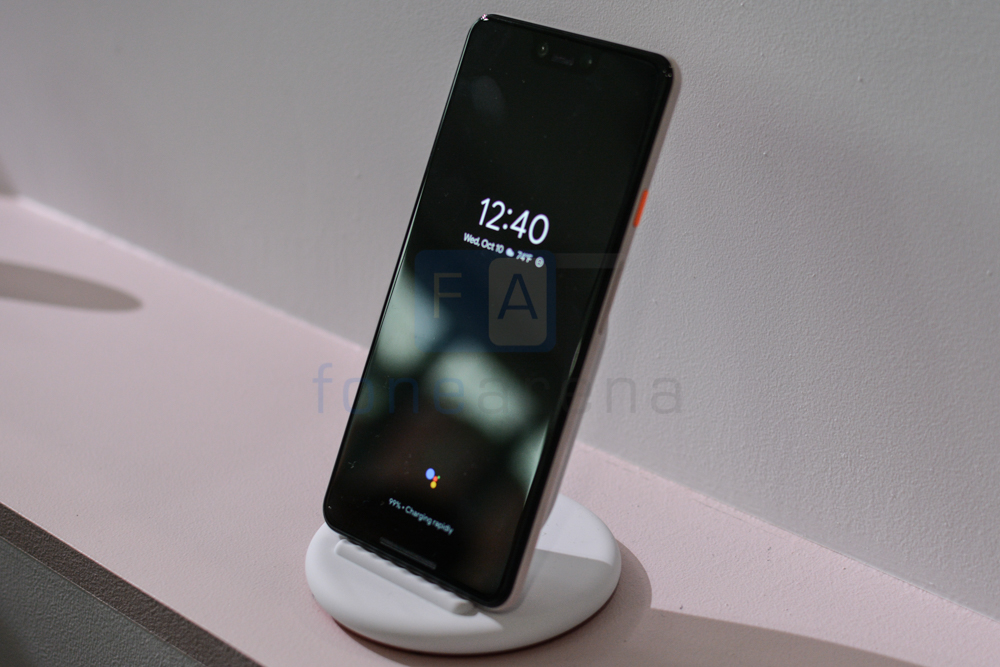 There are software options to let you use your phone as a photo dock pulling in pics from Google Photos when you put it on charge. There's Google Assistant functionality available here too and the phone can gently wake you up in the morning by brightening the screen simulating the rising sun. Basically, the $79 Pixel Stand turns your phone into a mini Home Hub. Not bad.
The phone is now IP68 rated which means you can take it to your beach holiday or capture images in the pool without worrying too much.
A third feature that stood out was the Titan M chip built into the phone. Google is calling it a security and encryption chip that stores all your passwords, biometrics and checks for system integrity. With all the concerns around hacking and general privacy concerns, building a secure module into the phone's hardware definitely seems like a step in the right direction.
Conclusion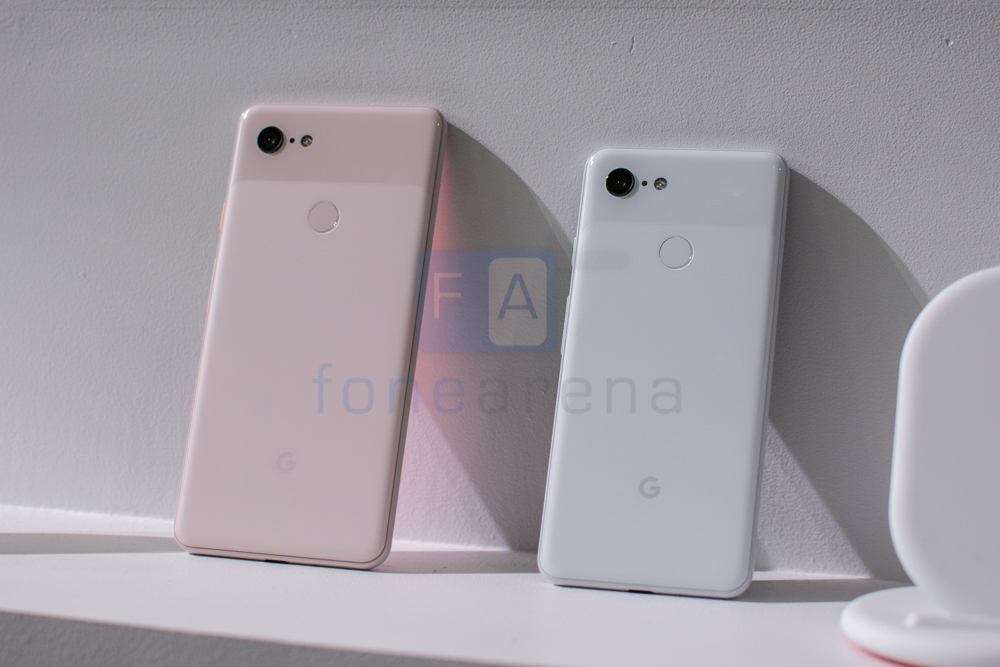 It is important to note that the Pixel line of phones is built to showcase Google's hardware prowess. As such, the phones are wildly successful at giving us a glimpse into the possibilities of AI and machine learning. You might not like the design and that's alright, there are enough options for you. Perhaps you want more RAM, then again you have options though I'd be inclined to believe that the guys who make the operating system know well enough how much RAM is good enough. Nah, these phones are for those who want to live on the bleeding edge of software and computational innovations. As a consumer, I might think twice before investing in a Pixel due to the skyrocketing price points but as a fan of bleeding edge tech, I've got to say, the Pixel 3 line up is already looking like one of the best phones to be launched this year.