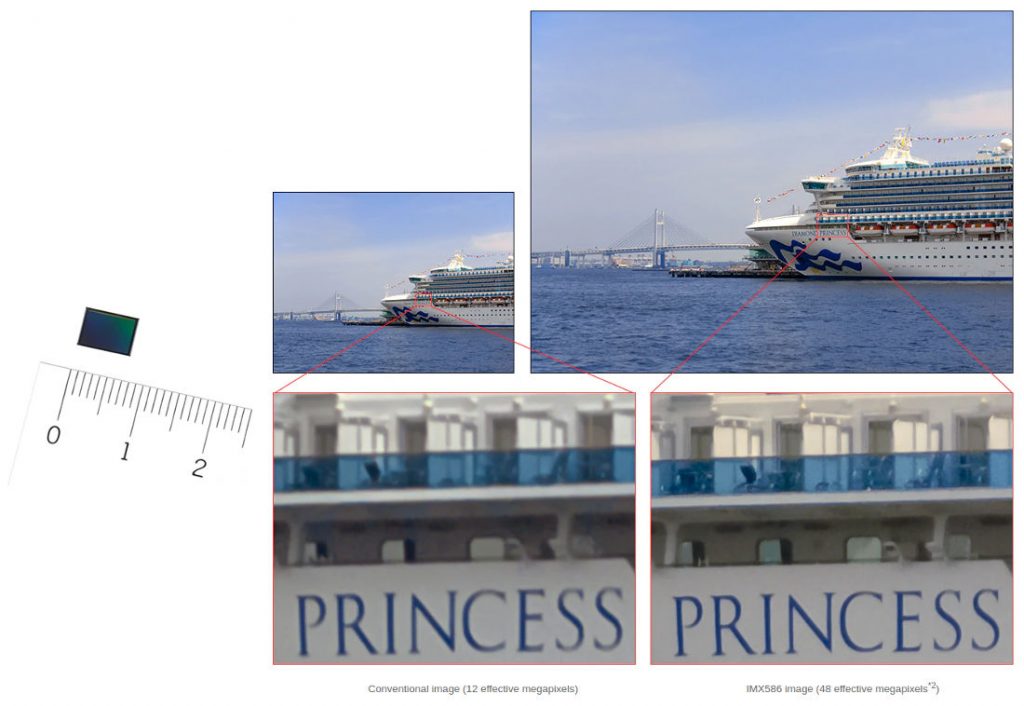 Sony just announced IMX586, its latest stacked CMOS image sensor for smartphones with highest pixel count in a smartphone and world-first ultra-compact pixel size of 0.8 μm, making it possible to pack 48 effective megapixels onto a 1/2-type (8.0 mm diagonal) unit. It uses  Quad Bayer color filter array, where the adjacent 2×2 pixels come in the same color, so that the sensor promises high sensitivity and high resolution.
"In low light situations, such as shooting at night, the signal from the four adjacent pixels are added, raising the sensitivity to a level equivalent to that of 1.6 μm pixels (12 effective megapixels), to capture bright, low-noise photos and videos, and when shooting bright scenes such as daytime outdoors, the built-in, original signal processing function performs array conversion, making it possible to obtain high-definition 48 effective megapixel images in real time," said Sony.
The original Sony exposure control technology and signal processing functionality are built into the image sensor, enabling real-time output and a superior dynamic range that is four times greater than conventional products.
"Even scenes with both bright and dark areas can be captured with minimal highlight blowout or loss of detail in shadows while viewing the image on the smartphone display," added Sony.
Sony IMX586 specifications
Number of effective pixels – 8000 (H) × 6000 (V) 48 megapixels; Image size – Diagonal 8.000mm (Type 1/2)
Frame rate – Full – 30fps; Movie – 4K (4096×2160) – 90fps, 1080p – 240fps, 720p – 480fps(w/crop)
Sensitivity (Standard value: f5.6) –  Approx. 133LSB
Sensor saturation signal level (minimum value) – Approx. 4500e
Voltage – Analog 2.8V, 1.8V; Digital 1.1V; Interface 1.8V
Main functions – Image plane phase-difference AF, HDR imaging
Output – MIPI C-PHY1.0 (3 trio) / D-PHY 1.2 (4 lane)
Color filter array – Quad Bayer array
Image output format – Bayer RAW
The Sony IMX586 sample  costs 3,000 JPY (US$ 27 / Rs. 1,860 approx.) excluding tax and will be shipped to OEMs September 2018.