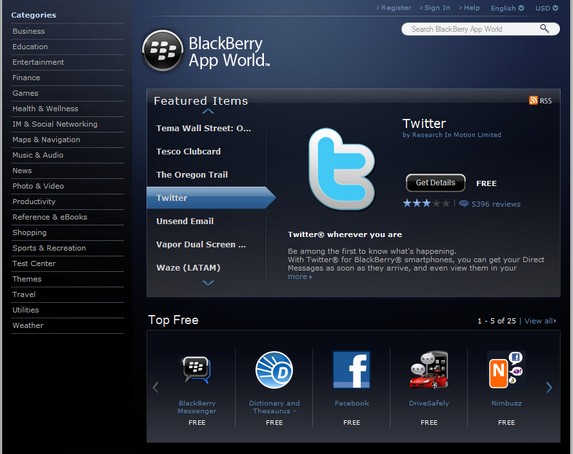 BlackBerry's Application Store the AppWorld got a major new feature today with an Online Store where users can browse all available applications on the PC. One can also download / purchase apps from the online store.Both Free and Paid apps are available and payment will be through Paypal , Credit Card or Operator billing.  There is also a barcode which users can scan to download the app. You would need a BlackBerry ID in order to download items from the store.
Honestly , I never knew that the BlackBerry App World had so many apps. Thanks to Online App Catalog , discovering apps will become a lot more easier. The only other major phone maker to offer an online app store is Nokia Ovi Store. Apple's AppStore is closely tied to the iTunes App while Android Market website offers limited functionality.So this seems like a good move by RIM.
Here is the official description of the WebStore
The BlackBerry App World™ storefront allows you to search for and download items for your BlackBerry® device. From BlackBerry App World,
you can browse featured and top downloaded items, such as games, social networking applications, and productivity applications. You can view
items by category and search by keyword. You can also read and write reviews and recommend items to others.
You can buy and download items over the wireless network to your device. Items that you buy or download are stored in BlackBerry App World
on the My World screen.
via MocoNews | Source : Blackberry