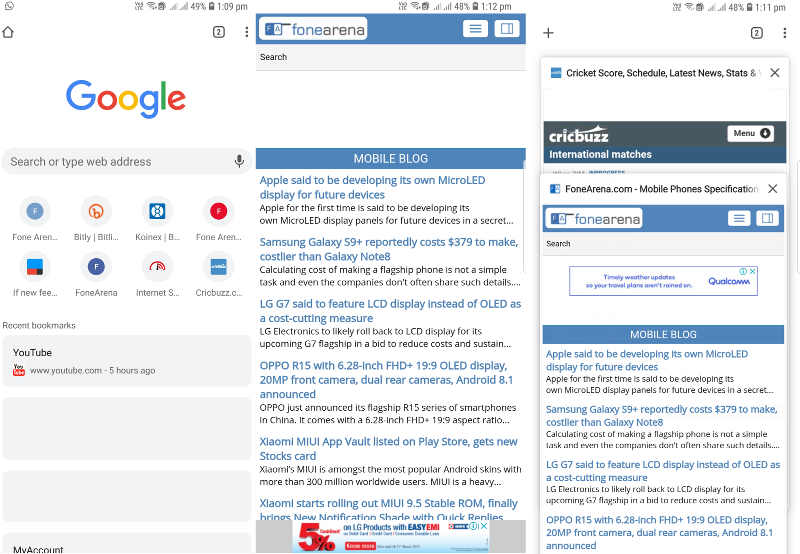 Google is rolling out a fresh update to Android and iOS. The update to Android brings the Chrome version number 66 and includes features like restricting autoplay, rounded material design, adds 'Home Duplex' and several design tweaks. 
With Chrome 64 update, Google bought the ability to mute audio across sites as part of efforts to give users more control over the playback experience and with today's update, Google is embracing new policies on when media can autoplay; when Content is muted or does not feature audio, users previously tapped or clicked on the site during the browsing session, on mobile, if the site has been added to the Home Screen by the user.
Chrome 66 is removing the current block autoplay setting and autoplay blocking on mobile when data saver mode is enabled. Google Chrome Home with bottom bar redesign has been canceled and removed and is replaced by "Chrome Home Duplex" in version 66. A new bottom toolbar can be slid up to open the New Tab page. It's a quick way to launch bookmarks, but might be still in development.
Google is retaining the non-bottom address bar of Chrome Home with a new "Modern Design" flag in version 66. This includes white background on the tab switcher and New Tab page, as well as a rounded Omnibar for URLs and a similar treatment for other icons. It also brings the new AudioWorklet API which will allow developers to programmatically control audio without additional latency and higher stability in the output audio.
For both Android and iOS, Google has introduced the ability to Export passwords and is accessible by tapping the new overflow icon in the Passwords menu. However, Chrome will ask users to authenticate, so you will have to verify your system passcode or fingerprint before a popup warns that the downloaded .csv is visible to anyone. Once you are done, it will share sheet appears.
You can download the Google Chrome for iOS and Android from App Store and Play Store.