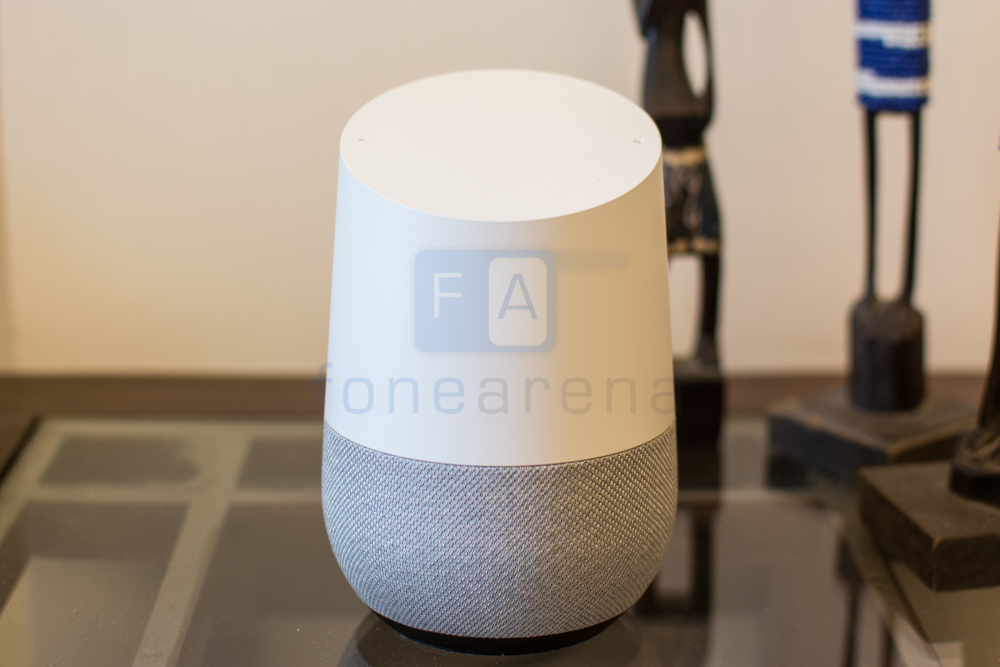 Between the Google Home and Amazon Echo, the race to get a smart assistant into your home is blazing hot. Across different form factors and price points, the idea is to get you onboard the Alexa or Google Assistant ecosystem. We've already brought you our review of the Google Home Mini, so here's a closer look at the full-sized Google Home now that we've spent a good amount of time putting it through its paces. 
Design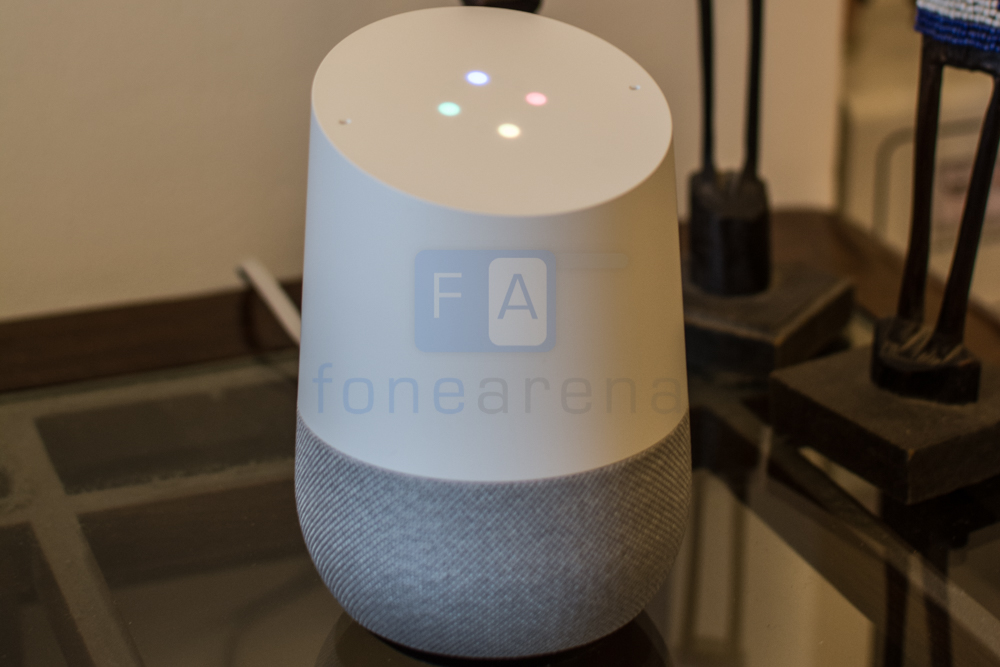 Let's start off with the basics. The hardware is smaller than you'd expect. Where the Google Home Mini was more or less the size of a donut, the regular Google Home is a little over double the size. Despite that, it is half the size of Bluetooth speakers like the UE Megaboom. Suffice it to say that the speaker will fit in any corner space you might have. The design is inoffensive and looks a bit like an air freshener from afar. This plays a larger role than you'd imagine since the end goal here is to make something that can be placed anywhere in the house and to encourage use.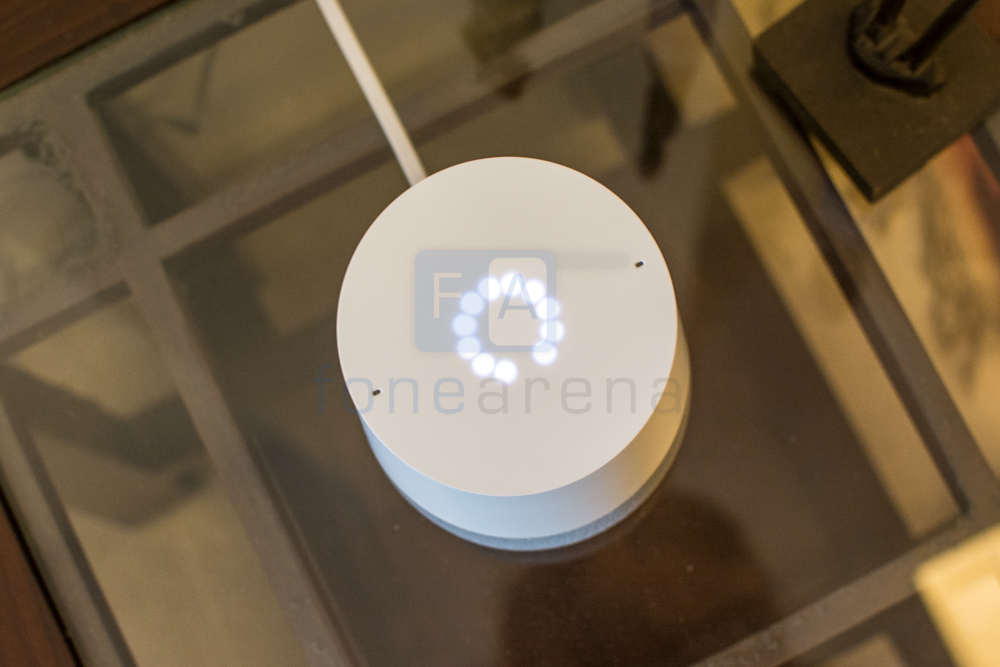 Anyways, the top of the Home Mini is slanted off and sports a capacitive touch panel. Usually blank, a circular array of lights come up when you touch it and gives visual feedback to the volume control. You can also play or pause music by tapping it. RGB LEDs light up to indicate activity whenever the Google Home is reacting to something. If you are very cautious about your privacy, you can toggle off the microphone on the Home via a button at the back though we'll go ahead and say that you probably shouldn't buy one of these if you're planning to turn off the mic.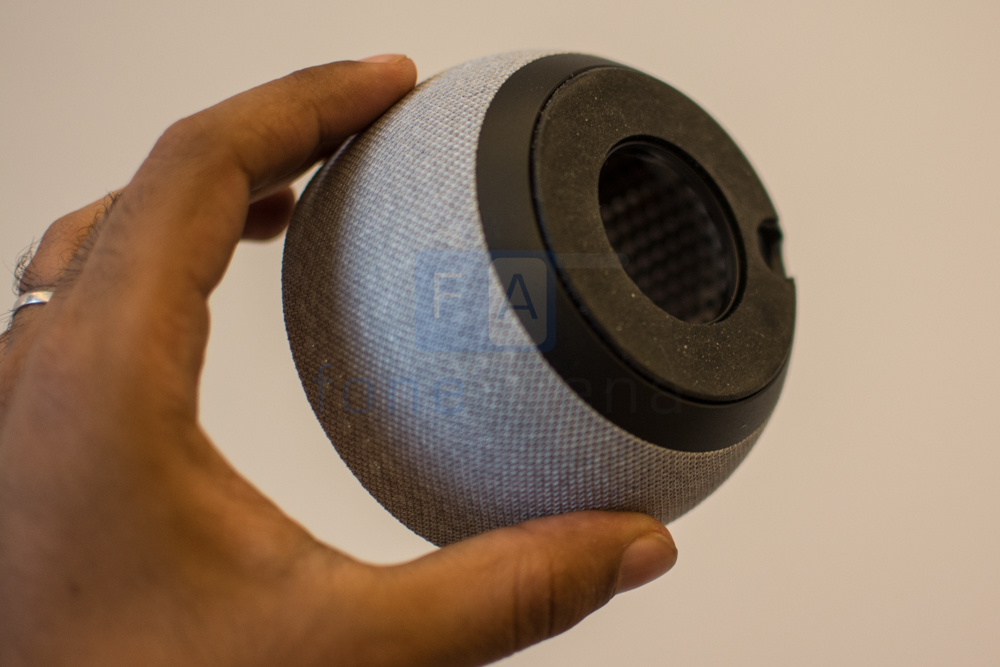 The lower half of the Google Home is made of a mesh-like fabric. This is removable for washing and in some markets, Google sells replacements in other colors too. Unlike the Home Mini, the Google Home does not use micro USB or USB Type C for charging and instead has a proprietary charging jack. This shouldn't pose much of an issue since it is unlikely you'll be using the Google Home as a portable smart speaker.
Performance & Usability
Setting up the Google Home is a very easy process.  If you've got the Google Home app installed on your phone, the device will pop up soon after you switch it on. Configuration is straightforward and it doesn't take more than a few minutes to get the speaker up and running.
Unlike the Echo, you can't use custom hot-words on the Google Home so you'll have to stick to 'Okay Google' or 'Hey Google' to activate the speaker. We've noticed that with multiple devices in the room, there's a good chance that you'll end up activating your phone instead of the speaker. Google says that they are working on improving proximity detection to decide which device to activate and that they hopes to also enable context based activation. As it stands though, this is very hit or miss.
Additionally, the assistant on the Home isn't as fully featured as the one on your phone due to the limitations of the medium. However, it can be quite a jarring experience when you get a response that the Google Home is incapable of providing this information. In case of restaurant suggestions and similar lists, often the information provided is too concise. We would prefer an easy way to continue viewing this information on our smartphones.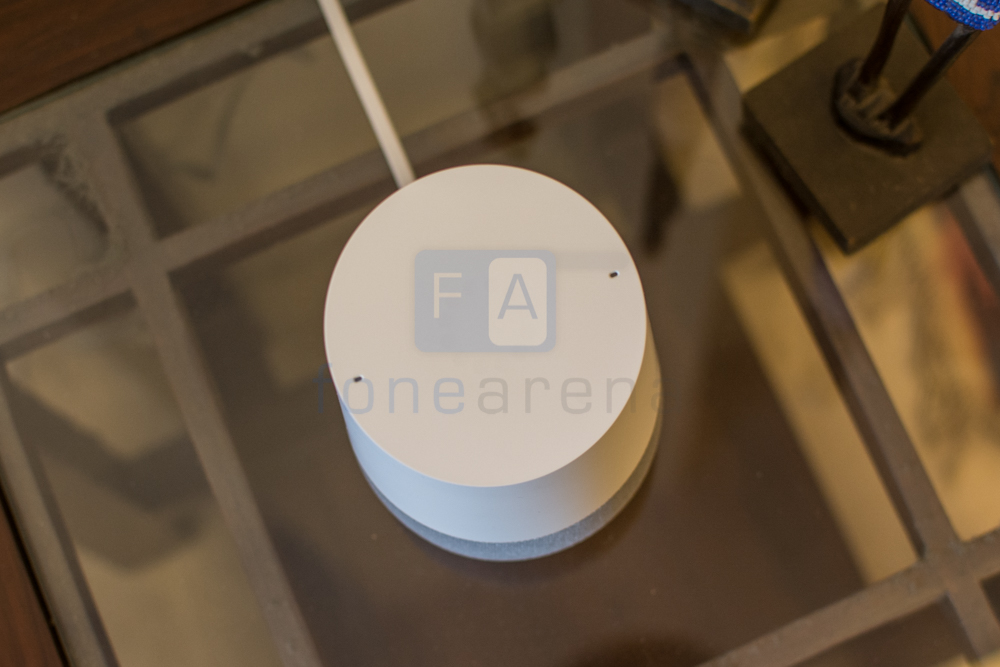 The speaker packs 2 far-field microphones instead of the 7 found on the Echo and because of this, detection doesn't always work when you've got the volume turned up loud. If you've set up Voice Match on your Android phone then the Google Home will pick up your voice signature from there itself. Voice Match makes a huge difference in the quality of voice recognition. It also lets the Google Home differentiate between 6 different voices.
As we've come to realize over our period of use, listening to music is by far the largest use case scenario of a smart speaker. In case you're using Spotify, you'll note that the integration was disabled on Indian units here and it is no longer possible to ask for a song on Spotify. You can always cast to the device of course. At launch, you are limited to Google Play Music, Saavn and Gaana which does cover most of the popular music services in India but we're a bit miffed by the geo blocking going on. There's little reason in this day and age to create arbitrary boundaries for international services.
Other than the Gaana and Saavn compatibility, there's precious little that Google has done to integrate local services. Unlike the Echo, you cannot use the Google Home to call a cab, check for a train ticket or use Zomato. In fact, the Google Home is quite a bit behind the Echo when it comes to skills. Features like hands-free calling and routines are also not available yet.
What you CAN do however is ask for news, traffic conditions, access and add to your calendar, set reminders, ask basic questions including timezone conversions. For news, there are a fair few Indian sources available so you won't be tied into US-based news. Do note that calendar access is not available if you are using a Google Apps account. A nice touch is the ability to search for your phone wherein the home makes your phone ring at its loudest volume even if the phone has been set to silent. This is similar to the Find My Phone feature available on the web.
Audio Capabilities
In terms of audio capabilities, once again, the Google Home isn't quite as feature-rich as the Amazon Echo. Where Amazon's smart speaker packs a woofer + tweeter arrangement, the Google Home has a single 2″ driver alongside 2 passive radiators. The Google Home is also lacking a line out port that would let you connect it to better speakers. In a recent update, Google enabled the ability to pair the Home with external speakers over Bluetooth but this comes with a number of limitations. Primary interaction always takes place over the internal speaker to reduce latency. Even if you have a multi-speaker group using a combination of Google Homes with some of them connected to external speakers, playback will always happen over the internal speakers. We've been told that this will be fixed in the future. It is also possible to pair up the Google Home as a Bluetooth speaker for your laptop or DAP should you wish to.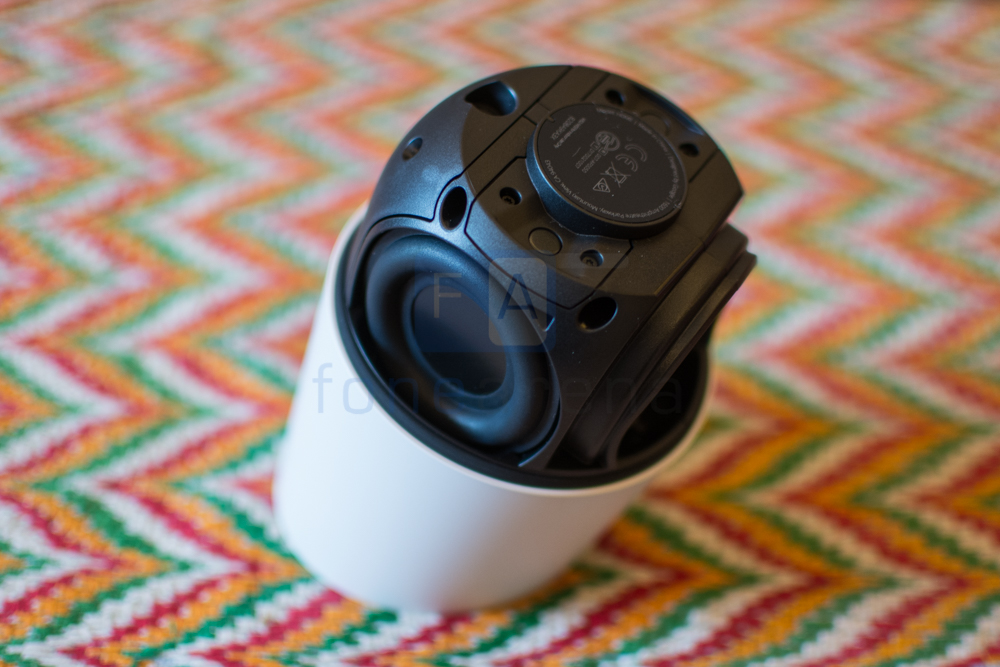 While we'd found the Google Home Mini's speakers to be pretty disappointing, the output here is an obvious improvement. Still average though. The speaker gets loud but there is evident distortion at high volumes and the bass response is boomy at best. It overpowers the audio reproduction and muddies the lower – mid frequencies. The sweet spot is around the 50% volume mark with ambient music. It'll serve in a pinch to hear the latest hits at a reasonable volume. Just don't expect it to rock your next party. This isn't an audiophile speaker either and all the limitations make us want a line out port even more.
Conclusion
Unless you want to live on the bleeding edge of technological innovations, there's little reason to buy any smart speaker right now. Especially in India where market penetration of home automation products is limited, devices like the Google Home or Amazon Echo don't fulfill a particular need. As it stands, being able to check the weather or play some music using your voice is a convenience rather than a must-have feature. A dedicated speaker will definitely provide a superior listening experience.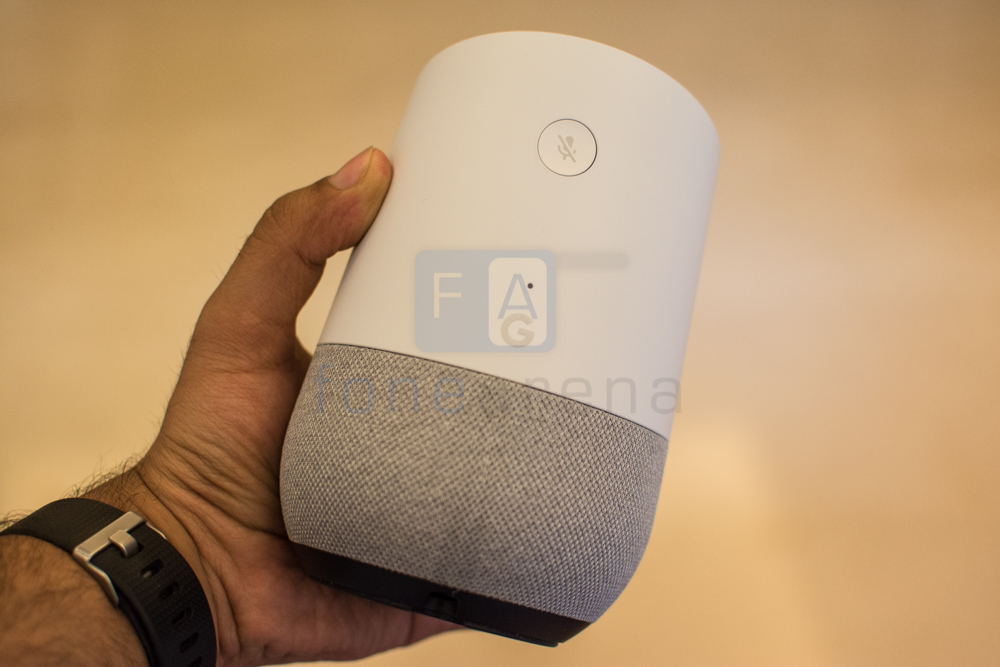 The Google Home like the Echo is a glimpse into the future. It's a simple central control system to build your smart home ecosystem around. And where the Google Home really excels is the integration with the Google ecosystem. Between maps, voice match and your calendar, there's no limit to how deep this relationship can extend. How soon will Mountain View tap that potential? We'll just have to wait and watch. The Google Home is priced at Rs. 9,999 and is available for purchase online exclusively on Flipkart, and in over 750 retail stores across the country.